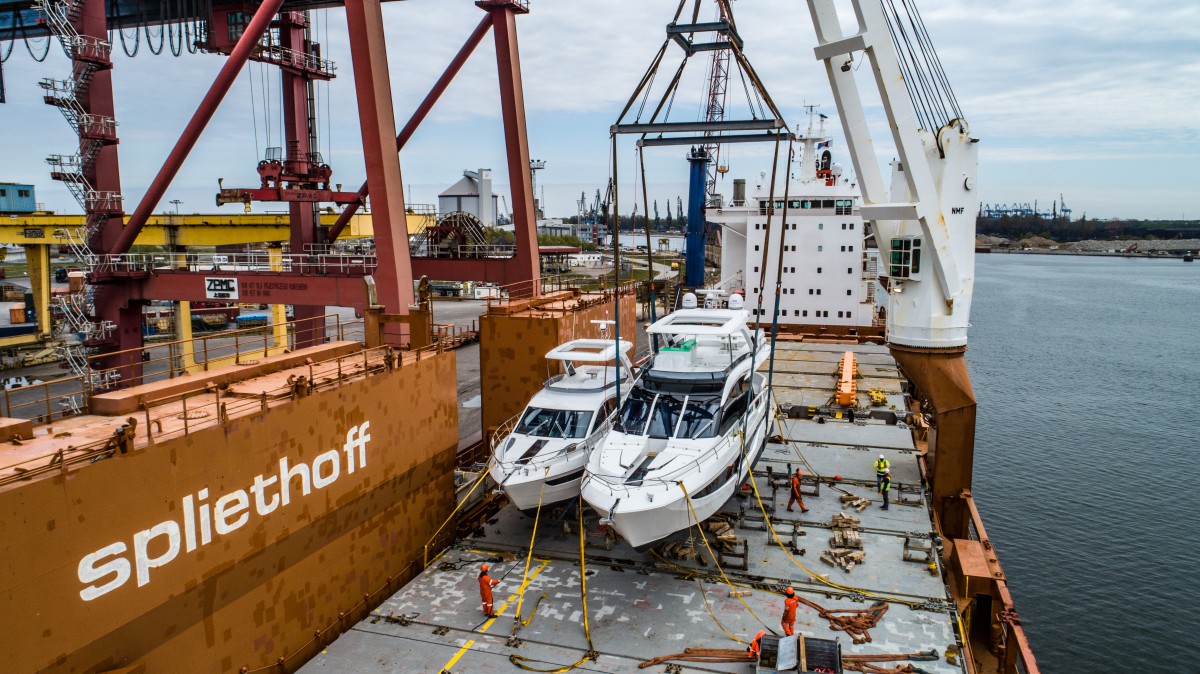 Date of publication: 15.05.2020
Spectacular loading of three brand new Galeon Yachts in Gdansk on-board of Statengracht - all bound to meet their new owners in the United States. The extremely efficient operation was carried out by Sevenstar Yacht Transport from the Spliethoff Group.
As Anna Drozd, spokesperson for the Port of Gdansk said: "The loading was supervised by specialized group of divers who hooked the yachts from below ensuring that they were properly balanced and that they could be safely lifted by a crane on board. Statengracht will carry the load to Baltimore in United States".
Three yachts were loaded on-board of Statengracht - general cargo ship. This 172.6 m long and 25.65 wide vessel was built in Poland in Stocznia Szczecińska Nowa in 2004. More about this ship HERE
The 640 FLY, 500 FLY and 500 FLY models, which were loaded on-board of Statengracht were built at the Galeon shipyard.
Established in 1982, Galeon remains a privately owned company specializing in constructing luxury yacht and motorboats. They have reached employment of over 1 400 people working on 35 000 square meters of production and assembly halls, capable of taking on even the most ambitious projects.
Over the years Galeon yachts have gained recognition for their great designs, superb performance and uncanny level of craftsmanship. The shipyard is a laureate of numerous industry awards, among others "The Motor Boat of The Year Awards 2019 for the best flybridge boat over 60 feet". The rank of this award can be compared to Oscars. Galleon received them for the unit 640 FLY.
The load was carried out by Sevenstar Yacht Transport - a sister company from the Spliethoff Group. It is a world leader in the supply of yachts. Annually, it organizes the transport of approximately 2,000 floating vessels of this type around the world, including Africa, Asia and South America.

The shipowner on this regular line between Gdańsk and the United States is Spliethoff - a leading maritime carrier, specializing in, among others in the transport of not only general cargo, but also heavy lifts and project cargo.