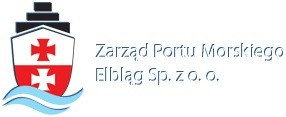 Zarząd Portu Morskiego Elbląg Sp. z o.o.
Description
Geographic position

The Harbour of Elbląg is the biggest Polish harbour on The Vistula Bay. It is located on the river Elbląg, 6 km from its estuary to The Vistula Bay (latitude: 54° 10'5" N; longitude: 19°23'S"). The Vistula Bay is connected with The Gulf of Gdańsk by inland navigation along the river Szkarpawa and by Pilawa Strait near Baltiysk.
In Elbląg starts Ostróda-Elbląg Channel (129,8 km), the unique in the world, technical relic, which is a tourist attraction.


Characteristic of the Harbour

Port Elbląg is a local harbour, designed for inshore goods, passenger and tourist navigation at The Vistula Bay and The Gulf of Gdańsk. Annually over 30 thou. of passengers are shipped.
Total site area - 470 hectares
Length - 4,5 km
Total quay length - 2,5 km (including 0,3 km of passengers quays.)
Depth of fairway- 2,5m (1,8 m in extreme conditions)


Equipment:
· a siding
· an overhead crane (150 tonnes of tonnage)
· a cereal elevator ( capacity 14 thou. m3 )
· a turntable for ships ( length: 120 m )
· 5 docks
· 5 marinas
· Repair Shipyard


The Harbour has road and railway connections with:
· Kaliningrad District (Russia)
· Warszawa
· Gdańsk
· Olsztyn
· Malbork
· Braniewo

Harbour's merits

· Favourable geographic position in the context of potential economic relations and co-operation with Kaliningrad District , Baltic Republics and countries of Scandinavia
· Creating circumstances to enlarge trade (border crossing point, Commodity Exchange)
· Good condition of technical infrastructure (strengthened quays, open store areas, sidings, cereal elevators)
· Possibility of repairing vessels in Repair Shipyard.
· Presence of all institutions necessary for service of passenger traffic and goods traffic ( Border Guard, Customs House, Port Authority, Management Board of the Harbour, Point of Fitosanitary Control)
· convenient conditions for sailing and other water sports

Offer
CARGO TERMINAL
(offer valid since 2006)

1.Basic technical parameters of the terminal:

- Total area – 5 ha, including 3,1 ha of a storing area
- Berth: length – 196 m. In the middle of the berth there is a 12 metres wide loading platform for ro-ro ships. It is possible to serve two units simultaneously. Maximum parameters of ships (barges): length – 85 metres, width – 15,0 metres, draught – 2,30 metres, carrying capacity up to 1500 tons. The berth is equipped with an universal power input point (400/230 V), two points of water consumption for mooring ships, as well as one point of water consumption for industrial purposes.
- Stacking yard for containers (20- and 40-foot) – one-layer capacity approx. 100 items. Possibility of storing the reefer containers. There is a possibility of storing and assembling the over-size constructions prepared for water transport. Maximum surface load – 5 t/m2.
- Bunker for dry goods: dimensions 40,0 x 107,0 x 2,5 metres, It is designed for storing dry goods (coal, building materials etc.). This bunker is divided for three sections: I – 7.600 tons, II – 4.300 tons, III – 4.400 tons
- Warehouse. A one-bay steel hall, 1440 m2 of usable area, designed for storing general cargo in pallets, in packets or in stacks. Storing height – up to 5 metres. The warehouse capacity is equal to 3300 tons.
- A one-bay umbrella roof station, 1440 m2 of usable area, designed for storing general cargo, reloading equipment, empty pallets etc. Capacity – 3200 tons.

2. Assessed structure of loads and yearly reloading abilities:

- Goods in bulk (coal, building materials, sand, breakstone) – 600000 tons
- Conventional general cargo, including goods in containers and in packets (sacks, chests etc.) – 150000 tons
- Containers (20- and 40-foot)
- Heavy pieces (possible assembly on the area of terminal)
- Directions of a water transport: ports of the Kaliningrad District (Kaliningrad, Bałtijsk, Swietłyj), Polish ports, Lithuania, Latvia, Estonia, Scandinavia and - Western Europe. Terminal is supervised and monitored 24 hours a day.

3.Other activities

On the area of terminal there may be organised various activities: storing, sorting, purifying, packing etc., forming and unforming the containers, warehouses and customs stock areas, cold stores, parking places during the transit etc. In a direct vicinity of terminal there is – among the others – marina with a hotel of tourist class "Wodnik" (28 accommodation places).


PASSENGER AND FERRY TERMINAL WITH A POINT OF BORDER CLEARANCE
(offer valid since 2006)

This terminal enables full border clearance service of passengers and international navigation units:

- passenger ferries, as well as passenger and car ferries (cars and delivery vans)
- passenger ships
- sport units.
- Simultaneously there may be served 200 people and 30 cars. Maximum parameters of the units: length 65 metres, width 12 metres, draught 2,5 metres.
- The ordinate of a slipway's edge (a place where ferries reach the shore): +0,6 metres above sea level. Width of enter/exit on/from a ferry – 10 metres.
- Nearby the terminal there are tramway and bus lines (public transport), as well as the railway.

Directions of the international passenger navigation:

Elbląg – Kaliningrad
Elbląg – Bałtijsk.

National navigation – cruises from/to:

- ports of the Vistula Lagoon (Frombork, Tolkmicko, Krynica Morska, Kąty Rybackie)
- ports of Gdańsk urban area
- Masurian lakes (Elbląg Canal)
- On the area of terminal there is a possibility of water supply, collection of sewage and communal waste.

CONTACT WITH US