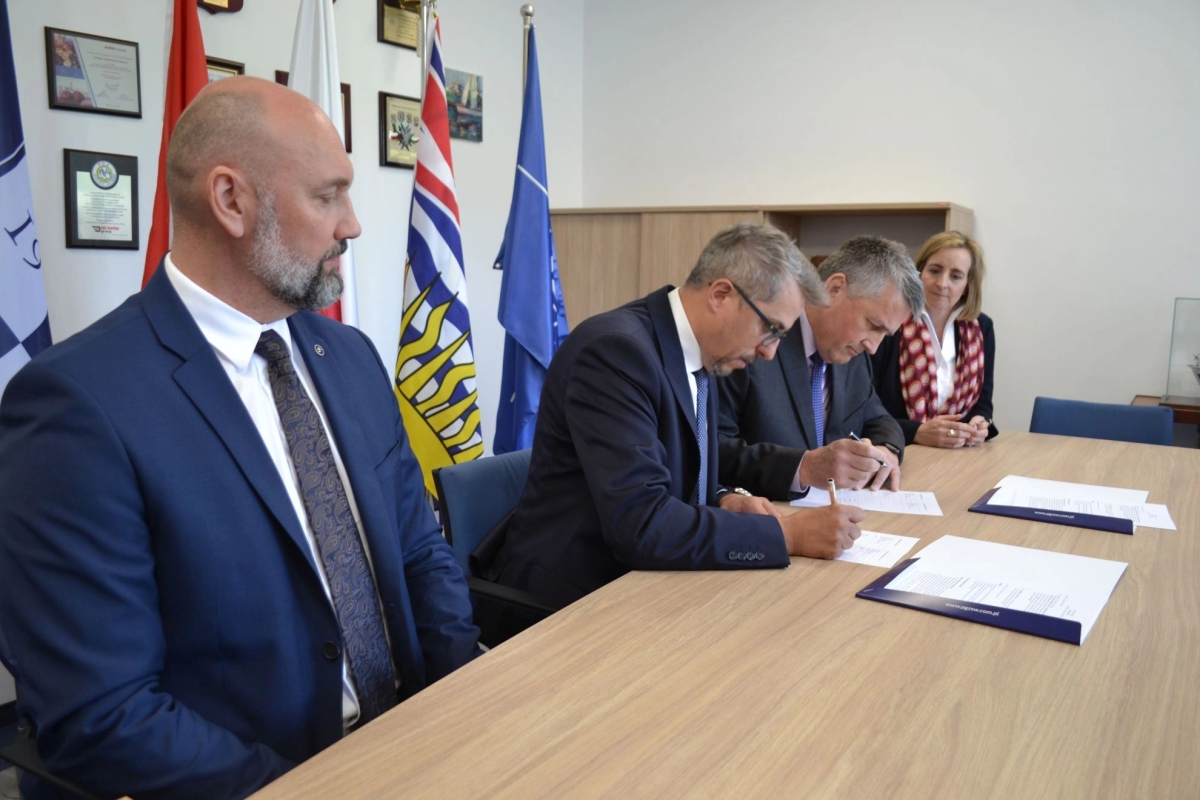 Date of publication: 27.05.2023
A visit by Canada's Ambassador to Poland, Ms Cathrine Godin, to PGZ Stocznia Wojenna took place on 26 May 2023. The visit was related to cooperation between the Polish and Canadian arms sectors.
An example of such cooperation is the integrated navigation and tactical systems installed by PGZ Stocznia Wojenna and the Canadian company OSI Maritime Systems on the mine destroyers Kormoran II (ORP 'Albatros' and ORP 'Mewa'). Both companies designed, built, delivered and installed the Integrated Navigation Bridge and Tactical Navigation systems on both ships.
Ambassador Godin's visit also provided an opportunity to sign a long-term partnership agreement between the Polish shipyard and the Canadian naval solutions provider. It will provide PGZ SW with an even more extensive capability to install, commission, maintain, configure, repair, train crews and conduct commissioning and acceptance trials of the Integrated Tactical Navigation System manufactured by OSI Maritime Systems, based on the OSI ECPINS system.
– PGZ Stocznia Wojenna is consistently building its potential not only in terms of infrastructure and technology, which will be used to build the Miecznik frigates – said Paweł Lulewicz, President of PGZ Stocznia Wojenna. – Cooperation with foreign partners, such as Babcock, or just OSI Maritime Systems increases our ability to service ships of both the Polish Navy and the navies of allied countries. The transfer of such skills and knowledge is essential for us, particularly in the context of the Service and Logistics Centre for NATO vessels, which the Shipyard is working on launching – added President Lulewicz.
– While we regularly read about the training of Polish soldiers as part of joint NATO exercises in Canada, not everyone knows that we are also strengthening the Alliance's deterrent power through cooperation in the maritime domain. PGZ Stocznia Wojenna, which belongs to our PGZ Group, has been cooperating with its Canadian partner OSI Maritime for a long time. Today's meeting with the participation of H.E. the Ambassador is a good moment to summarise the cooperation so far and at the same time, taking into account its good effects for both sides, to consolidate and extend it – said the President of the Management Board of PGZ S. A. Sebastian Chwałek.
PGZ SW and OSI Maritime Systems have been cooperating since 2018 on the supply of integrated navigation and tactical systems for Polish Navy ships. Another area of joint activities is the transfer of competence in system maintenance from a foreign manufacturer to the domestic defence industry. PGZ SW is now an authorised service partner of OSI Maritime, allowing it to independently service and repair OSI systems throughout their lifetime.
Most recent