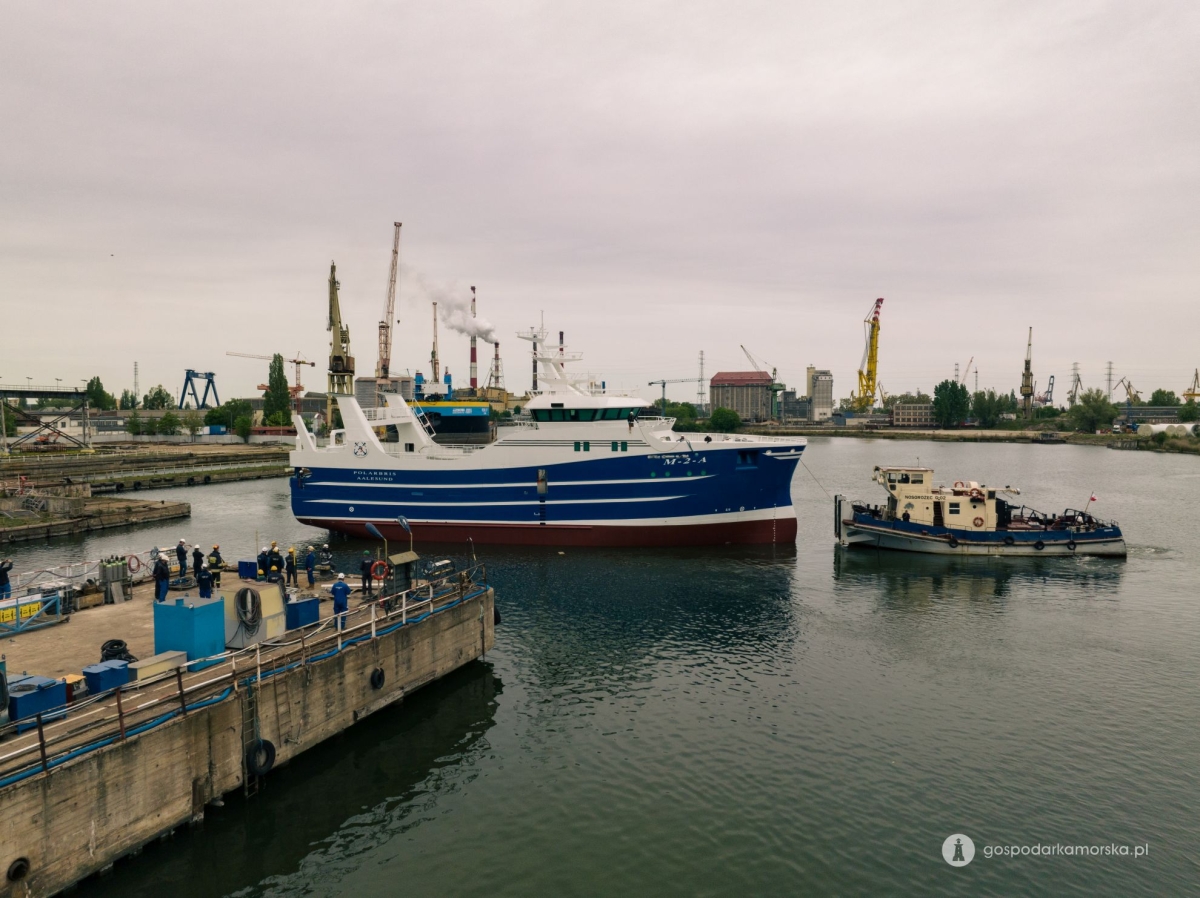 Date of publication: 23.05.2023
The launch of a fishing vessel for a Norwegian shipowner took place at the new Karstensen shipyard site in Gdańsk. This took place while the company's infrastructure was being moved to the new location and, although the process is still ongoing, the company is busily working on orders.
Although work is still underway on current orders, the relocation of Karstensen Shipyard Poland Sp. z o.o.'s headquarters from Gdynia to Gdańsk will probably take until the end of June. It has been a staggered and demanding undertaking, as, in addition to the procedures for changing location, the shipyard was committed to timely work on the vessels under construction. In January this year, still at the Gdynia site, it launched the pelagic trawler Christina S, being built for Christina S Fishing of Fraserburgh, Scotland. The vessel was towed a month later to the Danish shipyard in Skagen, where finishing is underway. Handover of the vessel to the ordering party is scheduled for July in this year.
The fishing vessel currently under construction, Polarbris, is 43.5 metres long, 11.5 metres wide and has a tonnage of 900 GT. It reaches speeds of up to 13 knots and the default crew is expected to be 12. Its equipment includes Evotec electric winches, SeaQuest cranes, a 300 kW Teknotherm freezer and a C-Flow ventilation system. It has fuel tanks of 250m3, freshwater tanks of 20m3 and a RSW for carrying fish, with 450m3 of space. Certification of the unit was handled by the Norwegian classification society DNV. Due to its future area of operation in the form of the challenging offshore waters of the Norwegian Sea and beyond, the trawler is ice-classed.

Karstensens Skibsværft A/S design office was responsible for the design of the vessel, while the ordering party is the Norwegian company Polarbris AS, Kjell-Gunnar Hoddevik & co. The vessel is due to be handed over to the ordering party in August, after which the home city will be Ålesund, located on the west coast of Norway, at the mouth of several fjords into the Norwegian Sea.
Most recent