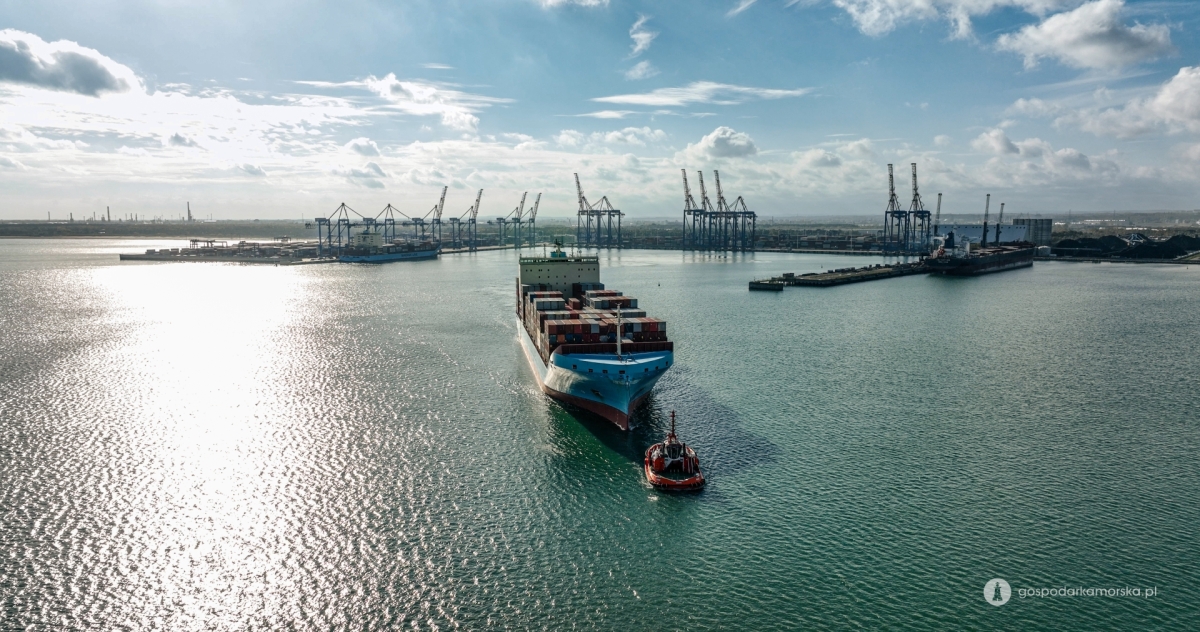 Date of publication: 28.02.2023
The year 2022 was a year of intense activity for the Port of Gdansk, which handled a record volume of transshipments and invested heavily in infrastructure. The following is a summary of some of the most significant events that occurred in Gdańsk last year.
Starting the year on a record high
Following a record-breaking year in 2021, the Port of Gdansk began the new year with high expectations. The amount of goods transhipped in Gdask in 2021 totaled 53.2 million tons, an increase of 11 percent over 2020. One of the major contributors to this result was the reloading of liquid fuels - 18.8 million tons with a growth rate of 37.9 percent. (more than five million tonnes in excess of 2020). Naftoport handled almost 17 million tonnes, which is an absolute record. Containers increased by 10 percent. A total of 2.1 million TEUs were reloaded at the DCT terminal. On a European scale, this is a remarkable result.
Renovation of Capt. Ziolkowski Quay complete
As of spring of 2022, construction of the Ziółkowski Quay was completed. A significant portion of the cost of its modernization was co-financed by the European Union from its CEF instrument, as part of an investment made by the Port of Gdansk Authority S.A. The project entitled "Modernization of the fairway, expansion of the quays and improvement of navigation conditions at the Inner Port of Gdansk" was completed in April, and the new quay was opened on the first weekend of May. Approximately 595 million PLN was spent on the entire project. – A number of investment tasks have been assigned to the project. As part of the "Expansion of the Oliwskie Quay in the Port of Gdańsk" project, a total of 1,365 m were modernized (the quays: Ziółkowskiego, Oliwskie and Zakręt Five Gwizdków), thus creating mooring berths for servicing the largest vessels entering the Inner Port. Necessary accompanying works were also carried out in the field of: sanitary, power and teletechnical installations, dredging works, road and railway surfaces and crane tracks - said Magdalena Schulz, Chief Investment Specialist at the Port of Gdansk.
Introducing new pilot boats
The Gdask-Pilot company, which provides pilotage services in the ports of Gdansk, Elblag, and on the Vistula Lagoon, has inaugurated two new boats in its fleet. Pilot 23 and Pilot 24 boats have been in operation for some time - they were delivered in May 2020 and November 2021 respectively - but due to the pandemic, they waited a long time for the official sea baptism ceremony. It was finally organized on September 30, 2022, when both vessels were solemnly baptized at one of the quays in the Port of Gdansk. Pilot 23 and Pilot 24 are twin boats that were built at the Finnish Kewatec Shipyards in Kokkoli. They measure 16.20 meters long and 4.60 meters wide, and have a draft of 1.30 meters. Their purpose is to deliver pilots to ships entering the Port of Gdansk and pick them up and take them ashore from ships departing.

An exceptional cruise season

It was a successful year for foreign guests sailing around Europe and the world on luxury ships in 2022. From April to September, cruise ships called at the Port of Gdansk a total of 79 times. – This season was by far the most prosperous in the history of the port. Both in terms of the number of vessels calling at the port and in terms of revenues from port fees. These were nearly 2.5 times higher than the previous record from 2018. We want to promote the Port of Gdansk as an ideal travel destination among foreign shipowners, as well as talk about the huge tourism potential of our region, which is why we are present at the largest cruise fair in the world - explained Michał Stupak, client manager at PGA S.A. In 2022, the largest number of calls was in July, with as many as 23 (8.7 thousand passengers). The largest vessel was the 239-meter-long Marina vessel, with 1,026 passengers served on board, the most of all cruise ships moored at the Port of Gdańsk. In turn, vessels from the Viking series, owned by shipowner Viking Ocean Cruises, visited us as many as 22 times.
5 km of modernized and new quays
It is one of the most significant investments in the Port of Gdansk in recent years to construct 5 kilometers of new berths and to modernize over 7 kilometers of the fairway in the Inner Port. As a result, the port was able to increase its transshipment capacity significantly. This action was carried out as part of a project that began in 2016 and covered a total of nine quays, some of which were rebuilt, others renovated, and others built from scratch. Works were carried out on the following quays: Oliwskie, Ziółkowskiego, Obrońców Poczty Polskiej, Mew, Zbożowe, Wisłoujście, Dworzec Drzewny and parts of Wiślane, Szczecińskie and BON. The Dworzec Drzewny quay has been out of operation for years. Currently, it can accept the largest vessels that can enter the Inner Port. Dworzec Drzewny is leased by the Port of Gdańsk Eksploatacja S.A. Thanks to the project, the Port of Gdansk gained 7 hectares of new surfaces, but not every quay was enlarged. About 5,500 square meters of the Zbożowe Quay were given to the sea to ensure safe navigation in the port canal.
Defender Europe 2022
In May, two general cargo ships anchored at the WOC quay in Gdańsk: the Danish-flagged Britannia Seaways and the British Hurst Point. As part of Defender Europe 2022, which is a cyclical international maneuver organized by the American armed forces, they delivered military equipment for exercises. The equipment of the Danish troops included, among others: 14 Leopard 2A7 tanks. Hurst Point, in turn, left the deck of, among others, spectacular combat vehicles of the Mastiff type, i.e. heavy, six-wheeled armored patrol vehicles of the MRAP type with increased resistance to mines and explosives. Other items included British Challenger tanks, Jackal reconnaissance vehicles and Warrior infantry fighting vehicles. The unloading operation of the delivered equipment from the Polish side was supervised by the BLG Logistics group. Defender Europe's goal is to build readiness and interoperability between US and NATO allies and partners. Last year, between 1 and 26 May, a total of 18,000 people from over 20 countries took part in Defender Europe.
13 million tons of coal handled
In 2022, the Port of Gdansk faced its greatest operational challenge with the increased volume of reloading and ship traffic. The year closed with an impressive result of over 13 million tons of coal handled, which is an increase of 175% compared to 2021. The vast majority of this volume is import transshipments. As explained by the president of the port, Lukasz Greinke, coal arrives in Gdańsk, among others from Indonesia, South Africa or South America. – We can see that we are able to reload approx. 400,000 tons. tons per week. At the moment, exports are balanced with what we reload on board, so today we do not recognize the risk of congestion in our terminals, i.e. building up enough stocks that will make it impossible for us to accept new cargo from the board. The outflow of goods is also ensured - emphasized the president. Quays, where units with this raw material are moored, are of key importance for the efficient handling and further distribution of coal. – We have the Ore Pier in the Northern Port for 100,000-metre liners. In turn, for smaller units, up to 50 thousand tonnes, are the Dworzec Drzewny Quay and the Rudowe Quay. There, we are able to handle four vessels at a time, but at least one must have its own unloading facilities, informed Łukasz Greinke.
Construction of the Baltic Hub's T3 Berth
Construction of T3 - the third deep-water quay at the Baltic Hub container terminal at the Port of Gdansk - officially commenced on November 28, 2022. Thanks to the construction of T3, the Baltic Hub (previously operating as DCT Gdańsk) will gain an additional 717 meters of quay adapted to handle large container ships. These will be stands with a technical depth of 17.5 meters. The terminal will also have a maneuvering and storage area with an operating area of ​​​​36.5 ha. The first phase of work is to be completed in mid-2024. Then T3 will be put into commercial operation. The entire project is expected to be completed by mid-2025. – This is a huge investment for us, which will consume around EUR 500 million. Between today and summer 2024, there is a lot of hard work to do to put this terminal into operation - commented Charles Baker, CEO of Baltic Hub. The consortium of Budimex and DEME is responsible for construction. The first stage of work will involve the construction of a 36-hectare platform adjacent to Terminal 1, which will be built entirely offshore. After its completion in 2024, the handling capacity of the Baltic Hub will increase by 1.5 million TEU to a total of 4.5 million TEU per year. The second stage is the construction of a quay wall 717 meters long and 17.5 meters deep. This will start in early 2023 and end as planned in the second quarter of 2025.
2022 crowned with another record broken –It seemed that 2021 was already a very good year for the Port of Gdansk, because 53.2 million tons were handled. As of right now, there are 68.3 million tons. These are results that absolutely no one dreamed of until recently - said Łukasz Greinke, president of ZMPR, about the handling achievements in 2022. – This is the result of very diligent work not only by the port authorities but also by our operators. We understand each other, stakeholders from different sides are trying to meet each other - he added. The key factor that affected transshipment operations last year was the war in Ukraine. It resulted in increased transportation of crude oil and coal. Thus, liquid fuels became the dominant cargo group in the port, whose handling increased by 35% to 25 million tonnes.
Having had another successful year with record-breaking transshipments, the Port of Gdansk Authority anticipates that 2023 will also end with a record-breaking result - 78-80 million tons of cargo, according to the port.
Most recent