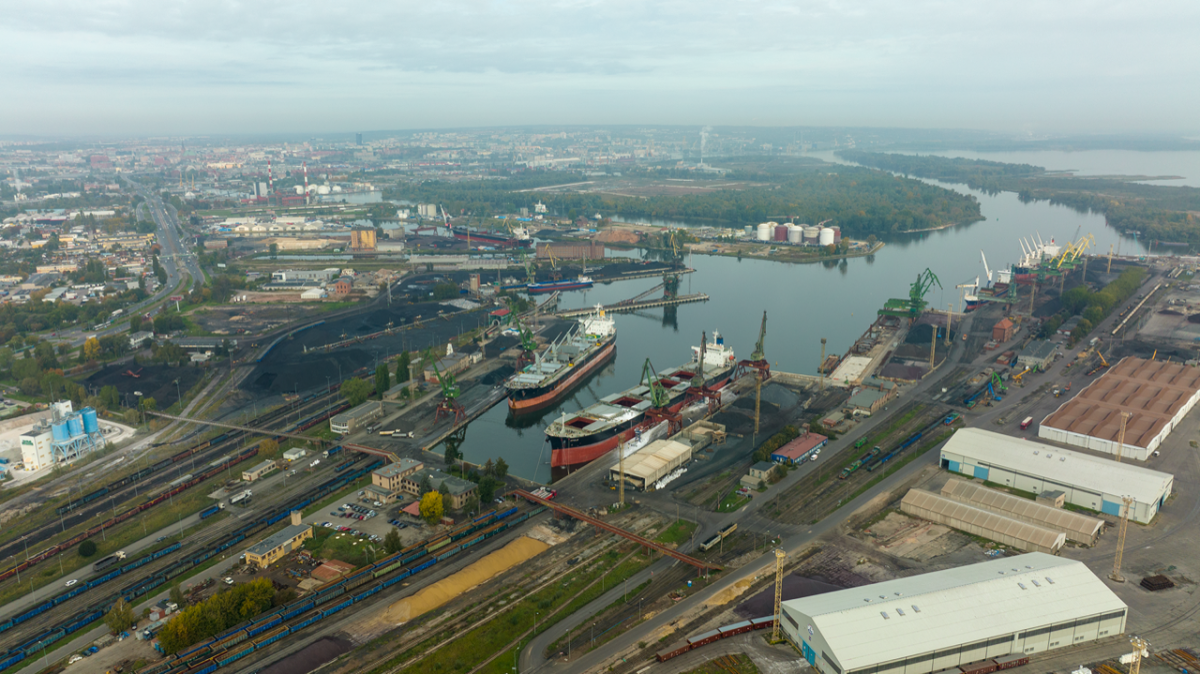 Bulk Cargo-Port of Szczecin prepared for new challenges. Growing coal transshipments a priority for the port industry [VIDEO]
Date of publication: 29.10.2022
The economic and energy crisis triggered by Russian aggression against Ukraine in February this year has become a challenge for Poland, among other things, in terms of coal supplies. This applies not only to its rising value, but also to the availability of the raw material on the market. The challenge is not only the organization of foreign supplies, but also the transshipment capacity of Polish ports. A sharp increase in the handling of imported coal is being recorded by the largest bulk terminal in the Port of Szczecin, Bulk Cargo.

Bulk Cargo on an upward trend

"Month after month, we are handling an additional 200,000 tons of coal to meet the needs of the Polish economy. Compared to previous years, this will be a fivefold increase," noted Piotr Warchoł, marketing and shipping director of Bulk Cargo-Port Szczecin.

The company has earmarked four wharves for coal handling, as well as coal zones used in previous years for coal storage. It is also taking advantage of the additional transshipment capacity provided by the deepening of the Szczecin-Świnoujście water channel to 12.5 meters. This investment has increased the capacity associated with cargo ship handling.

"We have noticed changes in trends when it comes to ships arriving at the port of Szczecin. Navigational restrictions have changed, with the result that ships arriving in Szczecin can carry up to 38 thousand tons of cargo," Piotr Warchoł stressed.

"This is a big increase compared to last year, when it could be a maximum of 32 thousand tons. This is a very big difference, and the trend of such large vessels coming to the port has increased several times compared to last year. It is thanks to the deepening of the waterway that today we are handling a record 38 thousand tons from the Apollo ship."




According to forecasts, Bulk Cargo will handle 4.5 million tons of goods this year. In the case of coal, this will be an increase of 600-800 thousand additional tons, which means a fivefold increase for the company compared to recent years.

Growing domestic needs for coal supplies raise concerns among companies supplying goods other than this raw material that this will be at their expense, causing delays or withdrawal of port companies from handling operations.

According to Piotr Warchoł, the whole situation is a particular challenge for the company, no less the company strives to ensure that none of the customers it works with feel disadvantaged. This is to be ensured by the port infrastructure and the cargo groups maintained so far. In this way, ships arriving in greater numbers with higher tonnage than before will not cause other suppliers to receive secondary treatment.

Coal is a priority at major Polish ports

During a parliamentary speech on October 20, State Assets Minister Jacek Sasin stressed that shortly after the start of the conflict in Ukraine, state-owned companies made a long-term decision to purchase raw material on international markets, which must additionally be transshipped at domestic ports. The state's prioritization of coal supplies results in the launch of additional wharves at the largest of them, accepting further batches of this raw material, and rail and truck transport is carried out without interruption on the basis of set schedules. Currently, according to Prime Minister Mateusz Morawiecki, the weight of supplies stored at the ports reaches 4 million tons.

Since the beginning of the year, coal deliveries at the Szczecin-Świnoujście port complex have increased by nearly 190%. In total, port operators handled almost 26.7 million tons of cargo in January-September this year. At the same time, all centers recorded an overall increase in the number of delivered goods. In turn, the Port of Gdańsk handled 83.7 million tons of cargo, including 8 million tons of imported coal.

Bulk Cargo-Port Szczecin is a company established in 1994, and is currently the largest cargo handling company in the Port of Szczecin. It uses the largest storage area in the Port of Szczecin, at 60,000 sqm, as well as 8 quays with a total length of 2,800 meters and a draft of up to 9.15 meters. It specializes in the handling and storage of bulk commodities such as coal, coke and grain, as well as general cargo, including steel products and forest products.

Most recent