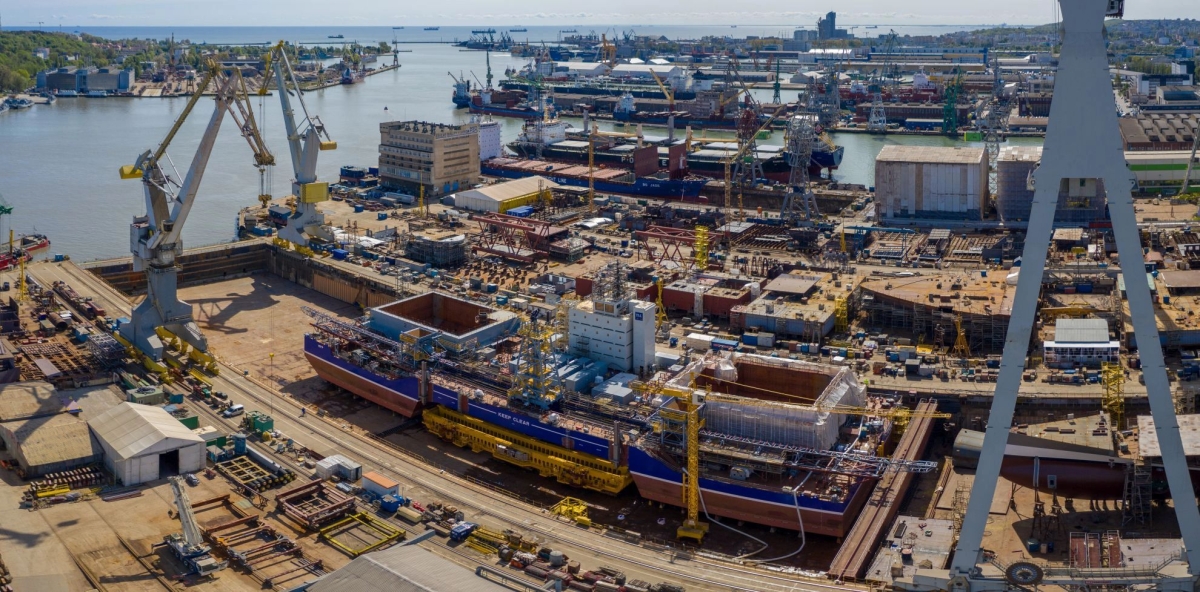 Date of publication: 06.07.2023
At the CRIST shipyard in Gdynia, work is underway on a specialized pontoon, which will be a key element that will enable the construction of an 18-kilometer tunnel that will connect German Puttgarden and Danish Rødbyhavn.
The vessel was named Multi Purpose Pontoon, MPP for short, which is simply a multi-purpose pontoon. However, it is far from an ordinary pontoon. It is a specialized vessel, the only one in the world, whose integral part is a special device for placing stones and gravel called SDT (Submersible Dumping Tool). On this complex project, the CRIST shipyard cooperated with the Polish design office StoGda.

"The vessel will be used to build some of the most important parts of our project. The Fehmarnbelt Fixed Link is the largest tunnel of its kind in the world. Therefore, we need very specialized and unique equipment," explains Pedro Da Silva Jørgensen, Deputy Technical Director at Femern A/S, in a video describing the investment.

Lars Conradsen, construction manager on behalf of FLC, and Piotr Pallach, Project Manager at the CRIST shipyard talk in detail about the pontoon.

"Our MPP has been specifically designed to place stones and gravel with very high precision on the seabed. This prepares the bottom for large tunnel elements," Conradsen describes. He adds that individual sections of the 18-kilometer tunnel must be placed with a precision of 1.5 cm. "It's very important to do it with extreme precision," he says.

However, the MPP itself is only part of the investment carried out by CRIST. Another is a special device for laying gravel and stones, which the pontoon is equipped with. It was named SDT, for the Submersible Dumping Tool, which is a submersible dump device that will work underwater.

– The vessel consists of two parts: the underwater part and the hull – explains Piotr Pallach. – The underwater part, which measures 47 meters, is connected to the hull with just two cables.

The vessel is now close to completion. It is to be delivered to the ordering party later this year, and work on the offshore construction site of the Fehmarnbelt Fixed Link tunnel will start in 2024.
Most recent