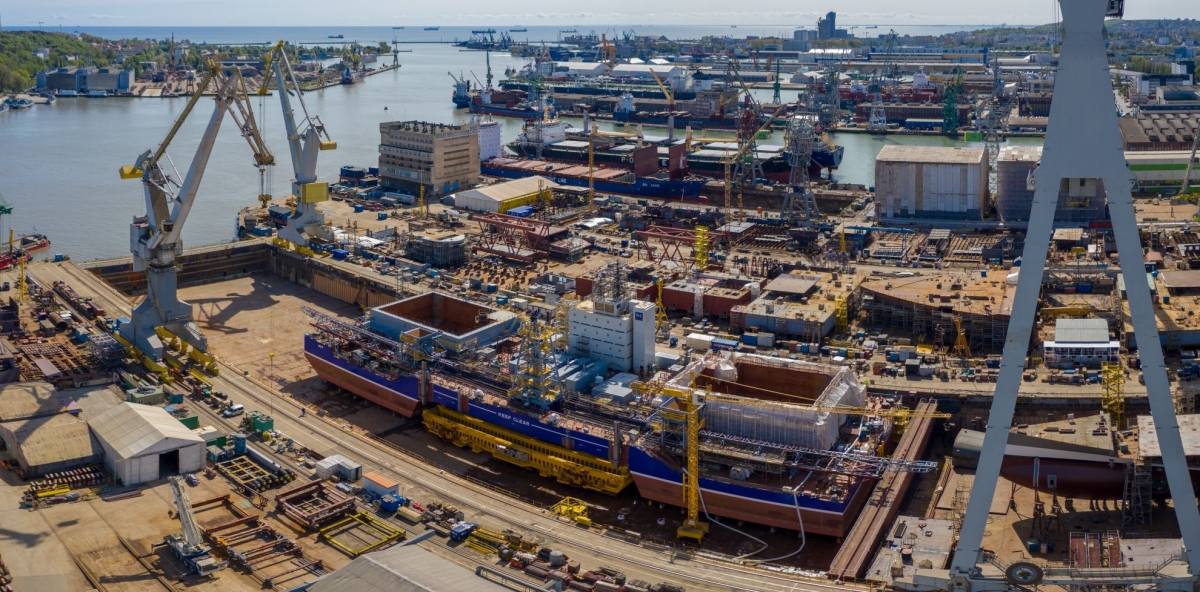 Date of publication: 09.06.2023
The team of the Danish television TV2 ØST visited the CRIST shipyard in Gdynia to follow the progress on the construction of a specialized vessel that will work on the construction of an underwater tunnel connecting Germany and Denmark.

A TV crew recorded an 8-minute video at the CRIST shipyard as part of a series on the construction of a tunnel through the Fehrman Belt, between the ports of Puttgarden in Germany and Rødbyhavn on the Danish island of Lolland. In the Gdynia shipyard, a unique vessel is being built, which is necessary for the construction of the tunnel – a specialized pontoon with a submersible charging tool. Reporter Mads Gudiksen talked to representatives of the shipowner and people involved in the project, and Piotr Pallach, project manager at CRIST, told him about the shipyard itself.

– You can build anything related to steel structures here, but our main goal is to build specialized vessels. We can implement 20-30 projects a year - said Pallach. – If we were to rate this ship design, we'd put it somewhere at the top of the list. It may not be the largest, but it's not a typical vessel either.

The vessel, which attracted the interest of the Danish media, named MPP/SDT (Multi Purpose Pontoon/Submarged Dumping Tool) and working number NB 131, was launched in December last year, and sheet cutting began in autumn 2021. It is a specialized pontoon with a charging tool, while CRIST, according to the contract, was to build both the vessel itself and the dumping device, the task of which will be to place gravel on the seabed, on which the tunnel elements will then be placed. The device is remotely controlled. It will be lowered from under the vessel's hull to 46 m below the waterline, where the foundations will be laid. The precision of their placement is ensured by the latest positioning technologies. CRIST collaborated on this project with the StoGda design office.

The hull of the unit is 130.2 meters long, but including transmission belts, the total length is to be 149 meters. 19 people will be able to work on the pontoon. The unit is equipped with two gravel chambers, which can hold 14,000. tons of gravel. The ordering party is the FLC (Femern Link Contractors) consortium, which is responsible for the entire tunnel construction project.

The 18 km tunnel between Puttgarden and Rødbyhavn in Lollandia will accommodate a motorway and railway line and will cut the train journey from Hamburg to Copenhagen from 5.5 hours to 3 hours.

TV2 ØST video material in Danish is available on the broadcaster's website.
Most recent