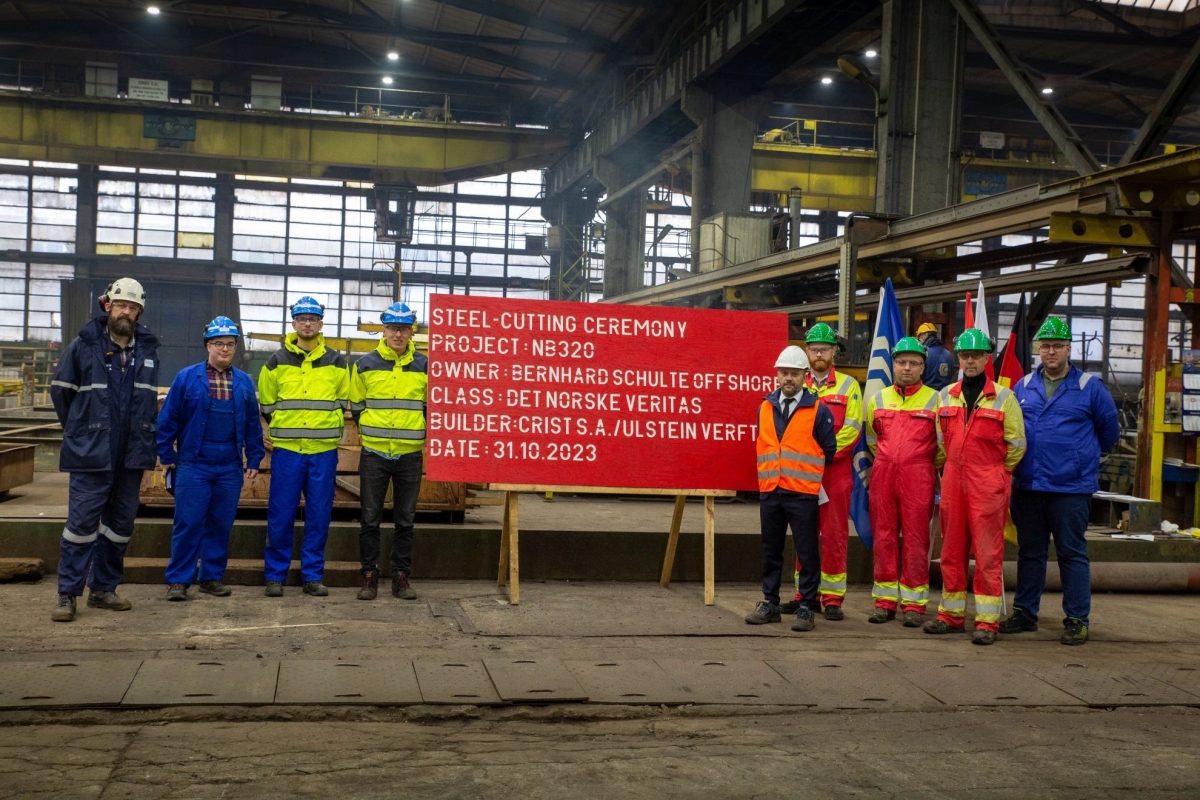 Date of publication: 02.11.2023
On the last day of October, work on another ship for servicing wind farms officially started at the CRIST shipyard in Gdynia.
At 10:00 on October 31, the ceremony of cutting steel for the construction of a new single-hull ship number NB320, commissioned by the Ulstein Verft shipyard, took place. This is the 16th project in cooperation between the Polish shipyard and the Norwegian company. The final ordering party is Bernhard Schulte Offshore.

The ship being built in Gdynia is to be used primarily to transport personnel, cargo, fuel, water in tanks, spare parts and other equipment below decks and on open decks. It will be powered by hybrid engines using electricity and methanol fuel. The cargo system has been carefully designed to ensure safety and efficient ship loading and unloading operations. The vessel has been optimized for the efficiency of technicians and cargo transport, minimizing the need to manually move cargo, tools and spare parts. Its total length is 89.6 m and its width is 19.2 m.

The hull shape has been optimized to achieve excellent results in terms of fuel consumption, maneuverability, speed, stability, payload and energy utilization. It features Ulstein Twin X-Stern technology, which includes sharper hull lines and the elimination of the transom plate, improving functionality by better maintaining the ship's attitude, reducing wave impact, increasing comfort and safety in difficult conditions by reducing wave impact, deck humidity and spray.

Ulstein Verft is a regular client of the shipyard. Ulstein has a patent for the unique shape of the bow and stern, with which CRIST has extensive experience. The shipyard has been working in accordance with their standards for years, which allows it to continue cooperation and build further vessels.
Most recent