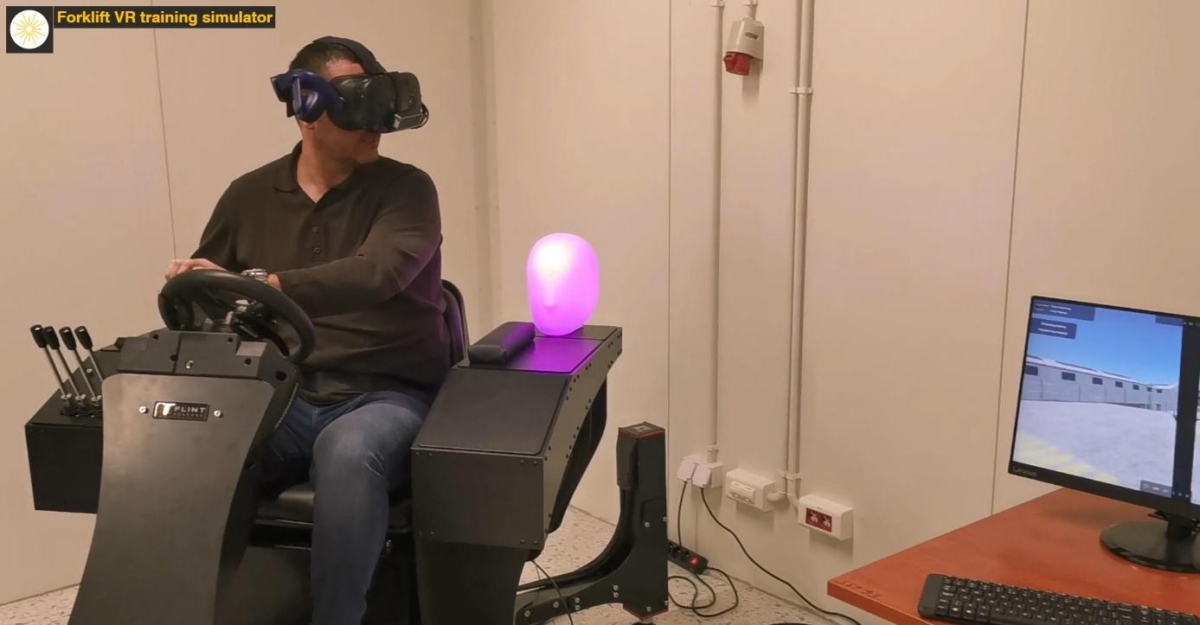 Date of publication: 06.05.2022
Forklifts are irreplaceable in the logistics industry. We can see them in practically every warehouse. However, driving a forklift is not so easy, and the operator's job, despite the appearances of ease, is very demanding. The main risk is maneuvering with the load, or even the correct assessment of the weight of the load. Therefore, comprehensive training of forklift operators is important. That's why Flint Systems offers a forklift simulator in VR.
Flint Systems already offers different kind of crane simulators for the port and construction industries. However, the latest project offered to customers is a forklift simulator. Let's check what it looks like and what advantages are associated with training on this simulator.
Forklift training simulator
A forklift simulator using virtual reality produced by Flint Systems is one of the most advanced solutions of this type available on the market. What's even more important, it is not a prototype product. The simulator currently trains instructors and examiners working at the Office of Technical Inspection (Polish Urząd Dozoru Technicznego, UDT).
The simulator consists of a training application integrated with the hardware part.
What the simulator can help you with?
The simulator has all the features of a real forklift, but it can do much more than a real one.
First of all, a forklift in virtual reality behaves exactly like a real forklift. The motion platform reflects all the movements of the machine, and the VR goggles provide full immersion, i.e. experience in the virtual world.
Thanks to this, we can practice not only driving a forklift and loading or unloading goods. The simulator in VR enables a number of exercises that are not possible on a real forklift, or performing them would risk the operator's life.
More precisely, we can do all kinds of exercise scenarios related to falling loads, terrain obstacles or the incursions of bystanders into the path of the truck. As a result, the operator can develop a motor memory related to particular dangerous situations. During a real an accident, it could save someone's health or life, not to mention the cargo.
Advantages of training on a forklift simulator
Training on a forklift simulator has many advantages. The most important of them are:
• Increased safety - simulation training is completely safe for people and equipment. On the contrary to a real forklift, there will never be any serious accidents on the simulator,
• Cost reduction - thanks to the simulator, there is no need to rent a forklift or withdraw the vehicle from work in the warehouse for the purpose of the training,
• Training of the unexpected - our application is filled with various scenarios, incl. work with physical obstacles, pedestrians crossing the track or lifting heavy loads,
• Improved effectiveness - this type of training is very effective due to its direct impact on motor memory.
Do you want to know more details? Contact Flint Systems!
Most recent