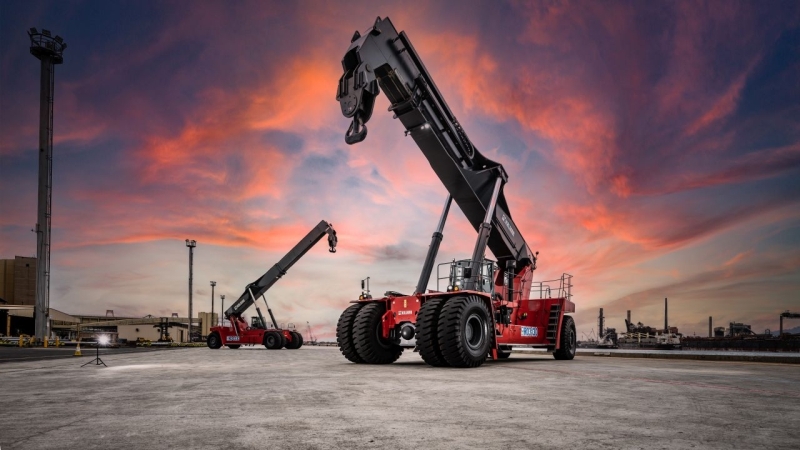 Date of publication: 05.12.2022
Kalmar devices are designed for special tasks. The brand sets global trends in terminal automation and shapes the future of cargo handling. The numbers speak for themselves. Every fourth container in the world is handled with solutions proposed by Kalmar. It is no wonder that their highly efficient reachstackers are support the handling of ever-larger loads at the BCT terminal in Gdynia.

– The Baltic Container Terminal (BCT) in Gdynia currently operates four Kalmar reachstackers. Although their standard equipment in the combination used in our terminal is a container holder, thanks to the universality of the device, we use it for reloading many other goods. They are most often used for reloading heavy elements of onshore wind towers, they are also perfect for working in tandem when loading propeller blades onto specialized transport vehicles - says Michał Kużajczyk, BCT Commercial Director.

Therefore, Kalmar meets the challenges resulting from, among others, the ever-increasing demand for the development of turbines for onshore and offshore wind energy.

– Kalmar has been a partner of BCT Gdynia for many years. We try our best to meet the needs of BCT when reloading various elements. We provide BCT with our best heavy-duty handling equipment, including: reachstackers, heavy forklifts, terminal tractors and RTG cranes. However, especially reachstackers are great for reloading wind tower elements. Each of them has its own nominal load capacity of up to 45 tons, which when working in tandem gives up to 90 tons of total lifting capacity. The last Kalmar reachstacker delivered to BCT has an innovative Kalmar ECO drive, which ensures very high precision of work, with sensationally low fuel consumption, up to 30-40% less than in the case of a standard drive system. There are also many possibilities to modify Kalmar reachstackers, including equipping them with hooks instead of the standard container grab. With our largest models, the so-called Super Gloria, we can achieve a lifting capacity of up to 130 tons under the hook on one device, so when working in tandem, up to 260 tons - emphasizes Jakub Wojciechowski, Senior Sales and Service Manager of Kalmar Polska.

– They also find employment in transshipment of unitized general cargo, such as sheet metal in coils, structural elements or, for example, military vehicles. You can't forget about containers, especially in non-standard versions, such as flatrack containers. Thanks to their versatility and the ability to work with the use of additional terminal equipment, we use the Kalmar reachstackers both at the side of the ship, at the railway terminal and on storage yards - adds Michał Kużajczyk.

Users of Kalmar devices also emphasize the excellent quality of the client service offered by the company.

- It is also worth mentioning the excellent cooperation with the manufacturer, who has been represented for years by a customer account manager dedicated to our terminal - noted Michał Kużajczyk.

The representative of the Kalmar brand in Poland is Cargotec. The machines are manufactured in the plant at ul. Metalowa in the Industrial Park of Modern Technologies in Stargard.
Most recent