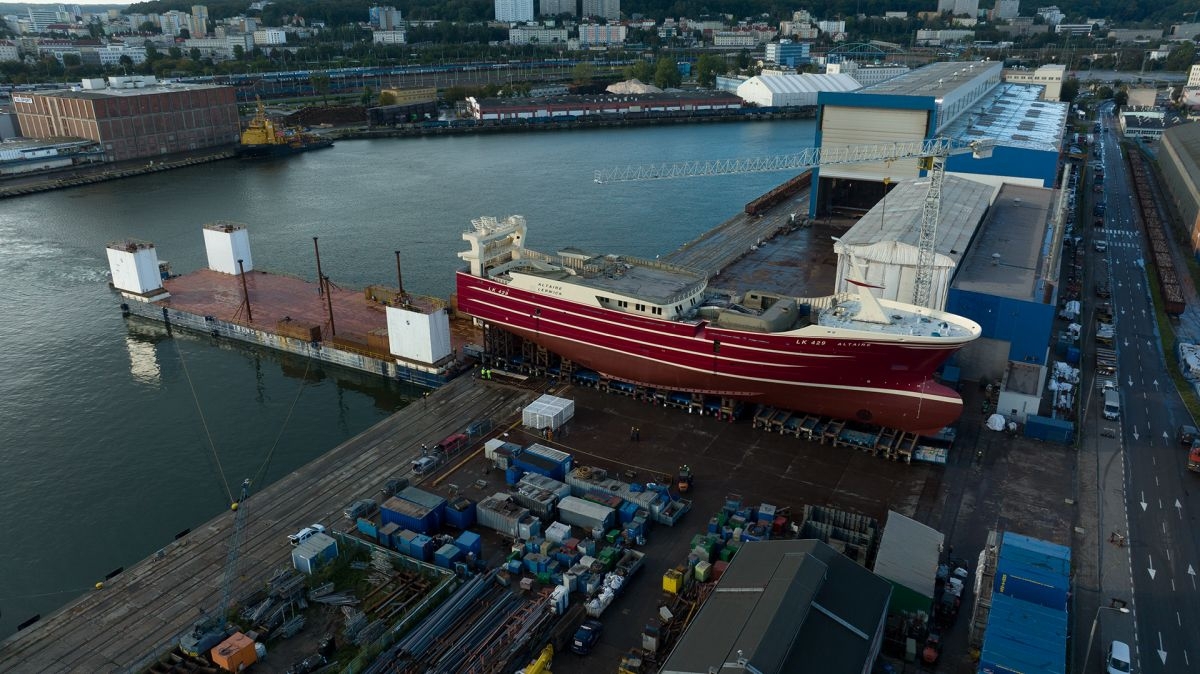 Date of publication: 19.09.2022
Another launch took place at the Karstensen shipyard in Gdynia on the weekend of September 17-18. This time it was a 79.95 m long pelagic trawler called Altaire. The vessel was built for Altaire Fishing Compalny Limited.
The design, specification and arrangement of the ship are the result of a wide and close cooperation between the owners and the shipyard, all details are adjusted and made according to the owners' specifications.

- Please note that this is another ship ordered by the same customer. Returning and loyal customers are the best culmination of work that any shipyard can get. It is a confirmation of its quality and business approach - says Marcin Mąka, project manager from Karstensen Shipyard Poland Sp. z o.o.

During the design work, emphasis was placed on optimizing fishing hygiene to enable landing of the highest quality pelagic fish.

The aspect of the working environment, safety and comfort of the crew played an important role in the design of the vessel.

- We started the construction of the ship at the end of October 2021 - says Marcin Mąka.

The hull is made of steel with two continuous decks. The main deck and the security deck along with a long forecastle. The wheelhouse, chimney and masts are made of aluminum. The hull structure and its shape optimization have been refined with the aim of keeping fuel consumption to a minimum, thus reducing exhaust emissions.

Below the main deck, the hull was divided into the following watertight compartments: bow, sonar room, thruster room, RSW pump and manifold room, insulated RSW tanks, power room with main engine, reduction gear with fuel and lubricating oil tanks.

The propulsion system consisted of the main engine Wartsila 12v31, 7320 kW, 750 rpm with a large, four-blade, adjustable propeller, adjusting the blades to the operating profile of the entire propulsion-hull propulsion system.

The main dimensions of the vessel:
Total length - 79.95 m
Length between perpendiculars - 72.80 m
Total width - 17.50 m
Main deck height - 6.60 m
Shelter deck height - 9.30 m

After the launch on September 20 (Tuesday), the wheelhouse, funnel and signal mast will be installed.

The ship will be handed over for further outfitting works in mid-October. Then, after sea trials, it is to be handed over to the owners in May 2023.
Most recent