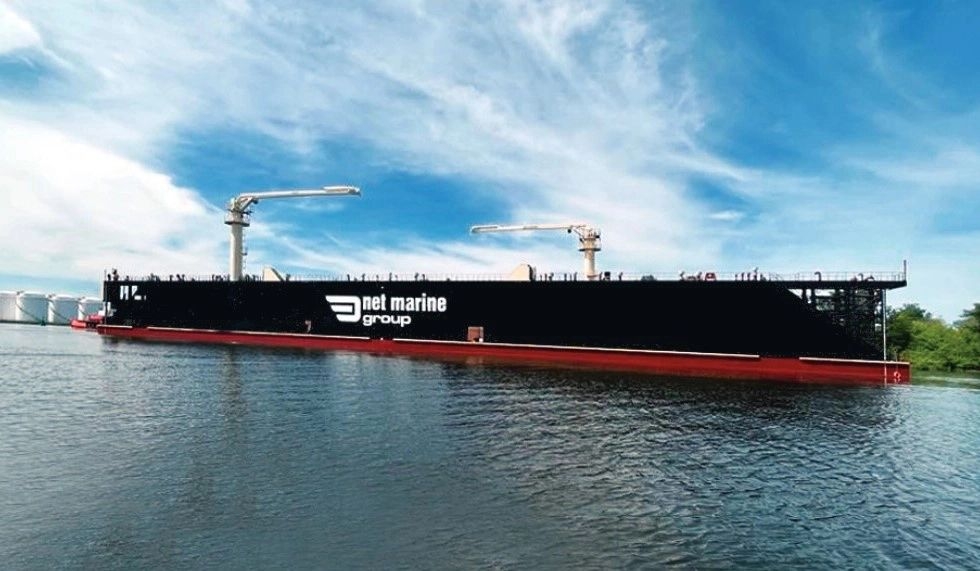 Date of publication: 22.09.2023
On Thursday, the Pomerania Shipyard hosted a ceremony related to the baptism of a newly built floating dock called NMG 1, built by ASTILLERO Sp. z o. o. The ceremony gathered a crowd of guests, both those involved in the investment and Szczecin residents enjoying the first new dock in Szczecin since the 1980s. It will significantly increase the capabilities of the Pomerania Shipyard.
The baptism ceremony took place at the Net Marine Group quay on Parnica, the former Parnica Repair Shipyard. The godmother of the structure was Joanna Chmielnicka, economic director of NMG, who broke a bottle against the structure as a sign of good luck. Mrs. Joanna also solemnly announced the baptism ceremony and gave the official name to the dock.
The dock is 128 meters long and 30.5 meters wide and will allow the repair of ships with a deadweight capacity of up to 5,000 DWT. Its design draft is 10 meters.It was launched on May 31 this year. Its construction and introduction into operation by the ASTILLERO Company, which, like the Pomerania Shipyard, is part of the NET MARINE Group from Szczecin, is a unique event on a national scale carried out as part of a project co-financed by the European Union from the European Regional Development Fund under the Smart Growth Operational Program 2014- 2020. It was built in a record time of 18 months.
The project was carried out as part of the competition of the National Center for Research and Development: 6/1.1.1/2020 - Fast track. Thanks to the use of innovative solutions, it is the first mobile floating dock with reduced dead weight built in Szczecin in several decades. Additionally, the introduction of modern technologies on the dock enabled, among others, increasing the corrosion protection of renovated ships.
Most recent