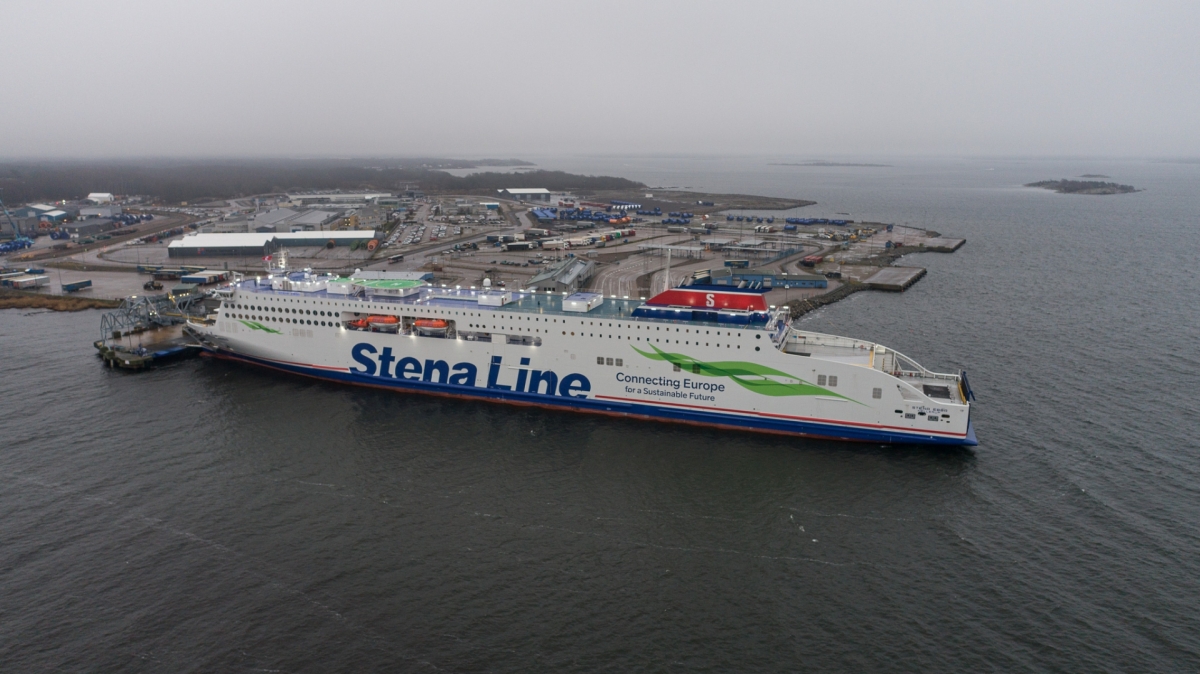 Date of publication: 20.01.2023
Thanks to new, larger ferry, Stena Line will be able to transport more vehicles on Karlskrona-Gdynia route. Stena Ebba has officially joined the fleet, and in January 2023 it was officially named.
Stena Ebba started its Gdynia-Karlskrona cruises at the beginning of 2023, but it was only 11th January that the ship had its naming ceremony. A day before the event the vessel sailed from the new Public Fair Terminal in Gdynia, with guests onboard who took part in a special ceremony prepared for them in Karlskrona. The next day, after the ship arrived to Sweden, it turned out the weather conditions don't allow for the ceremony take place as planned and the event was moved onboard. That way Stena Ebba became the first ship christianed that way. The ceremony was held on floor 5, that is the parking, where normally cars, trucks and semi-trailers are parked. A large space made it possible to organise a scene where Marek Kiersnowski, Stena Line Polska Managing Director welcomed the guests.
The list of guests included: Joanna Hofman, Polish Ambassador in Stokholm, Emma Swahn Nilsson, president of Kalskrona city council, Jacek Sadaj, president of the Board of Port Gdynia, Dan Sten Olsson, president of Stena AB and Stena Line owner and Niclas Mårtensson, Stena Line managing director, accompanied by his daughter... Ebba. When talking to GospodarkaMorska, Mårtensson did not hide his hopes for further development of Stena Line in Poland.
– Taking into account huge investments we are doing, Gdynia-Karlskrona service is of significant importance to us. We can see this route is developing very well, therefore we have the courage for further investments – says Stena Line managing director. – We can see the passengers want to travel with us on this way. It's not only the case of the new terminal in Gdynia, but also because we keep up a high quality of service and a good frequency of cruises. We came back to the volumes from before the pandemic and it seems that everything is going in the right direction – he adds.
The godmother of the ship was Ulrica Messing, the governor of Blekinge region. She was accompanied by Adam Kędziora, Stena Ebba captain. It did not go without obstecles – the bottle of champagne turned out to be so resistant for damage that it smashed after several trials, which resulted in Ms. Messing's injury.
Once the ship wasd successfully named, the guests were awaited by a laser and fireworks show, festive dinner with special speeches from Marek Kiersnowski, Dan Sten Olsson, Niclas Mårtensson and Ulrica Messing. After that, the ship's interiors were opened for visiting.
An onboard tour was worth its time – Stena Ebba is the second, after Stena Estelle, enlarged, E-flexer type brand new ship. It was transported from a Chinese shipyard to the Baltic Sea at the end of 2022. Adam Kędziora, the ship's captain, took charge of the vessel on its way in Gibraltar. The ship is 240 metres long and has 263 cabins (including "deluxe" cabins – more spacious and equipped with a balcony). What is important, it has 3,600 metres of loading capacity line which can accomodate 200 trucks. Overall, 1,200 passangers can comfortably travel from Gdynia to Karlskrona and back. They can use the shop, relaxing area and a cinema, play area for children, a restaurant and a bar.
– We are increasing the loading area, transport capacity, quality and standard for drivers and passengers. It's a big day for us, because the second of the new ships will be launched soon. Stena Ebba made her first voyage on January 2nd with a full load of 180 freight units, so you can see there is a demand in the market. We are almost full today. The quality of service also increases. We have new service points on the ferry, a new offer for passengers. This is a new quality – says Marek Kiersnowski, managing director of Stena Line Polska. – I think this proves that the regional management and the owner believe in the development of the line.
Both Stena Ebba and her sister Stena Estelle, as well as other carrier ferries sailing from Gdynia, are serviced at the new Public Ferry Terminal at the Port of Gdynia.
– Cooperation with the management of the Port of Gdynia is great. The new terminal gives new opportunities and a much better service. I believe that the Port Authority made a very good decision to build it. Let me remind you that the project was created in 2012, we have been waiting for this terminal for almost 10 years. I think that in two years at the latest the terminal will be too small in terms of parking space. Together with the port, we are already thinking about further places, about increasing the parking space in the vicinity of the new terminal – says Kiersnowski.
– This is an investment Stena has been preparing for for years. We, for our part, were preparing with the infrastructure. We have an excellent new large ferry terminal. Stena Line has invested in two modern vessels. It is a bridge connecting Poland and Sweden, Gdynia and Karlskrona. This bridge has been in operation for 27 years, and since this connection has met with great interest on the market, it is worth investing in and developing it further - comments Jacek Sadaj, President of the Port of Gdynia Authority SA.
Stena Line is currently the only carrier using the new ferry terminal in Gdynia. This, however, may change. The Stena Ebba naming ceremony was attened by Andrzej Madejski, president of the Management Board of Polish Baltic Shipping Polferries – another ferry line operating in Poland. He ensured he does not think of Stena Line as Polferries' competition.
– Stena Line is rather a partner at the terminal in Gdynia, as Polferries is still considering the possibility of entering the terminal. At the moment, we are talking with various partners about creating a new line, which Polferries sees as an opportunity. The agreement is still valid. We want to cooperate with Stena Line, hence my presence at the ceremony – assures Madejski.

Like every modern ship, Stena Ebba is comfortable also for its Polish crew. Captain Adam Kędziora, who has been with Stena for years, explained that within a few days the ship be adjusted to go on alternative fuels. The ferry meets the high environmental standards, e.g. can be charged on land while in port. Despite its large size, the ship is easy to maneuver thanks to use of navigating systems and the craftsmanship of Adam Kędziora himself and his crew, which passengers could observe both in Gdynia and Karlskrona - even twice there, as during the official After the dinner, the ship left the quay for a short cruise around the archipelago.

The representatives of Stena Line and Port Gdynia expressed hope that the route to Karlskrona will be popular not only with carriers, but also tourists. The guests invited for the festive cruise had a short trip to the Swedish town.
- Karlskrona is a city located on over 30 islands, surrounded by an archipelago, which is exotic for a Pole. This city was founded as a naval port and is still the main port of the Swedish navy today. But this is also the whole background - from Karlskrona you can go to the islands, it is quite close to Kalmar, Öland, to other attractive places in Sweden. It is a starting point for the north and west - says Paweł Bober, guide of Stena Line. – The Naval Museum is probably the biggest attraction of Karlskrona. It has a great collection of figures - bow sculptures, an old collection of ship models, authentic ships moored at the museum, and recently also a submarine room, i.e. two real submarines that can be visited - one of them even inside. It is a world-class attraction.
In the upcoming months, the ferry terminal in Karlskrona is about to change. Stena Line will take care of it.
– We have already started an investment project on the Swedish side, in Karlskrona. Investments will mainly concern port infrastructure – we plan to build a passenger gallery, prepare an electrical connection for ships, and new parking lots – explains Marek Kiersnowski.
Most recent