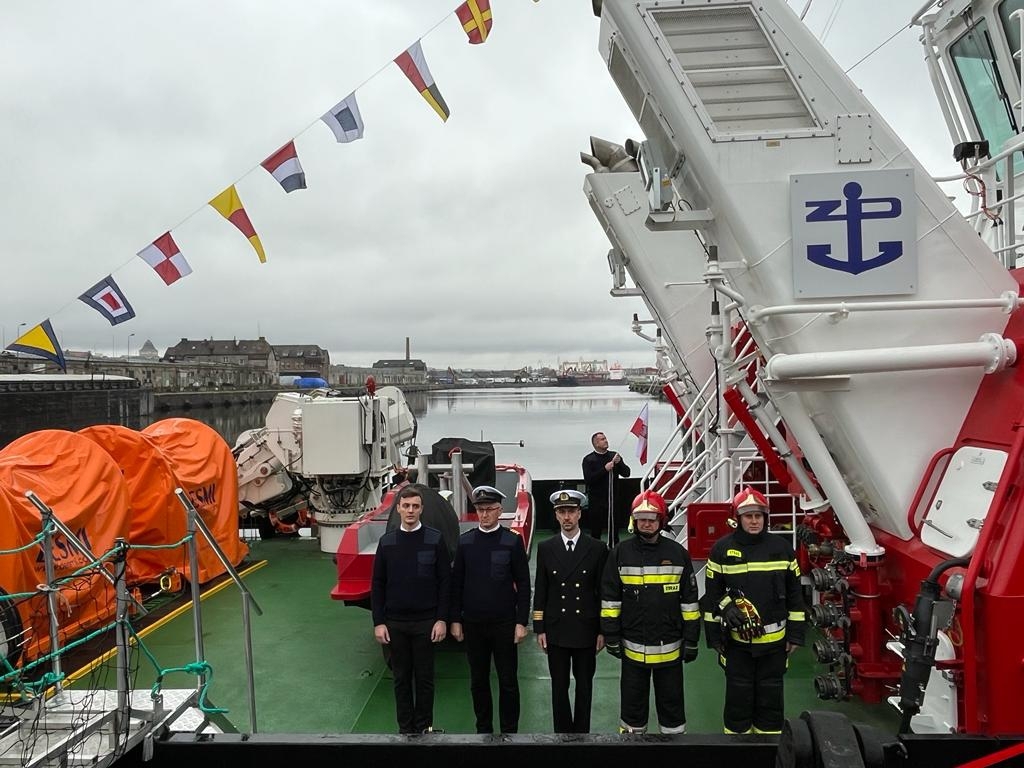 Date of publication: 06.12.2022
The new firefighting ship of the Port of Szczecin, Strażak-28, has been officially named. The Polish flag was also raised on her for the first time.

Strażak-28 is fully ready to start service in the Szczecin port. The vessel was officially baptized, and the Polish flag was officially raised on it. The ceremony took place today at the Port of Szczecin, where the ship will operate.

The ceremony was attended by invited guests, including the Deputy Minister of Infrastructure Grzegorz Witkowski, Members of Parliament Leszek Dobrzyński and Artur Szałabawka and the West Pomeranian Voivode Zbigniew Bogucki. The godmother was Wiesława Drzazga, the wife of Kazimierz Drzazga, retired vice-president for infrastructure at ZMPSiŚ SA, involved in the project of purchasing a new ship for the Company.

The Strażak-28 is a firefighting vessel built on the order of the Szczecin and Świnoujście Seaports Authority (ZMPSiŚ) at the Remontowa Shipbuilding shipyard in Gdańsk. The vessel will assist in the handling of ships carrying dangerous cargo to ensure the necessary fire protection. The ship was designed to extinguish fires on LNG carriers, but its capabilities will also be used in other operations in the ports of Szczecin, Świnoujście and Police. It is also the third firefighting vessel in the ZMPSiŚ fleet. Currently, Strażak-24 is stationed in Szczecin, while Strażak-26 is stationed in Świnoujście. The presence of a third vessel adapted to security operations, e.g. LNG reloading will allow ports to accept more ships with dangerous cargo.

Strażak-28 is 29.2 meters long and 10.47 meters wide, and its draft is 3.45 meters. The vessel will be able to accelerate to 12 knots. Its bollard pull is 45 tons. The vessel was equipped with three water-foam monitors of 1350 m3/h each and two FiFi pumps of 2700 m3/h each. Supervision over the construction of the vessel was exercised by Polski Rejestr Statków S.A. The Polish classification society will also supervise the ship during its operation.

A number of Polish companies participated in the supply chain for the purposes of building the vessel, including Alphatron Marine Poland, which delivered and commissioned a wide range of equipment, including radars, navigation systems, equipment for on-board and external communication, GMDSS devices, as well as a marine engine room monitoring system and closed-circuit television (CCTV).

The purchase of the vessel was co-financed by the EU from the Cohesion Fund under the Operational Program Infrastructure and Environment. The value of the project is approx. PLN 40.6 million, and the EU co-financing amounted to approx. PLN 34.5 million.
Most recent