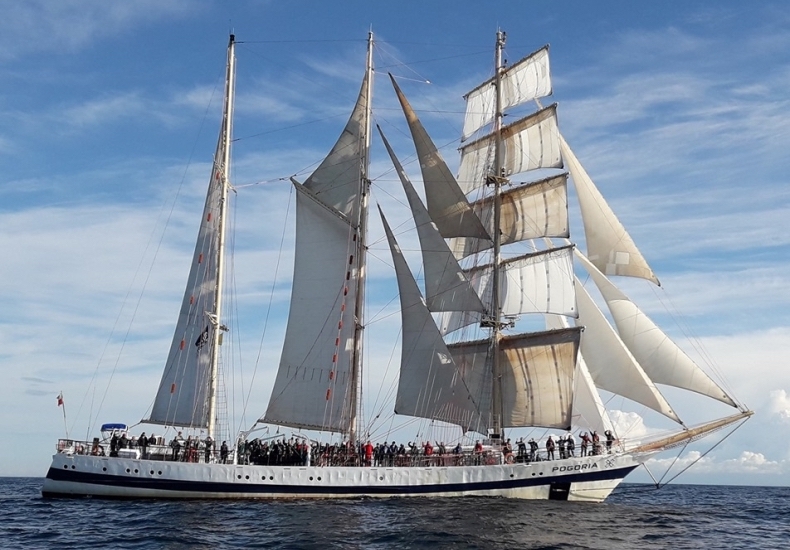 Pogoria sails on a unique cruise to Spain
Date of publication: 17.03.2022
On March 19 the Pogoria sailing ship will sail to La Coruna in Spain. The ship has undergone sea trials and is ready to sail to the Mediterranean in order to carry out her main task, i.e. training young people. The voyage will also be a symbolic restoration of the traditional pilgrimage route from Poland to the famous Santiago de Compostela sanctuary.

New owner and renovation

In January the Pomeranian Sailing Association officially became the owner of Pogoria, one of the most famous Polish sailing ships. This is a consequence of winning the tender for the management of the shipowner's office announced in October 2021 by the Polish Yachting Association, the majority owner of the vessel.

The technical takeover of Pogoria took place at the end of last year, but the flag of the Pomeranian Sailing Association was solemnly raised on Friday, January 14 in the Yacht Park Marina in Gdynia, where the vessel is moored.

The sailing ship underwent an overhaul in recent months. Elektro-Plus company overhauled the electrical devices and carried out the measurement of insulation resistance, so called megaatest, and VASCO company overhauled the main engine and generators. In PGZ Naval Shipyard in Gdynia maintenance works were carried out.

- It is crucial for us that Pogoria is safe and fully operational so that it can carry out its mission - says Jarosław Kukliński, the treasurer of the Pomeranian Sailing Association. - That is why we decided not to leave for later any works that could affect its exploitation.

A training voyage along the pilgrimage route

This Saturday the sailing ship will set sail with the statue of St James the Greater. During the voyage the statue will go to the tomb of the saint located in the Spanish city of Santiago de Compostela.

On its way the vessel will visit harbors in Bremerhafen, Cherbourg, Plymouth and La Coruna.

- In Bremerhaven and Plymouth there are Polish parishes and in La Coruna there is also a big Polish community - informs Marcin Karasinski, vice-president of Nadwiślańska Organizacja Turystycznaand originator of the pilgrimage. - That is why we are planning to organize three meetings in these cities, probably on board Pogoria.

- This is a continuation of last year's project to restore the old Camino de Vistula pilgrimage route. Since the Middle Ages pilgrims have been going to Santiago de Compostela for centuries, and the waterway was popular in Polish lands. In those times it was faster and cheaper than the land route - adds Karasiński.

Thus, Nadwiślańska Organizacja Turystyczna wants to restore the traditional pilgrimage sea route from Poland to the famous Santiago de Compostela sanctuary.
Most recent