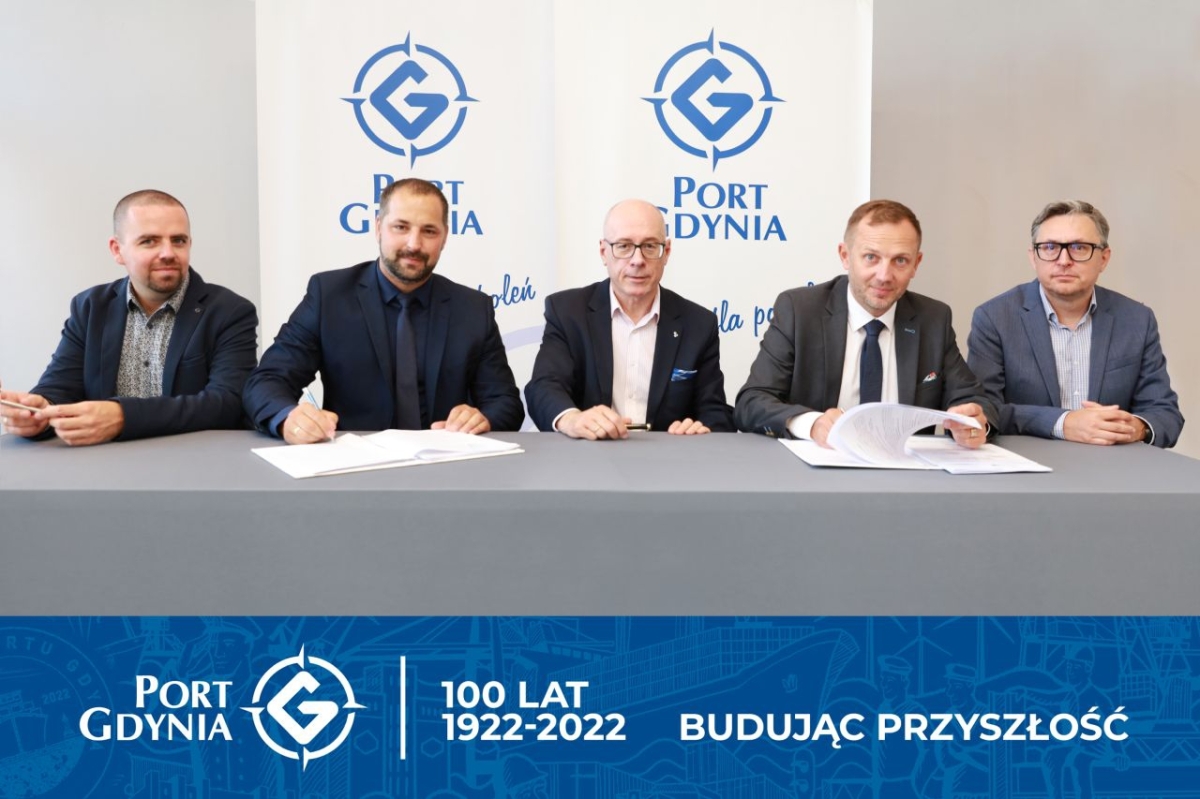 Date of publication: 05.08.2022
The Port of Gdynia Authority has signed a contract for the implementation of a digital information management platform called "Digital Twin of the Port of Gdynia". This is another big step towards digitizing the processes carried out as part of the projects at the port.

On August 5, 2022, an agreement was signed at the Port of Gdynia for "Implementation of a platform for managing integrated digital information - Digital Twin of the Port of Gdynia".

The platform, built according to the Digital Twin (digital twin) philosophy and using the BIM methodology, is a digital representation of a map of physically existing objects, which integrates GIS geographic data (including hydrographic data) with spatial BIM data in one environment.

A twin port system provides a digital representation of current, historical and future port infrastructure resource configurations along with related information on their health and performance. The platform enables the presentation of data in a flat or three-dimensional perspective and enables the integration of spatial data with existing digital documentation (digitized technical documents) for a single element, object or project (according to the general-to-detail principle). The map of objects on the platform is connected with documentation, among others technical (taking into account various file formats) that can be linked from internal and external data sources that are necessary for the management and operation of the existing port infrastructure. Access to the platform enables the management of technical documentation throughout the entire life cycle of the facility, from the concept stage, through the design, implementation and operation and maintenance stages.

CDE (Common Data Environment), i.e. the central data repository (the heart of information management), is responsible for information management. An image of the entire infrastructure and documentation in one place will allow timely measures to be taken to prevent breakdowns - e.g. up-to-date and archival visualization of the seabed at the wharfs will help to detect the formation of shallows or trims.

The platform uses cloud computing solutions and, thanks to multi-level security, ensures information protection at the level of solutions used by banks.

- The platform for managing integrated digital information is one of the many works related to the automation of business processes at the Port of Gdynia. "Digital Twin of the Port of Gdynia" will enable efficient planning, analysis, data centralization, and the mobile application will provide remote access to data, which will facilitate and accelerate the implementation of tasks at the Port - comments Jacek Sadaj, President of the Port of Gdynia Authority S.A.

The platform is tailored to the user's needs and enables the expansion of functionality with new modules that may appear during use. The implementation is the responsibility of the consortium of HydroBIM sp.z o.o., BIM Association, Skan 3D Szymon Bloch.
Most recent