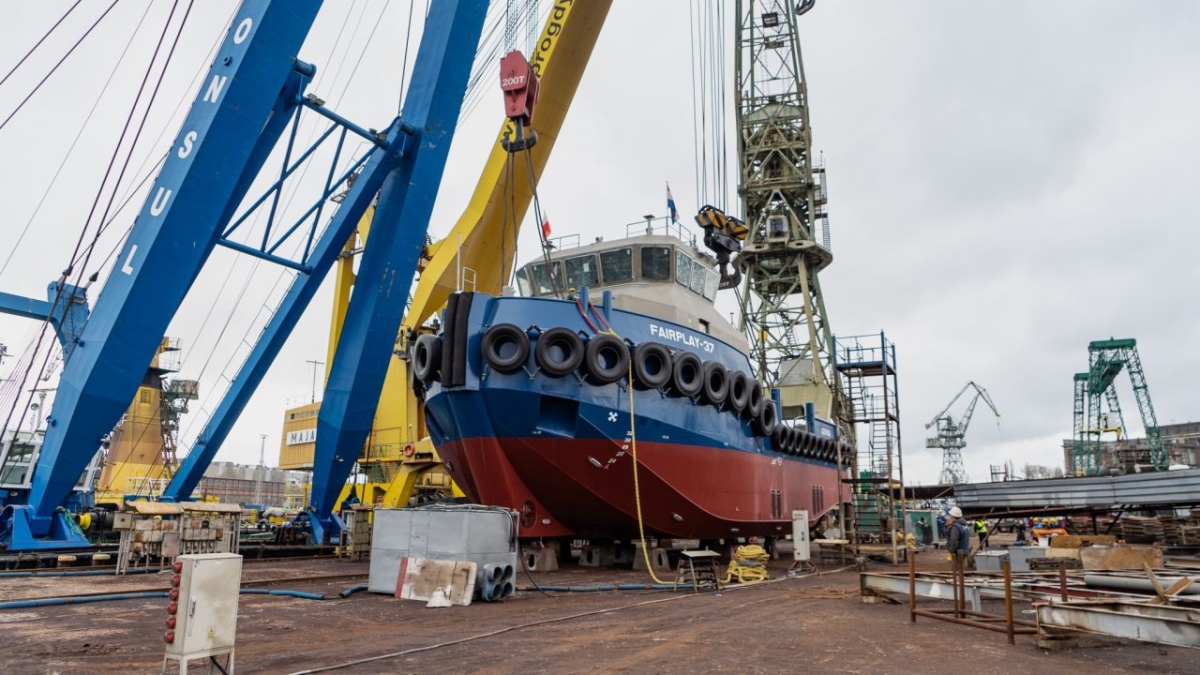 Date of publication: 28.07.2022
What ships are needed to build Polish offshore, what are the chances that Polish design offices and shipyards will take on it, and how real is the share of Polish local content in these investments? We ask the representatives of the Safe shipyard from Gdańsk about this.
The industry says that in order for offshore wind energy investments in Poland to take place in accordance with the plan and schedule, several dozen ships of various types are needed (phase I of the Polish offshore project provides for offshore wind farms with a total installed capacity of up to 5.9 GW by 2030).
We are talking about jack-ups to build the farms, cable carriers, tugs, pushers, barges, pontoons, as well as service operating vessels (SOV) for farm service and crew transfer vessels (CTV) for crew transport.
Detailed calculations regarding the offshore fleet were presented by the Polish Register of Shipping in the report on the potential of the Polish maritime industry for the needs of offshore wind farms.
At the same time, it should be noted that a lot of CTV ships will be needed both at the construction and operational stage, and during maintenance of the turbines - says Marek Siemaszko, CEO of the Safe shipyard in Gdańsk.
At the same time, he points out that offshore is not only wind energy. It is worth considering the so-called offshore mining, i.e. oil and gas extraction.
- As far as the oil and gas extraction market is concerned, the Safe shipyard is at all times a sub-supplier of elements for the Norwegian market, where Polish companies also operate. I would like our sea mining to develop even more dynamically. How Petrobaltic will perform is of great importance today. In connection with the war in the East, the issue of the state's energy security is constantly growing - emphasizes the president.
Before others exceed us
He adds the expansion of ports, including the container terminal in Świnoujście, the regasification port and the container terminal in Gdańsk, as well as service ports.
- These are all huge hydrotechnical investments, the construction of which requires many specialized vessels. It would not be good for these vessels to come along with those who take part in tenders from the Netherlands, Belgium, Denmark, Spain or Norway, in which there is no shortage of such equipment - says Siemaszko, adding that Safe has been building ships for these countries a long time ago.
Andrzej Łuczak, Technical and Commercial Director, notices that many of these companies are already investing in the construction of this type of ships.
- Theoretically, these investments are not dedicated to Polish projects, but we know that they can change their destiny very quickly and work in Polish offshore.
What to do to prevent the Polish shipyards and designers from being left out? The CEO of the Gdańsk shipyard clearly emphasizes that his team has been ready to build part of the necessary offshore fleet for at least 15 years.
- For so many years, Safe has been preparing ships for hydrotechnical construction. A great example is Damen Group, for which we have built about 60 vessels, from tugs to multi-purpose ships (including MultiCat, ShowBuster, PushBuster, Renewables Service Vessel). Their task is to support the construction, operation and servicing of the constructed infrastructure.
He also recalls the flagship series of offshore vessels (PushBusters) that participated in the construction of the artificial palm-shaped island off the coast of Dubai.
- At that time, our units cooperated with Korean barges that transported soil and rock elements to build artificial islands. Exactly the same needs will be present when building our ports at the landing of the sea or the Gdańsk Bay. Typically technical vessels that we build will be used for work - argues Marek Siemaszko, recalling that 80 percent of Safe shipyard projects. concern the hydrotechnical construction market.
Andrzej Łuczak also reminds that in the near future the shipyard will be handing over a turnkey ship for the Fairplay company, intended for hydrotechnical construction in the offshore industry.
- We hope that the handover of this unit will take place at the turn of August and September. The home port will be Gdynia and it is to handle sea transport to support farms or to expand the ports in Gdynia and Gdańsk. The company ordering the unit has high hopes for it, and hopes that the offshore market will finally open up in Poland as well, says the director.
He reveals that Safe plans to build a few more units.

- We know that Polish and other shipowners are planning to expand the fleet of tugs. We conduct such talks, but whether they will be successful does not always depend on us. Perhaps the finished ships will come from other directions - he states and adds that the shipyards are constantly receiving information that there are talks between Polish companies - potential ordering the construction of ships - with foreign shipyards.

The thing with the shipowner. Polish shipyards still overlooked

Siemaszko believes that the problem lies in the lack of large domestic shipowners providing executive, technical services. Shipowners who could take over the entire scope, transportation, logistics and hydro works from general investment contractors.

- Only such an entity, with a large, long-term portfolio of scheduled workflow, could, after assessing its needs for the necessary fleet, place orders with Polish shipyards. Of course, and unfortunately, on condition of having the necessary financing, and we are talking about gigantic amounts - he explains.

- We're talking about a shipowner who knows the types of ships, their necessary technical qualities, the type of specialized equipment, and will be able to select vessels for the needs of the final ordering party - the wind farm developer investor. On the other hand, we, as a contractor, can build everything, of course, within a certain category of vessels, according to the expectations of the customer and the solutions the client expects. After all, we have the same access to equipment as any other contractor in the world - adds the CEO.

He points out that while there is no domestic shipowner who can compete with international service providers, foreign partners of Polish investors take the short way.

- They generally do so out of their own convenience. Minimizing the risk of implementation, they rely on companies (shipowners) they know from joint implementation of offshore projects in other countries, which have appropriate references, he points out.

- Unfortunately, we in Poland need to develop such credentials for ourselves in the coming years, and this will only be possible if someone still decides to have Polish companies participate extensively in consumption, the so-called local content.

What ships are needed to create Polish farms in the Baltic in the perspective of the second phase (investors who get permits in the second phase are to start in auctions in 2025 and 2027)?

According to forecasts by Safe shipyard experts, several Windfarm Installation Vessels (WIVs), so-called jack-ups, will be needed to build towers and foundations. Next are the SOV vessels which construc, service and operate of the farms themselves. These vessels measure 60 to 90 meters in length and are equipped with appropriate communication platforms, working decks and other necessary equipment. In addition, we should mention here the cable-layers, which are necessary for the construction of wind farms.

- In addition, we must also not forget about the whole series of other smaller vessels needed for such projects, which will provide transportation, supply, towing, research services... We are talking about such units as tugboats, research vessels, pilot boats, pontoons, barges - the experts list.

- Safe declares assistance and the possibility of participating in the project to build SOV-type units. On the other hand, building such a unit on our own would require us to reorganize, for which we would have to prepare, says CEO Siemaszko.

Nonetheless, because of the production program that Safe is pursuing, the shipyard would be best suited to building somewhat smaller vessels, such as tugs, pushers and vessels for transporting workers, or CTVs, which we are building, but not in Poland. - For several years our people have been participating in these projects in France, so we already have experience," he recalls.

Safe has practice in building ships based on aluminum hulls (including for its needs in Gdansk). The shipyard is also participating in dedicated offshore wind projects for General Electric at a French shipyard.

Financing the shipbuilding industry. "A hard pill to swallow"

The industry's pain point is access to funding in shipbuilding.

- Even with projects for our other fishing vessels, finding a bank willing to finance contract guarantees or the construction itself is not easy. The amount of collateral, the cost of money, and the time it takes to assemble financing is a tough piece of bread – admits Siemaszko.

He adds that the number of banks willing to participate in shipbuilding financing is not too high. Banks are reluctant to recognize such collateral as a marine mortgage. Some do not recognize it at all. In foreign markets it is treated on a par with a land mortgage.

The lack of discussion with potential contractors about the Polish offshore production program is also problematic.

- No one is talking to us about what we can do, whether we will fit in the timeframe. Such discussions simply do not exist," states Chairman Siemaszko.

Polish local content. Plans vs. reality
Experts admit that the share of Polish local content in the first phase of offshore construction in reality may be significantly limited.
- I think it's time to think about the second package now, perhaps we have a better chance there - ponders Andrzej Luczak, adding that it's hard to imagine that Poland will be able to build its own jack-up or SOV vessel within two years.
- However, there is a chance for CTV vessels. And this is where we see a place for ourselves. After preparations, we are able to deliver such a first unit within a year. If the order was for three vessels, for example, the second would be ready in 15 months, and the third - in 18.
In fact, industry talk echoes the opinion that an average of 30 to 50 CTV-type units will be needed for the Polish offshore.
- Safe has not made such estimates, we rely on what we learn from business talks with large players in the market. Even if we talk about the initial number, 30 vessels, we are still talking about a production program for several years. So it would be appropriate to start working on the units from tomorrow, if the first farms are to be built in 2023-2025 - concludes Siemaszko.
Most recent