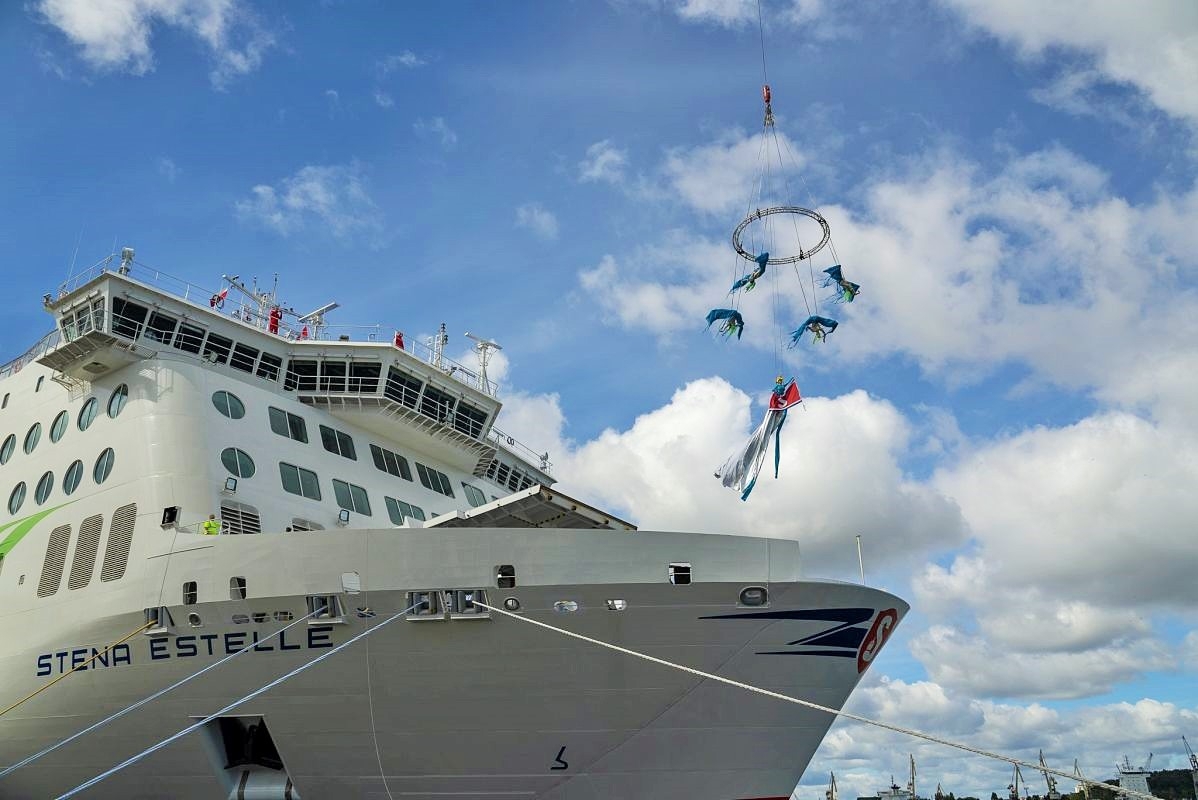 Date of publication: 05.09.2022
Possibility of methanol or LNG propulsion and electric charging from shore. Stena Estelle is the newest vessel in Stena Line's fleet with new green features. On Saturday, September 3, she joined the ferries operating on the Gdynia-Karlskrona route.

The ship's naming ceremony took place at the Port of Gdynia's new ferry terminal. Katarzyna Gruszecka-Spychała, Gdynia's vice-president for economic affairs, became Stena Estelle's godmother. Also present that day were the most important representatives of the Swedish carrier: Stena AB CEO and son of Stena Line founder Dan Sten Olsson, Stena Line CEO Niclas Mårtensson, and Marek Kiersnowski, CEO of Stena Line Poland. Beside them on stage stood the captain of the new ship, Wojciech Jurgas, Secretary of State at the Ministry of Funds and Regional Policy Marcin Horała, Chairman of the Board of the Port of Gdynia Authority Jacek Sadaj, Deputy Mayor of Gdynia Marek Łucyk and the honorary consul of the Kingdom of Sweden in Gdansk Magdalena Pramfelt.
"One becomes a godmother for a long time, maybe longer than I will be a vice-president," said Katarzyna Gruszecka-Spychała.

Before the traditional breaking of champagne for the new ship, another symbolic gesture took place on the stage in front of the vessel. Stena Line CEO Niclas Mårtensson handed the ship's captain the helm. In doing so, he emphasized the importance of the Gdynia-Karlskrona ferry route, which has been in existence for twenty-seven years.

Stena Line's largest ferry

Built in a Chinese shipyard, Stena Estelle is one of the largest ferries in the Baltic Sea. It belongs to the E-flexer class, ro-pax cargo vessels. It is 240 meters long. It will carry 1,200 passengers and has 3,600 loading meters. It will accommodate 200 trucks.


"This will appeal to our freight customers," Marek Kiersnowski said from the stage. At the same time, it is equipped with greener solutions.

"For me, the most important thing is that this Gdynia-Karlskrona connection is constantly growing in demand. A larger vessel, which is able to carry both more passengers and more cargo, is the answer to this demand. So we are dealing with an investment that is not fanciful, but meets real needs," Katarzyna Gruszecka-Spychała, the ship's godmother and vice mayor of Gdynia said.

On board, there are parking facilities for trucks and cars, and above, modernly decorated cabins together with common rooms - a restaurant, a store offering onboard shopping or a cinema room.


Toward sustainable shipping

The ship has 30% more sustainable solutions than other such vessels. It has a hybrid propulsion system, meaning the ferry is powered by diesel fuel, but may soon switch to methanol or LNG.

During layovers, the Stena Estelle will use electricity from shore, so it will not consume fuel for the voyage. As Marek Kiersnowski assures, this will reduce emissions during port operations.

Mainly freight

Stena Estelle cruises will primarily benefit freight companies. Cruise tickets, in the so-called 36-hour formula (a cruise back and forth including a day in Sweden), are so far not available on this vessel. Instead, tickets for separate cruises can be purchased.

Stena Estelle departed from Gdynia for Karlskrona the day after the ceremony, on Sunday, September 4.

In a few months, Stena Line ferries sailing on the Gdynia-Karlskrona route will be joined by a sister vessel of the same class, Stena Ebba.
Most recent