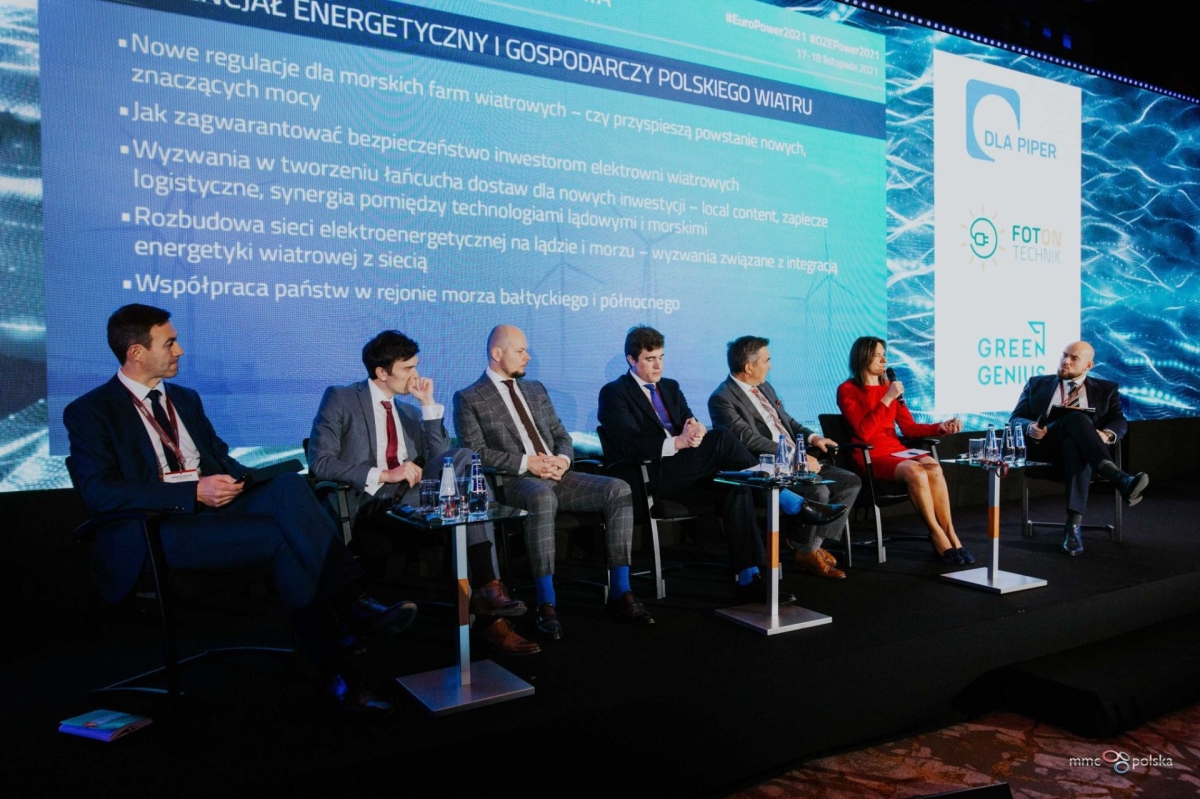 Date of publication: 23.11.2021
On November 17 and 18, one of the most important renewable energy events took place, the 34th EuroPower & 4. OZE Power Energy Conference. During two days, eleven thematic panels were discussed, incl. on the directions of development of the renewable energy industry, the Polish energy mix, the prospects for the development of hydrogen technologies or the digitization of the sector. The second day of the conference began with a panel on the energy and economic potential of Polish wind. The session was attended by: Zbigniew Gryglas - Undersecretary of State in the Ministry of State Assets, Rafał Libera - group integration manager Acteon Group, Jarosław Broda - President of the Management Board of Baltic Power, Monika Morawiecka - President of the Management Board of PGE Baltica, Jan Biernacki - Director of the PwC Energy Department. The panel was chaired by Mateusz Kowalewski, the publisher of the Gospodarkamorska.pl, MarinePoland.com and Zielonagospodarka.pl portals.



During the first session opening the second day of the conference, many key topics related to offshore were discussed. Experts talked about new regulations for offshore wind farms, the issue of local content and the investment security aspect of wind farms.

Local content – bold decisions are needed

As the panelists emphasized, the future of the Polish energy transformation largely depends on offshore wind energy. Local content is a topic that has appeared very often recently. There is a large group of players interested in the implementation of individual stages in the Polish offshore – from shipyards for the construction of ships to service wind turbine installations or logistics companies.

- We are at such a stage that offshore is becoming a reality - said the president of PGE Baltica Monika Morawiecka.

- Today we are fighting for the Polish economy to benefit the most from offshore. We want Polish companies to participate as much as possible in the construction of farms. We are in a better position when it comes to service, because nothing can replace Polish ports. The British started with 5 percent local content, we will have much more - said Zbigniew Gryglas, former deputy minister of state assets.

- Bold decisions are needed, but this industry is very safe from an investment point of view. Investors should embrace all offshore elements - added the former deputy minister.

- Orlen is 51 percent shareholder of Baltic Power. This is the first phase on our way to become an offshore leader in the Baltic Sea. Offshore is a large-scale business; building and maintaining competences as well as operating requires large investments. We have global offshore growth, both in the US under Biden and in Asia. In order to be in the right negotiating position and to be a partner to global suppliers, we need to grow and achieve the right scale. This is for economic and business reasons. It is worth being a big player in this business. We are currently in a fairly advanced phase of purchase. Offshore is not a song of the future, it is happening today - announced Jarosław Broda, the president of Baltic Power.

- On the Polish side, we need government support for Polish companies that would like to enter this industry, I recommend that you hurry with it, because the purchase phase will be completed in 6-9 months - emphasized the president of Baltic Power.
- We are discussing a lot about the value chain. Let's say that the risk profit of investing in value chain offshore is now very diverse - said Jan Biernacki, director of the energy department of PwC.
Poland's energy strategy and striving for climate neutrality

- The pursuit of climate neutrality requires ambitious and consistent actions in all sectors of the economy - said Minister of Climat and Environment Anna Moskwa during opening speech.

- This requires not only strategic documents, most of which are already in place, but also projects carried out in business, with an appropriate structure and carried out with responsibility - added Moskwa.

- We are looking at the Fit for 55 with great care. It carries many opportunities, but also threats. It is hard to expect that such a change can be adapted to the needs of all EU countries. Now the dialogue with the European Commission will be a great challenge - she announced.
- The Fit For 55 topic is difficult, from the point of view of coal-based countries, its assumptions are very ambitious. We know that we have to meet customer expectations, it cannot be that we will lose economic attractiveness due to climate policy - said Karol Rabenda, Undersecretary of State in the Ministry of State Assets.

- One of the key documents is the Polish Energy Policy until 2040. It is a comprehensive document subject to long-term evaluation. We will likely be evaluating or updating it. Not because it is bad, but the transformation process is so dynamic that it requires it and the addition of new elements - summed up the Minister.

- The challenges that result from Fit For 55 are huge. We are in a different point than the so-called countries of old union. We count on funds. Any delay is working to our disadvantage. We are concerned about the lack of clear directions for the transition period. It is impossible to switch from coal to low-emission energy straight away. We thought about gas. We must also think about transmission networks in the context of offshore and distributed energy - said Jerzy Topolski, vice president for asset management at Tauron.

The 15GW of the installation is not enough – time for a mix

- The power of all installed renewable energy sources has already exceeded 15 GW - Minister Moskwa emphasized in her statement.

- It is rational that we are moving away from hard coal in the power industry. When it comes to investments in gas, renewable and nuclear energy, Poland should move away from coal in favor of more efficient sources. I am convinced that after 2025, if we fail to negotiate that certain amounts related to coal energy are supported, we may have a problem with maintaining energy security - said former Deputy Minister of Energy Grzegorz Tobiszowski.

- Our task will be to fulfill a security buffer in the energy system so as to complement each other with renewable energy and new technologies and ensure energy security. It is important that the energy produced in the country comes from local sources - emphasized the president of PGE GiEKA, Andrzej Legeżyński.

- We have to change the way the energy system is managed. A distributed energy system with millions of unstable energy sources and unstable consumers cannot be centrally controlled. It must be controlled flexibly - he said.

- You have to invest in grid flexibility, energy production and energy consumption at the same time. As part of this flexibility - he added - energy consumers should be able to choose a dynamic tariff system or a consortium - those who wish to schedule their consumption for the next day with an hourly resolution will have the chance to save money. For this, however, you need to create a new, more competitive tariff system - said Jarosław Wojtulewicz, advisor to the management board for strategy at Apator.

- In 2019, we had 30 thousand installations connected to distribution grids, this year we expect 120 thousand - commented Waldemar Skomudek, Vice President of the Management Board for Operator in TAURON Dystrybucja. - Although distribution networks need financing, their thoughtless expansion will not become a remedy for the growing number of prosumers - added Skomudek.

- We focus on distributed energy because it is a megatrend. The question is what will be at any moment, maybe hydrogen or atom? I cannot say whether the increase in the number of prosumers is bad or good - if someone wants to invest in their own energy source, they should be able to do so. However, it has come to a point where the number of installations may be a problem for low voltage distribution. It can also be a social problem - if my neighbor consumes less energy, I will have to pay more - said the former president of the Energy Regulatory Office Maciej Bando.
Most recent