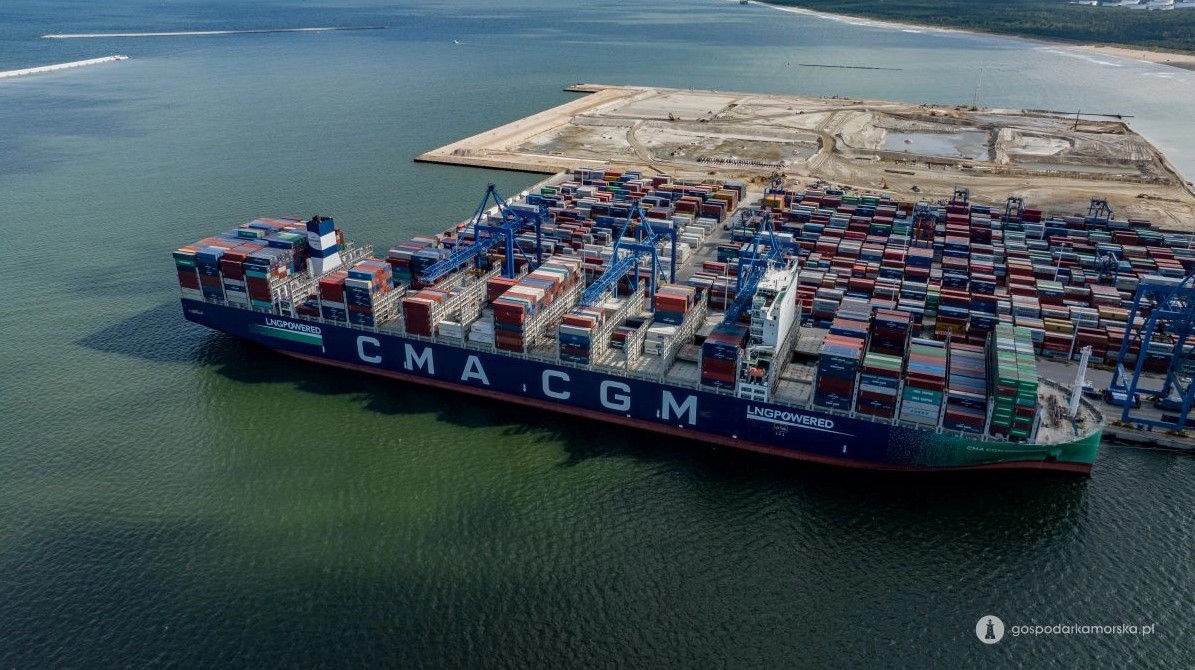 Date of publication: 28.09.2023
On Wednesday, the largest container ship powered by liquefied natural gas (LNG) arrived at the Baltic Hub terminal in the Port of Gdansk. The gigantic size of the CMA CGM Concorde makes this visit a truly spectacular phenomenon.
In 2017, Rodolphe Saade, CEO of CMA CGM Group, took the pioneering decision to equip a series of nine 23,000 TEU container ships with LNG-fuelled engines, a first for vessels of this size in the history of shipping. The distinctive green bows and LNG POWERED lettering make the fleet recognisable worldwide.
The first ship in the series was the flagship Jacques Saade. The others, meanwhile, are named after iconic landmarks and places in Paris: Champs-Élysées, Palais Royal, Louvre, Rivoli, Montmartre, Trocadéro, Sorbonne and Concorde. Measuring 400 metres long and 61 metres wide, the vessels are currently the world's largest LNG-fuelled container ships. Currently, LNG is the best available solution for reducing shipping's carbon footprint and protecting air quality. The fuel reduces sulphur dioxide emissions by 99%, particulate matter emissions by 91% and nitrogen dioxide emissions by 92%, far exceeding current regulatory requirements.
CMA CGM Concorde arrived in Gdansk as part of the new FAL1 service inaugurated in August this year, which connects the largest container terminal in the Baltic with South Korea's largest container port, Busan.
"This is the second test call of the ship owner CMA CGM. As of October, we are launching a regular connection, as part of the new French Asia Line 1 (FAL1) ocean service. This will provide the Port of Gdansk with a direct connection to Busan, South Korea's largest container port and the 6th largest in the world. As early as next month, ships on this service will call at Gdańsk on a weekly basis. This will increase the frequency of direct ocean-going ship calls between Asia and Europe to three per week. We are delighted that CMA CGM, one of the largest container shipowners, has recognised the importance of our port for this part of Europe and confirms that it wants to develop its potential with the Port of Gdansk", says Tomasz Braun, Director of the Port of Gdansk Strategy and Development Division.
"FAL1 is the result of a long-standing, fruitful cooperation between Baltic Hub and CMA CGM. This is another direct connection between the Baltic Hub, located in the Port of Gdansk, and the Far East, which will further strengthen our position on the European container port map", adds Charles Baker, CEO of the Baltic Hub.
Most recent