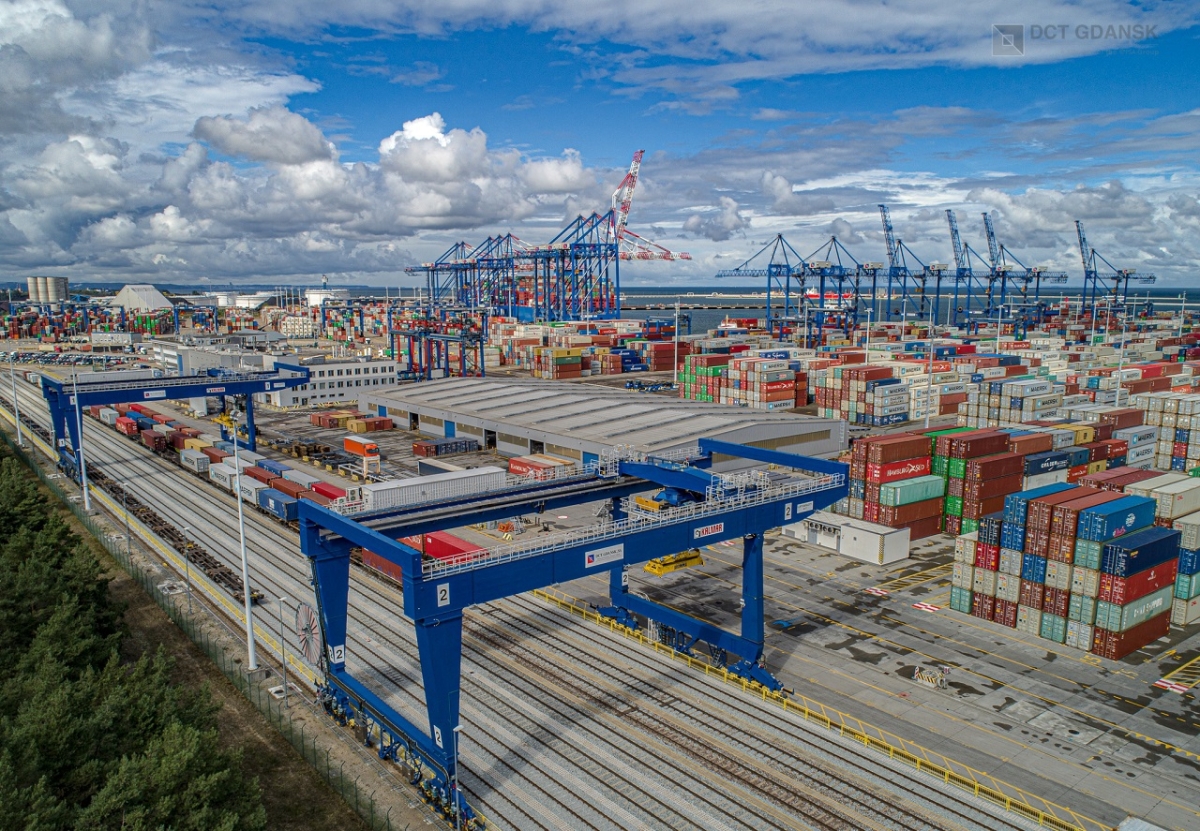 Date of publication: 26.01.2022
DCT Gdańsk has completed the expansion of one of the largest rail container terminals in Europe with a capacity of 750 thousand TEU (20-foot containers). The new investment opens up development opportunities in inland markets that are landlocked and is an economically effective and "green" alternative for DCT Gdańsk customers.

The expansion of the railway terminal was a key element of the three-year DCT Gdańsk investment program (the so-called T2b), scheduled for 2018-2021. In addition to the expansion, the DCT entrance gates were fully automated, where OCR (optical character recognition) cameras were used to register trucks and containers, the number of modern STS quayside cranes was increased to 8, the area of ​​storage yards was increased, and additional equipment was purchased - 5 eRTG yard cranes
First step.
New RMG tracks and cranes

As part of the expansion of the railway terminal, the tracks were lengthened from 618 to 750 meters, the railway siding was widened from 4 to 7 tracks, fully electrified RMG railway cranes were purchased, and an OCR camera system for recording trains and containers was launched. All this allowed to increase the throughput capacity by rail to 750 thousand TEU.

- We added three tracks more, so we now have seven tracks of 750 meters long. That became too large for the RTG's, so we ordered three rail-mounted gantry cranes, RTG's. We've managed to increase our capacity to 750 thousand TEU for rail handling - informs Charles Baker, general director of DCT Gdańsk.

The gantry cranes arrived in Gdańsk in parts in July 2019 from China. Huge pieces of new equipment were transported to the assembly site. At the same time, work began on the development of new rails for RMG cranes. After passing the first tests, DCT started servicing trains on the upgraded railway siding.

An interesting fact is that the spectacular RMG cranes are 47 meters long, 20 meters high, 28 meters wide and are designed to work on rails.

Wiktoria Matlak-Paszak, project manager responsible for the infrastructural part of the investment on behalf of DCT Gdańsk, reminds that the construction works on the terminal started at the beginning of 2019.

What did these works look like in detail?

- It was the first stage of the extension of the railway siding. In order to enable reloading operations with the RMG railway crane, it was necessary to build a second crane beam, renovate the existing one, and perform all accompanying works - in particular electrical works. We are talking about high power - 15 kW - explains Wiktoria Matlak-Paszak, civil engineer.

The end of engineering works, sealed by an administrative decision, took place in 2020. This investment had to be divided into stages due to the delivery of RMG cranes.

- When the overhead cranes arrived at the terminal, we had to make a certain area of ​​the yard available so that they could be assembled, commissioned and tested for all the equipment - she says. - After that, we started the second stage, which consisted in adding three new tracks, extending the existing ones, reconstructing turnouts, thanks to which we managed to connect with the second track to DCT as part of the investment carried out by Port of Gdansk Authority.


The project manager emphasizes that two stages of the investment were necessary. - The spacing of our previous RTG cranes is smaller than RMG cranes that run on rails - she explains.
The second stage of the investment started at the beginning of 2021 and ended practically at its end.


Will there be a fourth crane?

Charles Baker admits that the terminal is in talks with suppliers about a fourth RMG crane for the DCT rail terminal.

- That would lift the capacity up probably to around 900,000 TEU, which is obsoiusly in line with the growth that we are anticipating with the development of Terminal 3 - emphasizes Baker.
- Then we might need to find another place to put a second rail terminal as we continue to grow into the future. Especially if the migration from truck to train really starts to increase in the coming years as we expect it will, as the pressure comes from the legislavite bodies both from Poland and the European Union, and to some extend the International Maritime Organization, pushing evermore towards lower emmisions for cargo transportation - he says.


RMG replaced RTG. This change is "eco"

It is also particularly important for the terminal that the RMG cranes are electrically powered and therefore have lower emissions than the RTG yard cranes they replace. But there are more advantages: RMGs are larger, more efficient and faster (maximum travel speed - 150 m per minute).

- We do not have the final statistics for 2020 yet, but we will probably close around 480,000 TEU at the rail terminal - Charles Baker tells us.

DCT spends nearly EUR 17 million on railways. Will it pay off?

The head of the largest container terminal in the Baltic Sea reminds that all these investments enable DCT to open more windows for rail operators.

- Trains from different directions and going to different places will be able to come to us more frequently. Obviously, both us, the shipping lines and customers like to operate these on fixed, weekly basis. Everybody knows that those trains are programmed to and from those destinations, so they can plan their supply chain accordingly, because of course ship arrivals and departures are programmed on a weekly basis as well. And we;ve been very fortunate that most of the time during 2021 they have arrived on time, despite the problems of congestions in other european ports – says Baker.

- The goods will be reloaded in our railway terminal and will go by feeders to other Baltic countries, including St. Petersburg. And vice versa - goods unloaded from trains in Russia can flow from St. Petersburg to Gdańsk, and we will place them on other wagons, on other tracks, so that they can be distributed around Europe – describes Baker.

He points out that most of the loads that arrive by rail are destined for Poland.

- And this percentage is growing. Of course, there are tons of investments in the country aimed at modernizing the railway infrastructure, improving the tracks, improving the sidings so that the trains can be longer. This will help us reduce the carbon dioxide emissions associated with the cargo transport in Europe, and that is one of our goals. We think this will also fuel rail transport. We expect to see proportionally more containers leaving DCT on the tracks in the coming years - emphasizes the CEO.
Open to southern neighbors

Foreign customers will be able to generate significant cost savings by using a shorter rail route to and from DCT Gdansk, compared to other ports in southern or western Europe. DCT Gdańsk will work with partners from the industry on the development of its intermodal services to and from neighboring countries and regions with no access to the sea, i.e. the Czech Republic, Slovakia, Western Ukraine and Belarus.

DCT Gdańsk is directly represented on the Czech and Slovak markets, which enables our southern neighbors to use the forwarding potential of DCT.

- We offer competitive delivery times and - thanks to the use of rail connections on a large scale - we guarantee our customers lower carbon dioxide emissions per container compared to other European ports. The experience and scope of DCT's activities therefore give inland customers a better, cheaper and greener alternative to transporting goods - adds Charles Baker.

About DCT Gdańsk

DCT Gdańsk was launched in 2007 and has a capacity of 3 million TEU. The terminal handles over 700 ships a year, including 100 calls of the largest container ships in the world. In 2021, DCT Gdańsk handled nearly 2.1 million TEU, and on April 8, 2021, it reached 15 million TEU handled in total since its inauguration 14 years ago.

The terminal has a significant impact on the economy; employs over 1,000 employees, of which over 50 percent lives in Gdańsk and its vicinity. In addition, it generates over PLN 12 billion a year from VAT, excise duty and customs duties to the state budget.

DCT Gdańsk also undertakes activities for the benefit of local communities, and clearly defined, measurable goals of sustainable development are an integral part of DCT's business activities.

The terminal is owned by PSA International (40%), Polish Development Fund (30%) and IFM Global Infrastructure Fund advised by IFM Investors (30%). PSA International is a leading global port group and a trusted partner for cargo companies around the world. With flagship operations in Singapore and Antwerp, PSA's global network includes more than 50 locations in 26 countries around the world. The Polish Development Fund Group (Polski Fundusz Rozwoju, PFR) is a group of financial institutions offering instruments for the development of enterprises, local governments and private individuals, investing in sustainable social and economic development. IFM Investors is a global institutional fund management company worth $ 118 billion (as of March 31, 2021).
Most recent