Date of publication: 30.11.2021
DCT Gdańsk has just summed up its social activities in 2020 in the Sustainable Development Report.
DCT Gdańsk is the only container terminal in Poland that regularly publishes social reports. Every year, the company cooperates with many entities (including the police, fire brigades, schools and kindergartens), but in 2020, due to sanitary safety requirements, it was not possible to carry out many of the previous activities in a stationary form. Nevertheless, that year DCT organized 20 social projects with 15 different partners; mainly actions aimed at combating the COVID-19 pandemic, such as helping seniors, medics and hospitals, but also supporting the local community, including employees, children and adolescents, in maintaining mental and physical health and safety while developing their skills.
The latest DCT Gdańsk Sustainable Development Report consists of four parts, relating to the environment, safety, employees and support for local communities. For example, when it comes to the environment, DCT Gdańsk describes the activities thanks to which, between 2018 and 2019, it was possible to reduce the number of disposable plastics by twenty thousand, and in 2020 single-use plastic was completely eliminated. When it comes to safety, DCT constantly improves and implements procedures aimed at reducing risks at workplaces and preventing accidents and occupational diseases. In 2020, DCT also continued to recognize, through a number of initiatives, the safety of employees, while promoting a healthy and active lifestyle. In the area of activities for the benefit of local communities, DCT put a strong emphasis on supporting seniors - residents of the surrounding districts - and the organization of a summer cinema on the beach in the Stogi district, which was met with great interest both by residents of the neighboring districts and residents of Gdańsk from remote parts of the city.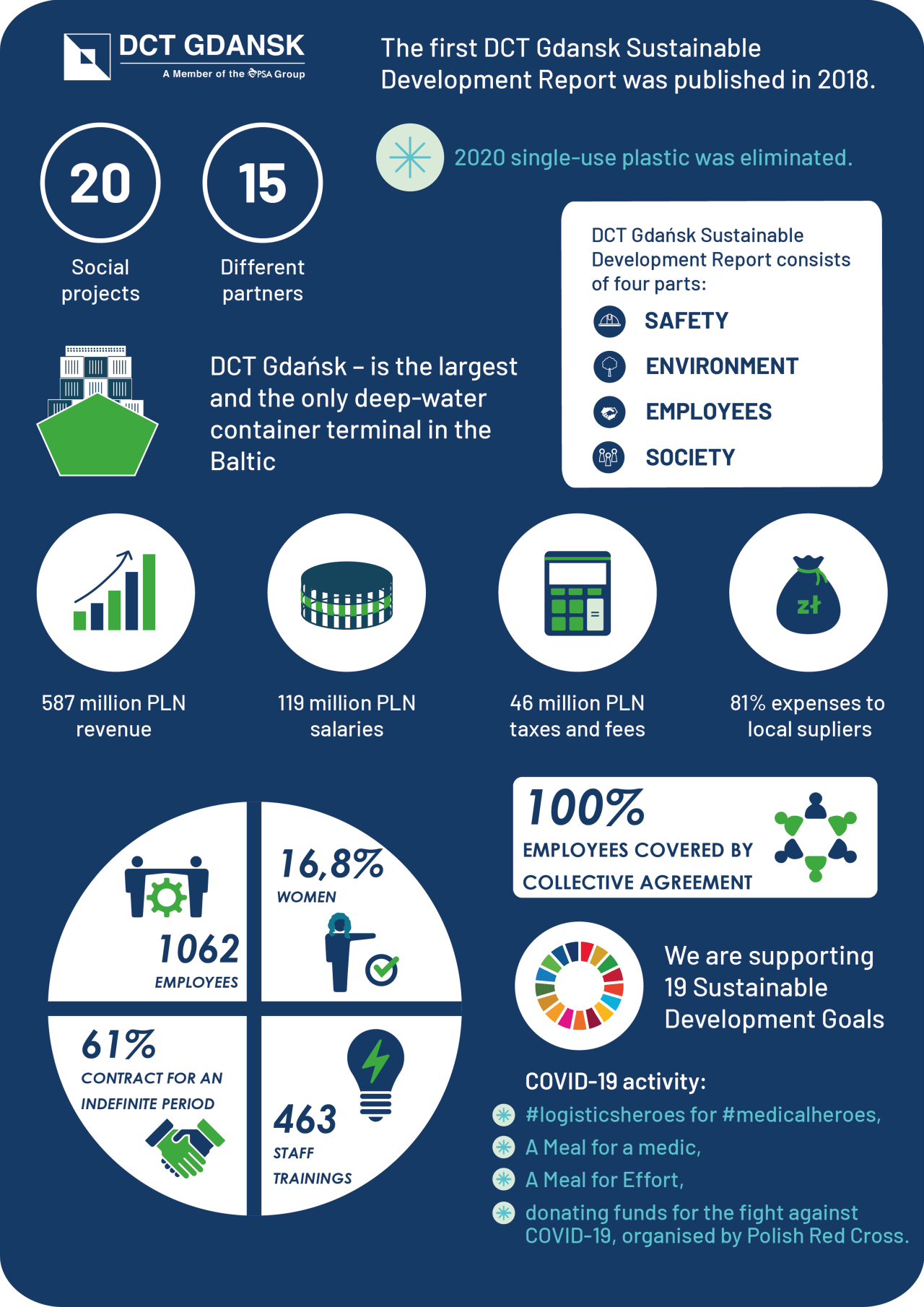 - Operating in line with the goals of sustainable development is not only a marketing activity. We do not perceive our corporate social responsibility activities as an obligation, but as an offer of support, which is completely natural for us. We are responsible corporate citizens, blended into the local community. We cannot imagine that we could function as a separate entity, which is why we care so much about relations with both our employees and the residents of the neighboring districts. We think about our presence in Gdańsk and Poland in the long term, hence, for example, our concern for the environment. We are consistently reducing our carbon footprint thanks to the use of new technologies - says Charles Baker, general director of DCT Gdańsk.
The first DCT Gdansk Sustainable Development Report was published in 2018 and it was the first document of this type in the history of DCT Gdansk and the Polish container industry. DCT reports are based on the International Standard Global Reporting Initiative (the international reporting standard for corporate responsibility and sustainable development).
In the report, Dominika Milion, director of sustainable development at DCT Gdańsk, sums up: "DCT Gdańsk is not only about transparent business activities, efficient financial management and respect for human rights. DCT Gdańsk is also a responsibility, the meaning and role of which we understand very well. Our facilities are located close to an area of exceptional natural value covered by the Natura 2000 protection network. Moreover, we are aware of the impact that our presence and activities may have on the local community we want to support - after all, most of our employees live in the area. We can proudly say that the local community is our people."
The company's representatives have announced that this is not the last edition of the report. - In the coming years, we plan to publish the next editions of the report to show DCT's continued commitment to society, the environment, and employees, to ensure that DCT maintains the highest standards as a socially responsible company - says Marcin Kamola, DCT Gdańsk Communication and Sales Support Manager.
The DCT Gdańsk Sustainable Development Report is available here.
Most recent