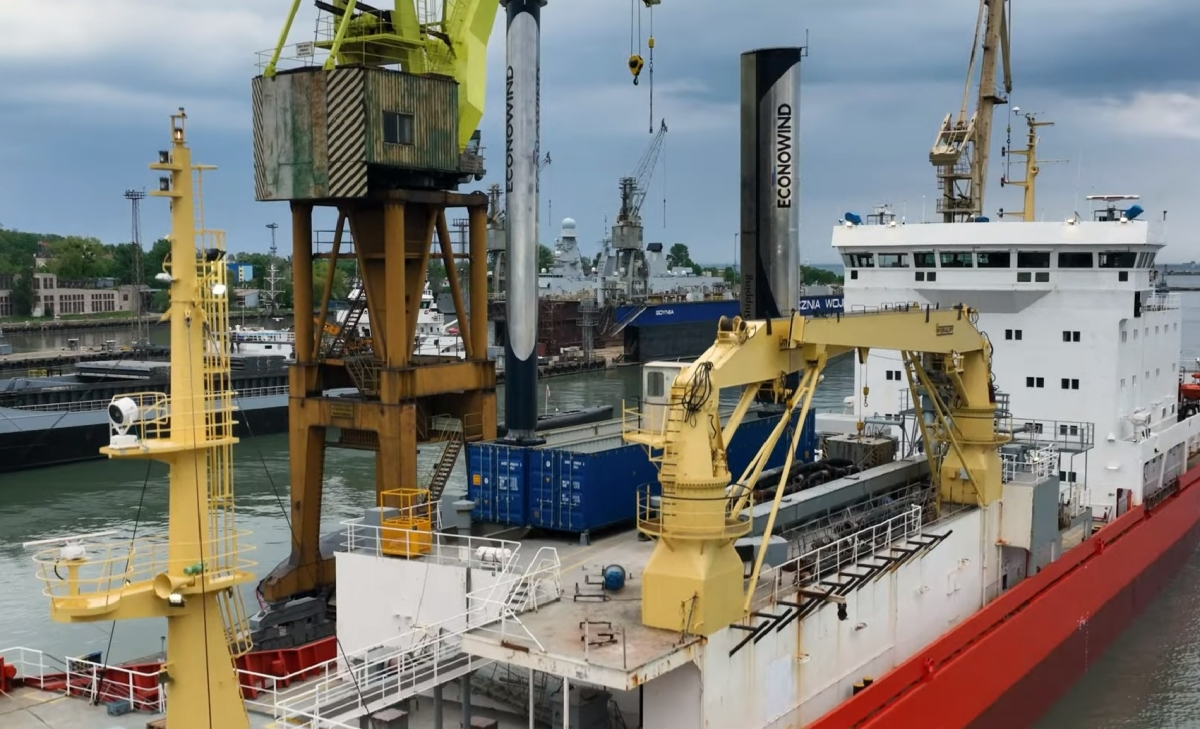 Date of publication: 06.07.2023
The Dutch company eConowind has developed a breakthrough propulsion solution called VentoFoil. The innovative system has been installed on the cement carrier Sunnanvik, owned by Eureka Shipping which is part of the SMT Shipping, aligning with the company's consistent strategy of implementing innovative patents for sustainable industrial impact on the environment.
VentoFoil consists of flexible, vertical wing-shaped elements that convert wind energy into additional propulsion for maritime vessels, thereby significantly reducing fuel consumption. The aerodynamic innovation lies in an intelligent suction system that controls the airflow around the wings, ensuring optimal force relative to their size. It is estimated that VentoFoil can generate savings of several hundred KWh of engine power. The solution is designed to assist shipping companies in achieving the emission reduction targets set by the International Maritime Organization (IMO), aiming for a 40% reduction in carbon dioxide emissions and carbon footprint by 2030.
SMT Shipping is one of the early adopters of the latest generation of VentoFoil. The company has equipped their cement carrier Sunnanvik with the intelligent propulsion system, giving wings to their fleet. The installation of the components took place in May at the PGZ Naval Shipyard in Gdynia. The implementation of this Dutch solution is a significant part of the company's sustainable development policy. The predicted fuel reduction on the vessel is expected to reach 10%, and the initial operational data received from the ship is very promising. Sławomir Pyż, Director of Design and Special Projects at SMT Shipping, emphasizes that implementing this state-of-the-art solution on an aging vessel, which is already 45 years old, will significantly extend its lifespan.
SMT Shipping firmly commits to sustainable development, which is why they eagerly embrace innovative solutions such as VentoFoil. The installation of this system on the Sunnanvik cement carrier is evidence of the company's dedication to reducing harmful emissions and caring for the environment. By harnessing wind energy, VentoFoil enables SMT Shipping to achieve fuel savings and extend the lifespan of their fleet. This is an important step towards a more environmentally responsible maritime industry.
Most recent