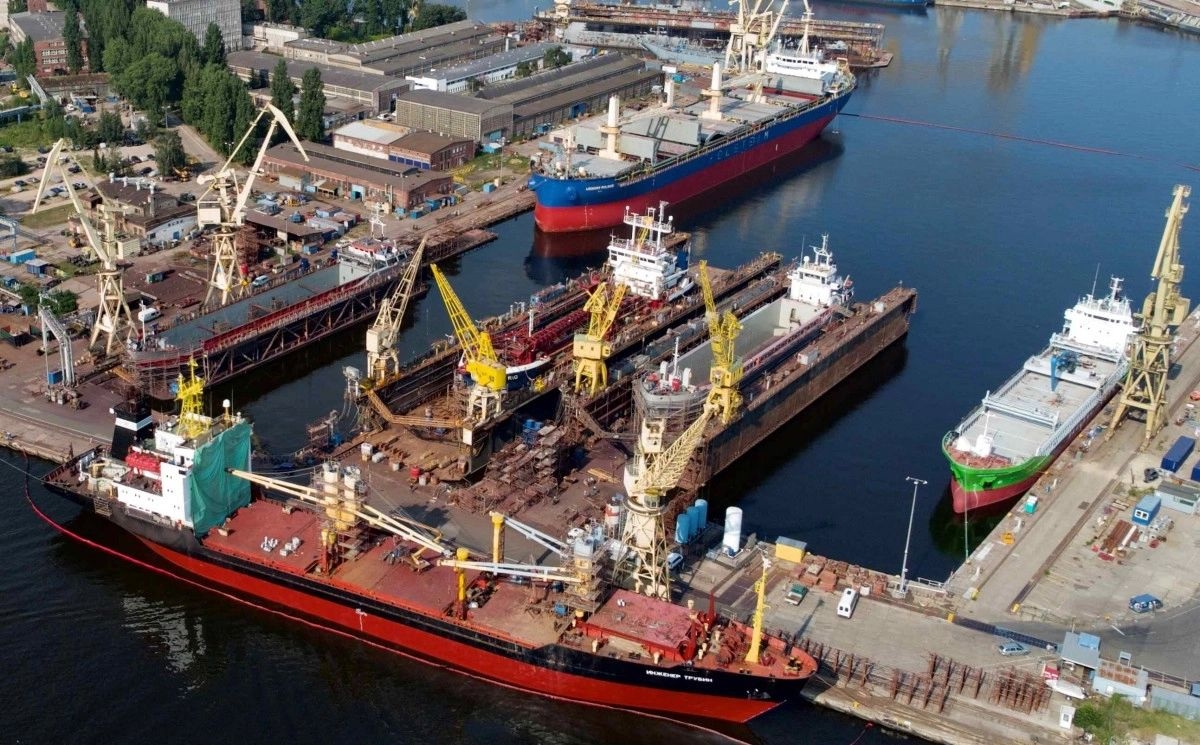 Date of publication: 06.07.2023
The Marine Ship Repair Yard "Gryfia" for the second time in a row records a good financial result. Investments are also underway, which will allow it to open a completely new stage of activity next year. Amarendra Roy, Vice-President of the Management Board of MSR "Gryfia" for Commercial Affairs, talks with us about the specifics of "Gryfia" and the change in the profile of its activity.

For the second year in a row, you have a good financial result. The docks of the shipyard are full, there is no shortage of work. Everything is going in the right direction in "Gryfia"?

There is no shortage of work. The condition of the ship repair market is a derivative of the situation on the sea transport market. In turn, the transport market depends on the global exchange of goods. From forecasts, from the opinions of many experts and analysts, we know that global trade in 2023 will be difficult. This year's forecasts are just 1 percent growth. This already shows that it will be difficult and indeed everything is going in this direction. This is related to the uncertainty of the development of the consumer market, high inflation and energy prices. All this hinders development. But in our renovation industry there is always something to do. Repairs must happen - there will be more or less of them, but they are obligatory. It's like with cars - they can't drive without inspection, and ships can't sail without class surveys. It's just a matter of what kind of ships will come to us. So far there have been a lot of bulk carriers, this year it looks a bit worse. But "Gryfia" will always find its niche, and so it is now. We have tankers, ferries, offshore vessels. There is still a very high demand in these industries, so there are a lot of repairs.

Is it mostly class surveys or some other operations?

The ship must have valid documents, it must undergo class surveys, so these are mainly such activities. But when a ship comes to us for class inspection, we fix everything that needs to be done right away. Due to environmental protection, ballast water treatment systems are required. The IMO extended the period for their implementation until 2024. Therefore, it is still our niche. In 2022, we installed such systems on 16 vessels. This year, we have already completed four, and we already have more orders by June. I can see trends continuing.
Earlier we mentioned repairs of tankers, chemical tankers, ferries and offshore vessels. Here I also see that by April, out of 26 vessels, 13 were ships of this type - 5 tankers, 4 ferries, 4 offshore vessels. These trends also persist.
But why am I talking about these niches at all? We have known since the beginning of the year that the Baltic Dry Index is very low. In the final phase of 2022, it was 1,723, today it is 1,100. Therefore, shipowners do not invest in this direction either. The global index for container ships in 2021 was 10,000, today it is around 2,000 and is still decreasing. But tankers that previously had a low index - 547 - today have 1800. You can see that these niches that we have caught in recent years make sense. As for orders, I'm not worried, I have all the docks filled by the end of June. Today we are working on the second half of the year.
When it comes to turnover, we keep the level from 2022. It will be similar in the first half of the year. You can see that we maintain the level and keep fighting.
In that case, can we say that the last few years and the transformations that took place in "Gryfia" have been successful? Is this the moment when you can applaud?

Yes, the transformations helped. But let's not applaud yet. We worked to change the profile of the shipyard. In previous years, for example, we did not repair so many gas carriers and tankers, and the last two or three years have brought a lot of such vessels. This is also conceived in the context of our large dock, which is still under construction. Tankers and gas carriers are larger in overall dimensions. Having such a dock, we turn to those shipowners who have larger ships that will also need repairs.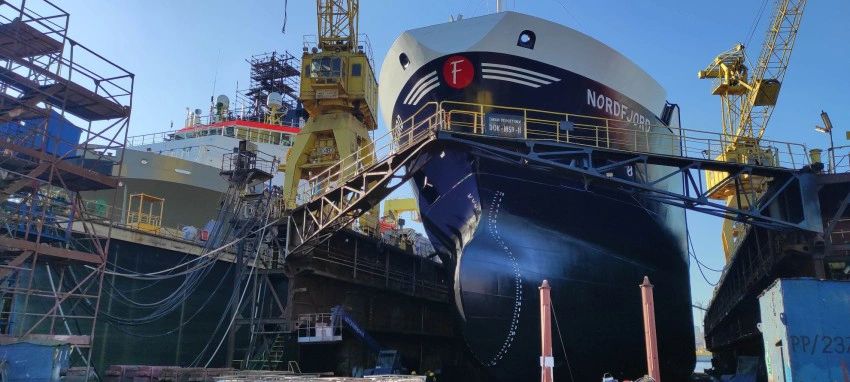 The dock will be commissioned next year. Are shipowners already calling, sending emails and queuing up?

They ask about it. This dock will be available in 2024, so they know that we will have such opportunities. These customers come to us with their smaller vessels, and they also have a lot of larger ones in their fleets. We are working in this direction so that they send inquiries slowly, but in renovations it is a very big advance. It is often the case that customers report two or four weeks before the planned renovation, because the ship is contracted earlier. Well, it also depends on where that ship is. It is not like in the case of new constructions that we contract today, in five years we hand it over. There are short deadlines for repairs. Customers simply need to know that such a dock exists in the area. At the moment, we are trying to inform them about it in various ways. Sometimes we have direct contact, we also take part in various events and talk about it.

The dock will give you new opportunities, but it also involves other investments, like new quays, which also costs money. How to keep a shipyard like "Gryfia" growing in such uncertain times, when energy prices are rising, labor prices are rising, and the geopolitical situation is unstable?

Investments are always made in difficult times, they pay off later. It is never so easy to invest yourself and everything would be guaranteed. It is difficult, but I do not see a problem not to build the potential that will be needed in connection with the large dock. Investments related to the quay, the installation of the dock - all this is happening at the moment, we are making the quay and the depth of the dock, because this is the basis, this dock will have to be installed somewhere when it is ready. We also need to have appropriate berths to moor these vessels with a large draft. We are working on it all the time so that everything is ready on time. When the dock is ready, we will only wait for customers, and as I said, we are also working on that.

Someone has to work at the dock too. I remember that a year ago, the president Zaremba said at one of the conferences that you are able to hire one hundred employees right away. Workforce is still a problem?

Yes. Such a problem will not be solved just like that. But first you need to have jobs to offer to people. There are problems, but we are here to solve them, to organize the work so that it can be done. There are more and more new technologies and machines. Naturally, few people are available for work, but new devices can already partially replace them. This can be seen, for example, in hydroblasting - the devices have high efficiency and work efficiency is much better. Of course, there is the question of price, but it is obvious that if the customer needs the service in a short time, he has to pay more. It works both ways. Despite the fact that new employees are nowhere to be found, the customer has to go somewhere for a given service. When energy prices went up, did factories stop producing? No. We pay. We buy these products and pay for them. It is similar in the shipyard - it is more expensive, but the customer will have to pay it if he wants to continue doing business and count on the freight market.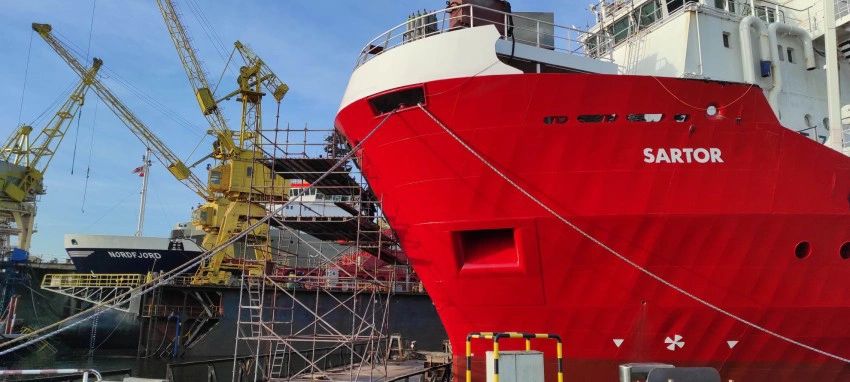 Some time ago, several Polish shipyards sounded the alarm and tried to do something about high energy prices. Did you also feel it very strongly? Are there any other problems you are concerned about?


Problems arise all the time, but we work to solve problems. Of course, energy has become more expensive, but the customer pays. As such, these adversities we face are not insoluble. If there are no people on the market, we bring them from abroad. They come and work. It used to be hard for me to imagine it, because no foreigners ever worked in "Gryfia". Today we have a lot of employees from Ukraine. We are heading in this direction - when we see deficiencies, we supplement them based on the sources that are available.

You mentioned that several offshore vessels have already appeared in your docks this year. Like it or not, you have contributed to the development of the Polish offshore sector, because an installation terminal of the Orlen Group will be built on your former territories. Therefore, there should be more offshore vessels in Poland in the coming years. Is this a development sector for you?

I assume so. Offshore ships have always been with us - they worked somewhere else, they did not come here, so there were fewer of them, but we were repairing some. At the moment, the market in the Baltic Sea is growing, so there will be more such vessels in the region, which gives us more opportunities. We are working in this direction, we have already strengthened our docks. Offshore ships are not big, but they are heavy. Not all docks are suitable. A short but heavy vessel means more pressure per square meter. Floating docks are built in such a way that they have a specific carrying capacity along their entire length. In a dock that lifts 5,000 tons per 100 meters, it will be difficult to place 5 thousand tons at 50 meters. That's why we strengthened our docks so that these smaller, but heavier, vessels could safely dock.

How is "Gryfia" currently perceived among foreign partners? How do they see you? What are you valued for?

We are valued for good quality for good money. This is the main advantage. We do not have a price so high as to scare someone, but it is matched to the quality that customers demand. As you know, we renovate about 100-120 vessels every year. These are the same customers. They know us and come back to us. In this industry, partners are not changed so drastically, you are not looking for something new. Customers know the shipyard from the practical side, not only from advertisements, because they repaired their ships with us before. Companies change, names change, but the people in this industry remain the same. Shipowners do not decide on shipyards. They have superintendents for this, who suggest where and how repairs need to be made to make it profitable also in terms of where the ship sails. Ultimately, the owner pays, but based on the employees' suggestions. There aren't that many in the industry. There is no situation that today someone is in the industry and tomorrow they are not. Of course, they change, but in a company, someone always passes information to someone else. Hence my confidence that we are known on the market. We don't need to be discovered. We just maintain relationships. At exhibitions, we simply meet, remind ourselves of each other, show what we do.

Does the price-quality ratio put you in a competitive position also with Far Eastern repair shipyards?

Ship repairs are linked to where the ship is currently sailing. If the ship sails in the Baltic Sea region, it is naturally not profitable for it to sail to China for repairs. In China, you can build cheaply and renovate cheaply. But for ten or twenty years it has been clear that if a ship is planned for a major overhaul - 200 tons of steel to be replaced - it will not be repaired in Europe anyway. He'll look for cargo to sail to Asia and dock there. It used to cost 1-1.5 dollars to replace steel in China, and it cost 3-4 euros in Eastern Europe. Today, it is also more expensive in China, but still such large and energy-intensive repairs and steel replacements have no future in Europe.
Most recent