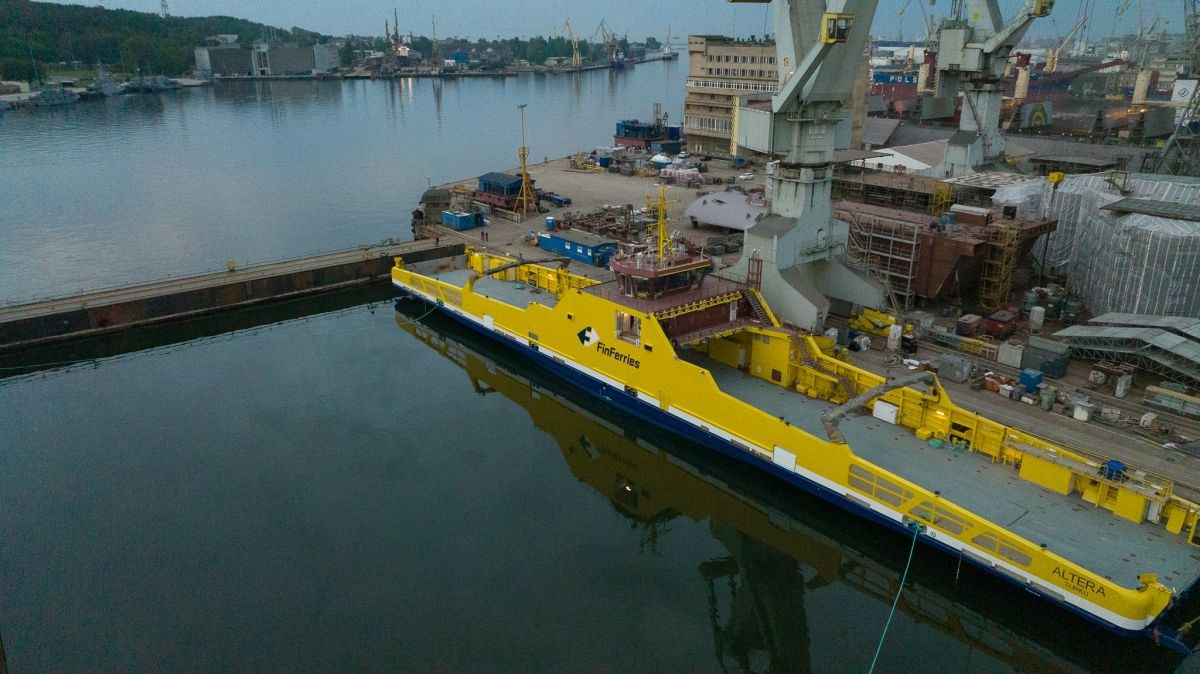 Date of publication: 14.07.2022
The successor to the famous Elektra, the double-sided hybrid ferry Altera, numbered P315, was launched at the Crist shipyard in Gdynia. The state-of-the-art and environmentally friendly vessel set sail for Finnish shipowner FinFerries on Sunday (July 10).


Crist shipyard began work on the new ferry in November 2020. The first steel cutting for the hybrid ferry with construction number P315 took place on June 11, 2021. The final point was the launching operation of the vessel on June 7, 2022.

It has an overall length of 104 meters, a width of 15.2 meters, and a design draft of 3.5 meters.


- The hallmarks of the newest vessel are the 1,200 kWh batteries, which can be recharged both from land and through the three power generators with which we have equipped our ferry - says Aleksander Lech, project manager at Crist shipyard.

The state-of-the-art charging system that was installed on the vessel was supplied by Siemens. Suffice it to say that the ferry can be charged in... a few minutes.

It can accommodate as many as 92 cars and three trucks, with a total of 370 passengers on board
The buyer is FinFerries, a Finnish shipowner already well known at Crist shipyard.

- We are proud of the fact that our ships enjoy recognition. This is the second ferry for the same customer; we built the last ferry for FinFerries five years ago. Our Elektra is already well known around the world, having won quite a few industry awards - the manager recalls.

Elektra, built in Crist shipyard, was the first ferry of this type built in the European Union, and the second in the world, which turned out to be a great success on an international scale. The vessel's innovative charging system and hybrid solution were awarded, among others, the international "Ship of the Year" award at the Marine Propulsion Awards 2018 and the CEMT 2018 award for outstanding contribution to the success of the European maritime industry presented at the 2nd Vision of Development Forum in Gdynia.
Photo: MarinePoland.com


Altera - a worthy successor to Elektra


The fact that Elektra's successor is an even more modern ferry is all the more welcome.

- Altera's design is slightly more elaborate. Among other things, we equipped her with solar panels for charging, two azimuthal thrusters - each with a power of 800 kW - providing a speed of 11 knots – says the project manager says.

The unit, built in Gdynia, will operate around a ferry crossing near Turku, Finland - the same one where Elektra currently operates.

- The new ferry will be the main one at this crossing, while Elektra will help handle traffic during peak hours - explains Aleksander Lech of Crist.

As we have learned, another ferry is currently under construction at the Crist shipyard, also for FinFerries.
Most recent