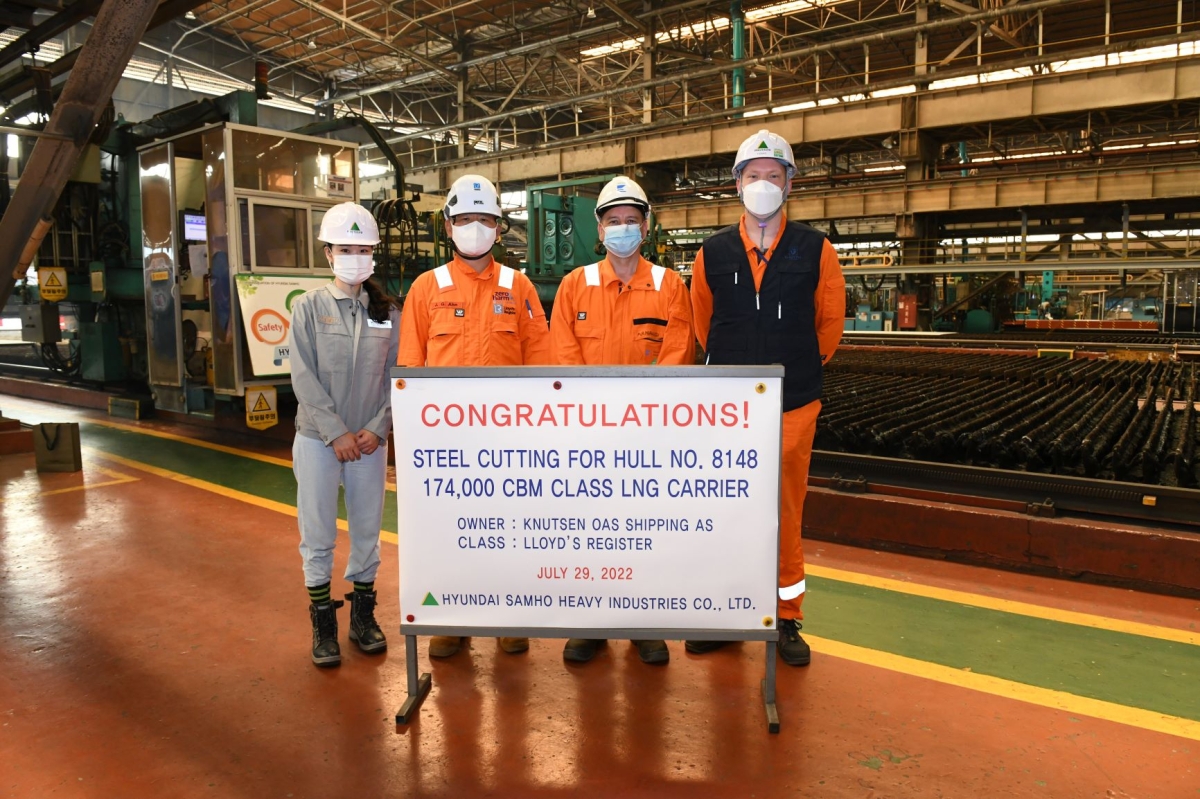 Date of publication: 01.08.2022
A steel-cutting ceremony was held at a South Korean shipyard on Friday, July 29. This is a symbolic inauguration of work on the construction of another, the third LNG carrier ordered by Polish Oil and Gas Company.

"The development of the transport fleet is one of the key elements for PGNiG to build energy security based, among other things, on imports of liquefied natural gas to Poland. These gas carriers will allow us to handle both long-term contracts for the supply of LNG from the United States, which will come into force at the beginning of next year, but also spot cargoes. They will also enable PGNiG to operate more efficiently in the global LNG market," says Iwona Waksmundzka-Olejniczak, CEO of PGNiG SA.

The vessel under construction is the third of eight vessels ordered by the Company. The first, to be named after President Lech Kaczyński, was launched in June of this year. Currently, outfitting work is being carried out related to the installation of the tanks and the rest of the gas installation. The next stage involves sea trials of the gas carrier, which will verify its maneuverability. The keel for the second ship Grażyna Gęsicka was laid a few weeks ago. Both vessels will enter service next year.

The next gas carrier, like the previous one, will have a capacity of 174,000 cubic meters of liquefied natural gas. The vessel is scheduled to begin transporting LNG in 2024. It will take three more years to complete the entire order, which involves the construction of eight vessels for PGNiG. The gas carriers will be operated in cooperation with specialized shipping companies: Knutsen OAS Shipping and Maran Gas Maritime.

The gas carriers under construction will primarily be used to service long-term contracts for the purchase of LNG from the US. The contracts signed so far with US LNG producers provide for the supply of about 9 billion cubic meters of LNG (after regasification), of which more than 7 billion cubic meters will be delivered on a free-on-board (FOB) basis.

PGNiG, handling deliveries in the FOB formula, has already started in the first half of this year. This is in response to the need to intensify supplies in connection with Russia's invasion of Ukraine and the interruption of gas supplies to Poland via the Yamal Pipeline. To optimally utilize the capacity of the LNG terminal in Świnoujście, PGNiG chartered three units under short-term contracts. The first such delivery was made in May. At that time, the methane carrier Maran Gas Apollonia delivered more than 65 thousand tons of LNG from the Calcasieu Pass terminal in Louisiana owned by the US company Venture Global LNG.
Most recent