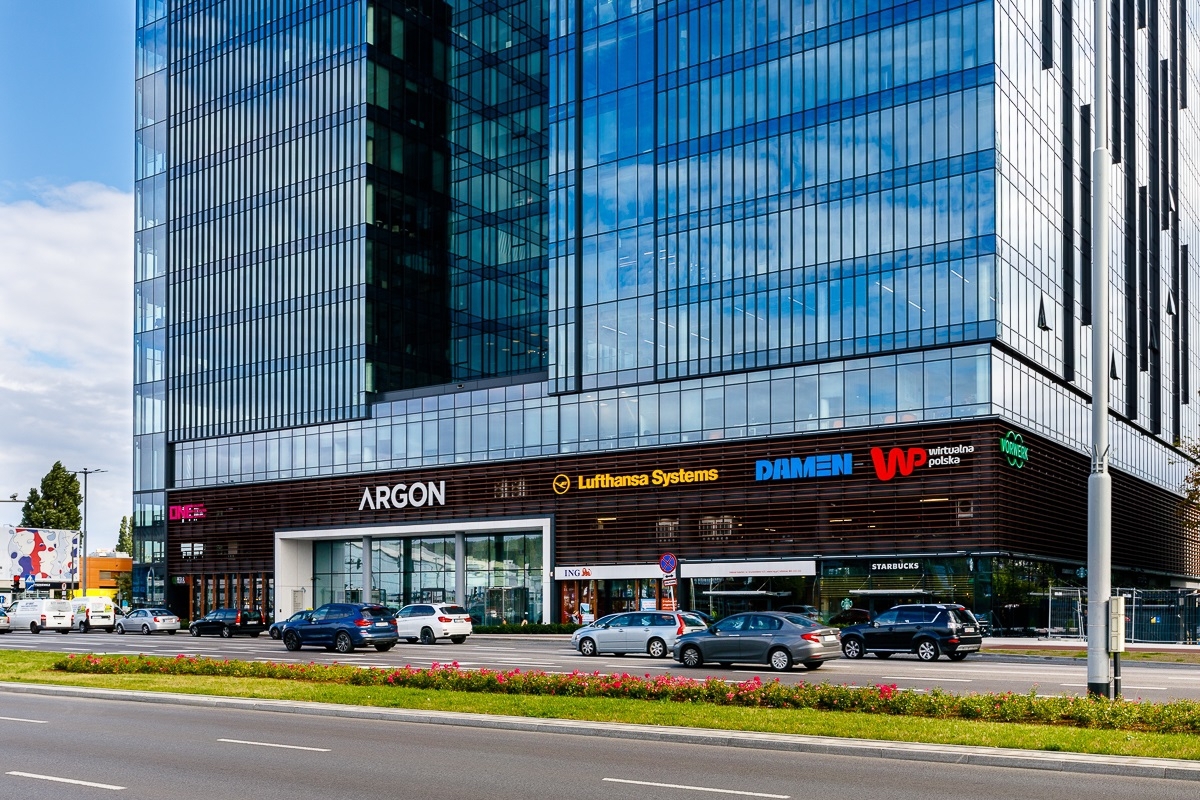 Date of publication: 09.12.2021
Continuous development, innovative projects and over 150 employees. Damen Engineering Gdańsk (DEGd) is one of the four companies of the Damen group in Poland. It focuses on specialized and multi-tasking employees - open-minded and able to work in international teams.
Over 600 people work in the four companies cooperating within the Damen group nationwide.
- The Gdańsk office boasts a beautiful engineering hub. We employ over 150 engineers - says Andrzej Kłudka, Lead Naval Architect. - We are waiting for people who are creative and open to customers who are able to meet the expectations of global business.
- When I started working at Damen Engineering Gdańsk, there were 15 of us of, at different age and with different experience - recalls Miłosz Musiałowski, who has been working for the company for eight years, currently as Project Manager Engineering.
A lot has changed since then, the number of employees has increased tenfold, and the office continues to grow.
Chances for promotion, inspiring projects
- This job gave me the opportunity for development and promotion. My initial position in the company was the position of Senior Engineer. After about a year, I became a Lead Engineer, then for about four years on several projects I was responsible for the hull department, which includes project groups specializing in stability, structure, strength, outfitting and interior - says Miłosz Musiałowski.
As Project Manager in the engineering area Miłosz is responsible, among others, for the delivery of class and working documentation from three main departments: hull, mechanical and electrical.
- I am responsible for the budget, the planning process, I set priorities for engineering tasks - he lists and adds that together with Project Managers from the Netherlands, engineers try to ensure that the scope of work is properly related to the prepared documentation from suppliers and subcontractors.
- As for our internal team at Damen Engineering Gdańsk, I work directly with my Core Team, i.e. Lead Engineers from individual departments. The Leaders, on the other hand, work with their engineering teams - he explains.
How does the daily work in the DEGd team look like?
- In order for our work to be done on time and in the right quality, we focus on team activities within discipline teams coordinated by Lead Engineers. This is how the organizational structure is built on each project and it is tailored to the needs of each project individually to meet the challenges in the most effective way - he explains.
- As a company, we are able to provide a full package of engineering works related to the integration of all devices on the vessel, from the definition of functional requirements through documentation for the classifier, and together with our colleagues from Ukraine, also working documentation delivered to the shipyard.
What is Damen's team working on at the moment?
- Personally, I am currently carrying out a project of a ship that is adapted to participate in humanitarian missions thanks to specialized equipment and will operate safely in the most difficult conditions - he reveals. - In our office, there are also projects for the fishing market, mega yacht, gas carrier or ro-ro market. The portfolio of our projects is constantly expanding - he emphasizes.
As he adds, Damen Engineering Gdańsk is currently recruiting people to Core Teams who would like to work in positions such as Lead Engineer or Project Manager Engineering.
What are the challenges facing modern engineers?
The President of DEG emphasizes that efficient risk identification and a methodical approach to mitigating threats and opportunities related to the development of a prototype unit are a highly desirable and even required skill today.
- Construction and design management must be carried out so that no detail that may affect the ship's design is ignored. We learn a new style of work, that's a challenge that is ahead of us. We discuss it openly. At Damen Engineering Gdańsk, we are humble, but also we have a courage to introduce changes - says Katarzyna Romantowska-Jaskólska, president of Damen in Gdańsk.
- Today engineers must listen skilfully, work as a team and polish the so-called soft skills. And among them are openness in establishing contacts, cooperation with others, readiness to switch to new design or calculation tools. You have to dare to reach for technology, be interested in it. It is worth knowing that others do something differently - summed up the president.
About Damen
The company is part of the international Damen shipbuilding group, whose headquarters is located in the Dutch city of Gorinchem, and as a specialist competence center it provides services to the needs of the group. The Polish company is responsible for developing prototype designs of ships built in the largest Damen shipyards.
The Damen Shipyards Group operates 36 ship repair yards, many related companies as well as numerous partner shipyards that can build Damen ships locally. The company employs over 12,000 people worldwide. It has a wide range of products including tugs, work boats, navy and patrol ships, high-speed vessels, cargo ships, dredgers, offshore ships, ferries.
Most recent