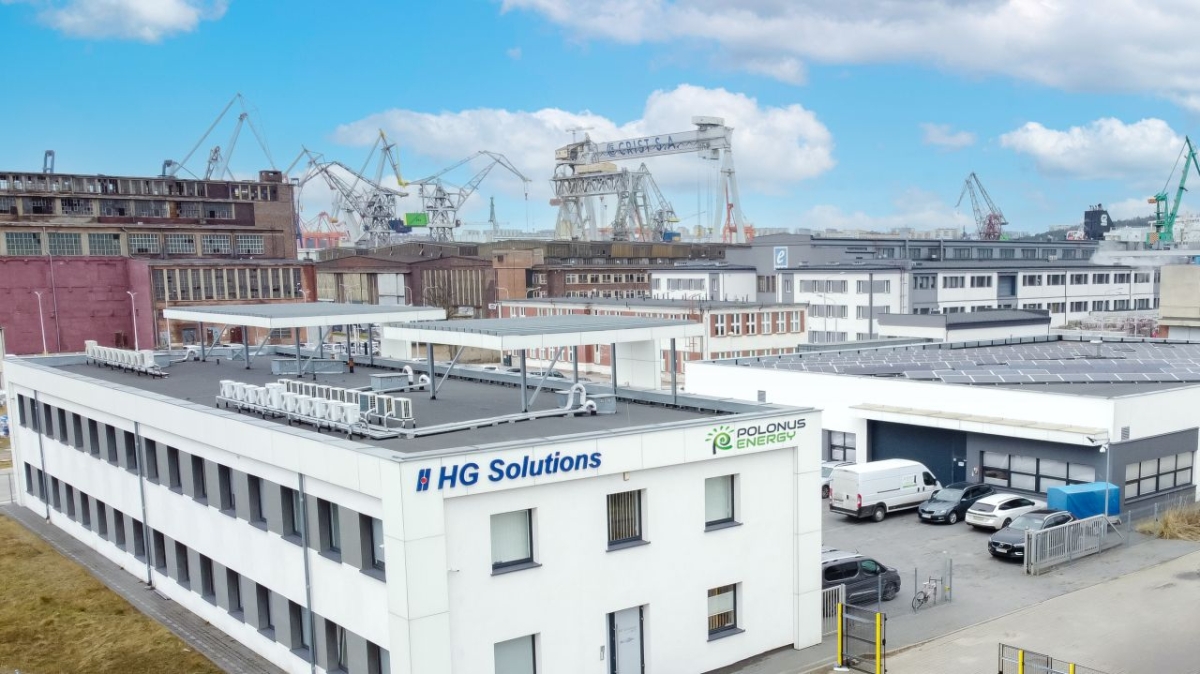 Date of publication: 07.03.2022
Electricity and water are obviously not a very good combination. In order for everything to work properly on the vessels, the electricity issues must be entrusted to professionals. And if they are looking more and more boldly towards green energy, we have a mix worthy of the 21st century.

- I can confidently say that we are a leader in the electrotechnical industry and automation for vessels - Paweł Dubiel, Managing Director of HG Solutions, begins the conversation.

Modesty in this case would blur the picture, as HG Solutions has completed lot of ship electrics on newly build and retrofitted vessels. The solutions provided by the company - switchgears or automation systems - are used by military, passenger, transport and specialist vessels. So the HG Solutions logo is seen on a daily basis by seafarers, mechanics and operators all over the world, regardless of whether they serve on a cable carrier, a ship serving underwater mines or on military patrol ships.


However, water is one of the two elements that HG Solutions is a brother with. The sun became the second one. Experienced engineers could not underestimate the possibilities offered by photovoltaics. Thanks to them, everyone can appreciate them - the Polonus Energy brand established by the company implements commercial photovoltaic installations onshore for business and individual customers.
95% at sea

We meet on a cool, rainy day at the company's Gdynia headquarters. It is surrounded on almost all sides by shipyard buildings. This is the right location for HG Solutions, an enterprise that is an integral part of this industry.

- 95 percent of our company's operations revolve around the maritime business. It is shipbuilding, electrical installations for ships. We have been providing these services for several years - says Paweł Dubiel.

HG Solutions took its first steps in the industry in 2006. Within a decade and a half, the company has developed a solid brand in Poland. In the meantime, it also became part of the Norwegian Hareid Group and expanded its reach to new markets. Inevitably, it made a strong presence in Norway, thanks to constant cooperation with a local partner. HG Solutions cooperates there mainly in the construction of new ships for various purposes - from passenger to fishing. Its portfolio also includes many technologically advanced offshore projects, such as OCV's, PSV's, SV's, CLV's.

In recent years, the company has also been actively operating on the German market. Thanks to this, the portfolio includes, among others, the ro-pax W.B. Yeats for Irish Ferry, for which HG Solutions made a working project and a comprehensive electrical installation along with the supply of cabling, a set of switchboards and various systems, including lighting, fire detection, internal communication.

- Meeting the requirements for the class of safe return to the port (SRTP) in the event of a failure created a number of challenges regarding the integration of systems and their proper configuration - recalls Paweł Dubiel. - It was a great adventure, a great challenge and at the same time one of the biggest implementations that we have delivered as a company.

Much has happened in the country as well. HG Solutions participated in newly built projects and refurbishments of vessels carried out in Polish shipyards. The company has largely focused on retrofits, conversions and service. One of the main partners of HG Solutions in this area are the local Tri-City shipyards with which HG Solutions has been cooperating for years, which resulted in building a partnership based on trust and a win-win approach to business.

- We have a significant share in the modernization of the Polish navy - says Dubiel with satisfaction. - We were boarding ships that had analog circuits and changing them to digital versions. We did retrofits of automation, propulsion systems and all life-giving systems on vessels.
Necessity is the mother of invention

- In 2020, Covid blocked our markets a bit - says Paweł Dubiel. - There has been a downturn. Projects were suspended, shipowners canceled the commenced construction works. Suddenly, due to travel restrictions, foreign markets have become less open. But other perspectives were born - he adds.

Every cloud has a silver lining. New directions of development for HG Solutions were within reach, it was enough to look around. Paweł Dubiel recalls that he and his team have been watching the renewable energy sector abroad for a long time. As electricians, but also enthusiasts of green solutions, they quickly realized that it was time to start with photovoltaics. Business sense told them to do it differently than competing companies. There was no rush. They gave themselves time to analyze, familiarize themselves with the industry, and to properly recognize what it already offers. They also started a series of training courses for employees. The company also established a design office dedicated to photovoltaic solutions.

- As specialists in ship electrics, we had to learn a bit when we moved to photovoltaics - admits Paweł Dubiel. - This is a segment that has its own characteristics in terms of technical parameters. We had to expand our knowledge of building these systems and installations and learn to offer our customers solutions tailored to their needs - add Michał Bielski.

However, time was not running out. Established in 2020, the Polonus Energy brand started modestly, from photovoltaic installations for its own needs, in the HG Solutions hall, and then also for its own employees. The first projects on the commercial market soon began.

The first installations were small, up to 10 kW. You had to start somewhere. However, Polonus Energy quickly made another step forward. The company began to specialize in more difficult installations on service facilities and public buildings. A larger scale means greater challenges, but also greater satisfaction and opportunities.

In the second year of operation, Polonus Energy has several hundred successful implementations, incl. two public contracts for the municipalities of Fabianki and Śliwice in the Kujawsko-Pomorskie voivodship, involving the design, delivery and assembly of complete PV power plants with a total value of PLN 2.8 million.

- Gained experience, human resources and company facilities allow us to undertake larger and larger orders - says Michał Bielski from Polonus Energy. - The next step in the development of the business is building a position on the large-scale photovoltaic market - photovoltaic farms, as a general contractor.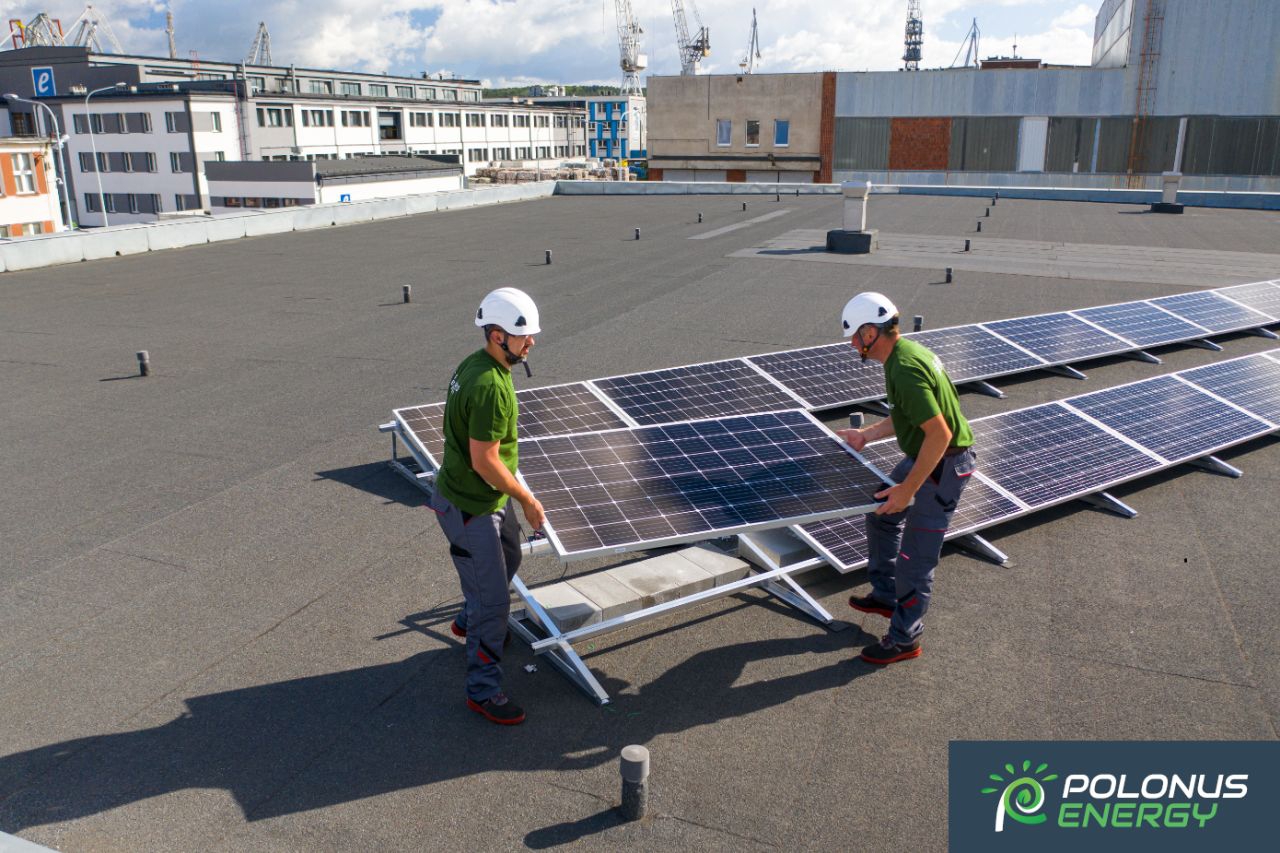 The future: water and sun

How to combine two branches of HG Solutions' activity - the one related to ship electrics and the photovoltaic one that is handled by Polonus Energy? Paweł Dubiel revealed that there were questions from shipowners about the possibility of installing photovoltaic systems on the ships and what the benefits will be. "We are not saying no" - replies the representatives of Polonus Energy. However, taking into account the harsh outdoor conditions and the limited surface area, standard land-based solutions are not suitable for water use.

- Such standard panels? Impossible. They must be modules with increased resistance to the marine environment and the prevailing loads on vessels - Dubiel leaves no doubt. But, he adds, new solutions appear on the market, including perovskites, which open up new possibilities for mounting installations on surfaces where classic silicon modules will not be used. HG Solutions and Polonus Energy have their finger on the pulse. - We have a design office, we try to move forward and not only use readily available solutions. Of course, it should be remembered that in the case of vessels, the PV installation will not be able to meet the total energy demand, although it will to some extent reduce the fuel consumption needed to generate electricity, which will translate into the reduction of CO2 emissions, which is currently a global goal.

Polonus Energy also counts on cooperation with partners from the maritime industry. Photovoltaic installations generate energy for shipyards, ports, design offices and other companies in the sector around the world. Why should it be any different in Poland? It all starts with counseling. Each major project that requires a building permit must be well planned. Therefore, the client must be properly advised. Only then, after the customer accepts the concept, it is possible to proceed with the preparation of the project, obtaining permits and construction. It is a complex process that Polonus Energy, with its experience and extensive portfolio, can lead from beginning to end - from concept to delivery and assembly, regardless of the size of the project.

HG Solutions sees development opportunities not only in photovoltaics, but also in the broadly understood land industry and energy in the field of design works. However, in the domestic maritime industry, the Gdynia company does not intend to be left behind. The electric and automation sector in shipbuilding is also moving forward. A new solution for watercrafts is being developed under the company's roof.

- We have signed a contract with the National Center for Research and Development for the implementation of the R&D project on an intelligent, integrated system for energy-saving operation of the engine room of a sea-going vessel - says Paweł Dubiel.

The project is in progress, research and development work are already underway. Thanks to the modular structure, the system will be easily scalable (the possibility of adapting to sea vessels of various lengths) and applicable in various types of crafts. The functionalities that have not been integrated so far will allow to reduce the energy consumption of the ship's energy system, optimize the service life of devices and / or consumables by keeping the engine room in optimal condition, and increase the operational safety of the engine room of the vessels. They are to be achieved thanks to the integration of innovative applications, which will, inter alia, alert about undesirable conditions, threats of failure, improve the work of the crew in the process of diagnostics, decision-making, service activities. The operation of the ship's engine room, thanks to the use of the system, is to be more effective, and the innovative control of power units in general ship systems will contribute to electricity savings, including reduction of fuel consumption, CO2 emissions and reduction of waste (consumables). R&D works assume the development of the components of the system, and the identified research problems will concern the development and integration of the functionality of an intelligent system for energy-efficient operation of the engine room of a sea-going vessel.

Work on the project began in early 2021. The finished product is to be completed and commercialized in autumn 2023.

- Looking through the prism of the market, eco trends, we see a chance that such a system will be willingly purchased by customers from the industry - concludes Paweł Dubiel.
Most recent