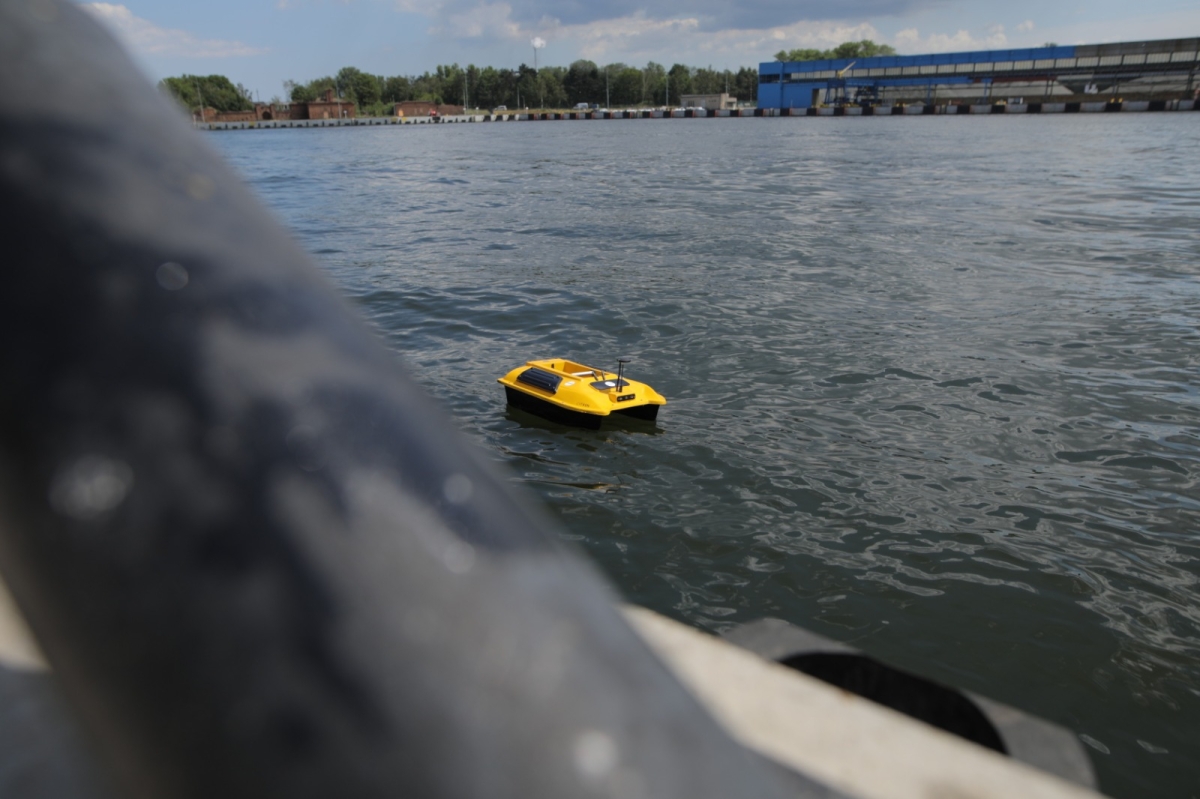 Date of publication: 21.07.2022
The new water drone by SeaData and Camdrone has undergone first tests at the Port of Gdańsk. The first measurements of water quality parameters such as oxygen content, redox potential and conductivity were also made. In the coming days, a device for creating bathymetric maps of port waters will also be tested.

SeaData and Camdrone are planning to expand the operation of the Mobile Monitoring system in the field of water quality measurements not only with water drones, but also floating buoys with appropriate sensors. Mobile Monitoring is an inspection and measurement platform that increases safety and shortens the service time for local and environmental visions, carried out by companies or local government units in the Pomeranian voivodeship. Mobile Monitoring products make reporting and handling visual and environmental inspections easier and faster.

It is important for the Port of Gdańsk to constantly monitor the pollution of all areas: including approx. 679 ha of land and 412 ha of port waters. This monitoring should be extensive and properly deployed. That is why the Port of Gdańsk was selected as the site for testing a new system for water quality monitoring and leakage and pollution detection. It is planned to locate several or a dozen buoys in the port, which will constantly monitor the basic parameters of the water. In the event of detecting alarming values, a water drone will be used to measure the situation, which will examine the situation in more detail.

"Measuring water quality is only one of the elements of the comprehensive inspection and vision platform that we are building. As a leader in the international CORAL consortium, we have gained extensive experience in water quality control and the culmination of our cooperation is a drone prototype and an IT system. The aforementioned projects are in their final stage and we will tell you more about them in the coming weeks" - said Rafał Wolak, the president and co-founder of SeaData from Gdynia.

"Today's tests were the verification of the prototype and the final test of the measuring equipment. We plan to conduct numerous test measurements at the Port of Gdańsk in order to create a high-quality monitoring system tailored to the needs of the port. The next step will be testing buoys for constant monitoring. This is a new area of ​​activity for us, but we see a lot of potential in this measurement" - said Dawid Walczyna, the president and founder of Camdrone.

"SeaData has been cooperating with the Port of Gdansk for many years in the field of air quality monitoring. We are pleased that the Port of Gdansk was chosen as the first place in the tests. This is the first step to creating a comprehensive monitoring system at the Port" summed up Agnieszka Roszkowska, environmental protection specialist at the Port of Gdansk.
Most recent