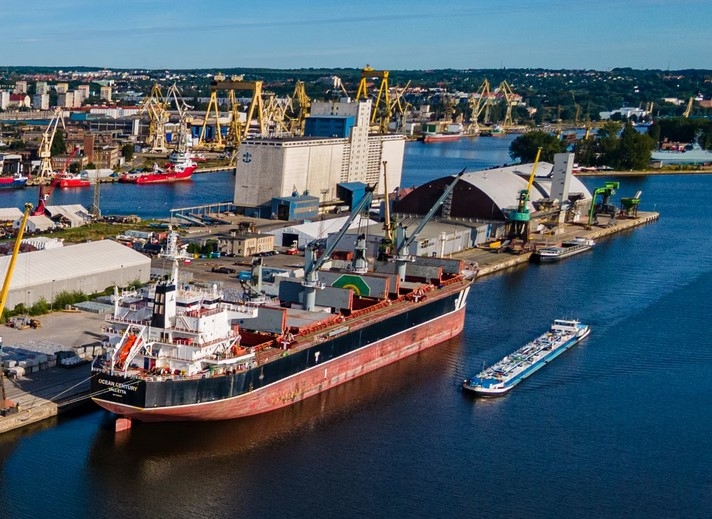 Date of publication: 30.11.2022
In terms of transshipments, this year is expected to be even better for the ports in Szczecin and Świnoujście. According to estimates, both ports located at the mouth of the Oder will handle over 34 million tons of cargo. Among the reasons for the increase are the ongoing conflict in Ukraine and the deepening of the Szczecin fairway to 12.5 meters.

Modernization of the port infrastructure is underway in both ports. The access infrastructure to the ports, including the S3 road and railway routes, is systematically improving. After the investment is completed, the competitiveness of the Szczecin-Świnoujście ports is to increase significantly in relation to other Baltic ports.

Currently, works are underway in the area of the Dębicki Canal and the Kaszubski Basin, where the two largest operators operate: DB-Port Szczecin and Bulk Cargo Port Szczecin. Upon completion of the works, the port infrastructure will be able to accept ships with a draft of up to 11 m with a load on board of up to 50,000 tons. According to the Deputy Minister of Infrastructure, Marek Gróbarczyk, the increased possibilities of transporting goods are also related to the adaptation of the infrastructure to the entry of larger and larger units, which arrive more and more often. For this reason, the Port of Szczecin is launching additional berths for ships carrying over 40,000 tons. In turn, Monika Woźniak-Lewandowska from the Szczecin and Świnoujście Seaports Authority emphasized that the volume of transshipped energy goods, especially coal and LNG, has increased significantly. The last record-breaking year was 4 years ago, and now, compared to the previous one, the port is in the black by almost 10% in terms of transshipments.

Large investments are also being carried out in Świnoujście, including the extension of the LNG terminal, the adaptation of the ferry terminal to handle intermodal transport, the construction of a new parking lot for trucks at the ferry terminal, or the location of a container terminal. Its planned annual handling capacity is to amount to 2 million tons. Currently, Szczecin & Świnoujście Seaports Authority (ZMPSiŚ S.A.) is in the middle of the procedure, which will culminate in the selection of an investor who will build the terminal and be its operator.
Most recent