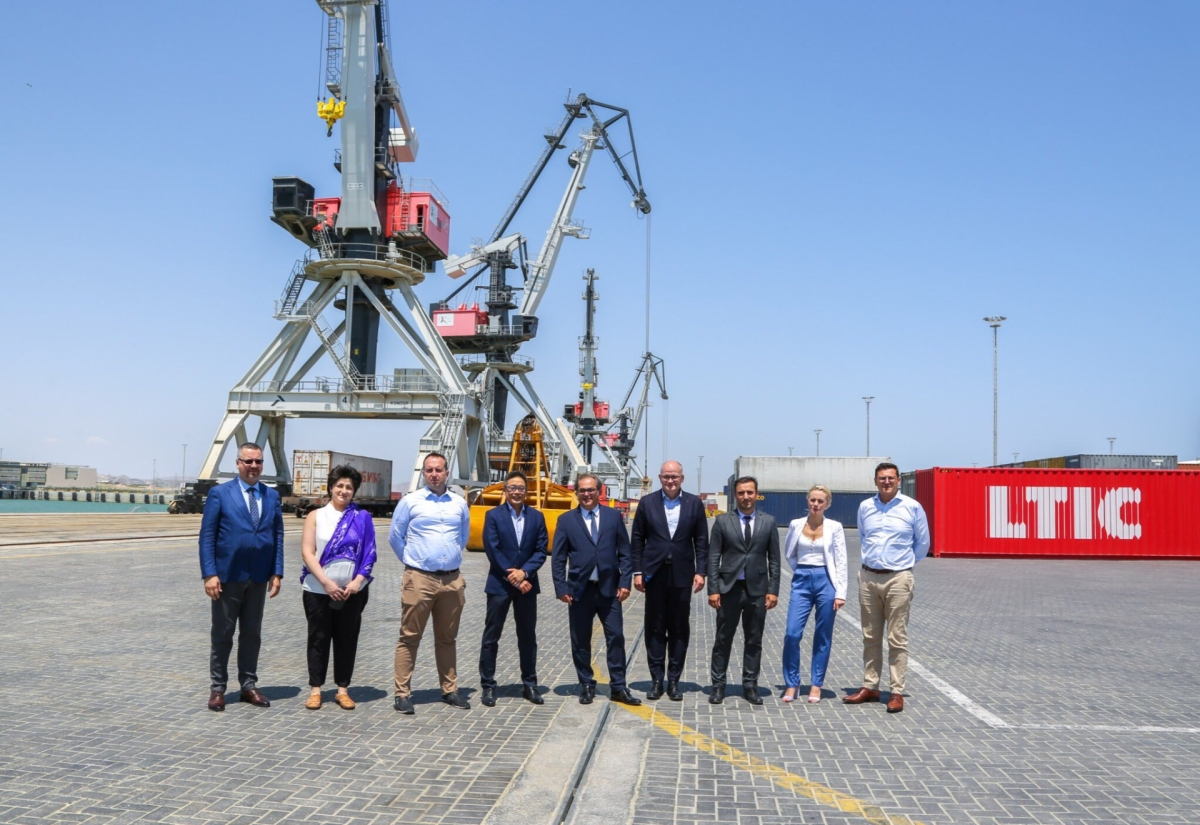 Date of publication: 01.08.2022
Increasing trade between Azerbaijan and Poland and establishing partnerships and cooperation are part of the arrangements resulting from a letter of intent signed on July 25 at Azerbaijan's Ministry of Digitalisation and Transport by Port of Gdańsk CEO Łukasz Greinke and Port of Baku COO Eugene Saeh. They concluded the agreement with the participation of Deputy Infrastructure Minister Marek Gróbarczyk.

During the visit to Baku, representatives of the two ports and officials discussed cooperation in the field of rail and sea transport - in particular, the development of intermodal corridors.

- The prospects for the development of cooperation between the ports of Gdańsk and Baku were also the subject of the meeting, as well as new realities in the region and the search for new alternative routes to improve east-west regional connectivity, reports Anna Drozd, spokesperson for the Port of Gdańsk.

Deputy Infrastructure Minister Marek Gróbarczyk noted on his official Twitter profile that the established cooperation enables the Port of Gdańsk to expand the reach of its "transport capabilities to the Caspian Sea basin."

Letter of intent. What are the goals of cooperation between Gdańsk and Baku?

The content of the letter of intent implies the establishment of partnership relations, consolidation of contacts in the creation of areas of cooperation and promotion, primarily on the basis of mutual benefit, support for all initiatives of entities operating in projects on transport corridors between them.

The parties declared their desire to establish and further promote mutual transport links between the Baku International Commercial Port and the Port of Gdańsk Authority S.A. to support the transport market and increase trade between Azerbaijan and Poland.

Another goal is to explore opportunities for cooperation in port development and operation, modern logistics services, intermodal transport, intelligent port construction, so-called green and low-carbon solutions, employee training, etc...

Using good solutions in Polish and Azerbaijani ports in the field, organization of port work and relations with their contractors, the Port of Gdańsk and the Port of Baku will explore the possibilities of cooperation on the basis of exchange of experience, concerning maritime expertise, including maritime safety, corporate governance, use of European Union funds and technical assistance.

Upcoming activities

In order to promote strategic cooperation, increase communication, solve problems and discover new ways of cooperation, the ports have agreed to establish a working team for the Baltic - Black Sea - Caspian Sea transport corridor by 30.09.2022.
Most recent