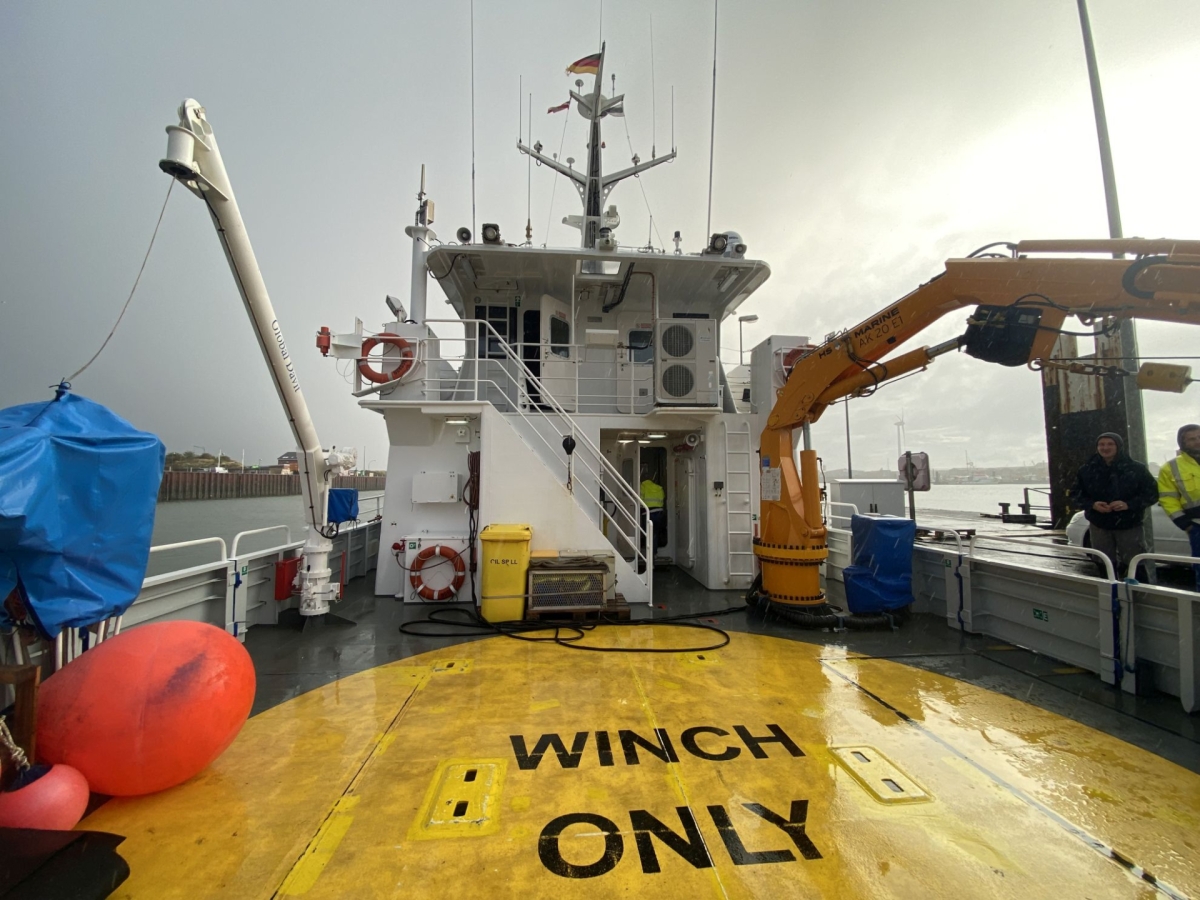 Date of publication: 14.12.2022
A new entity has recently appeared in the Polish offshore wind energy market, which wants to provide shipowner services with a service fleet and support the Polish industry in the area of Crew Transfer Vessels (CTV). We are talking about the Gdańsk-based company Bota Green Offshore, which is already talking to developers of Polish offshore wind farm projects. In an interview from the "Who is who in Polish offshore" series, we ask Ernest Czermański, CEO/Managing Director of Bota Green Offshore, about plans for the Polish offshore wind market.
Bota Green Offshore was established in June 2022. As Czermański explains in a commentary for GospodarkaMorska.pl, the creation of the entity is a response to the rapidly developing offshore wind energy sector in Poland. Before forming the company, thorough market research was conducted.
– They clearly showed that the Polish maritime economy is not sufficiently prepared for the challenges that are already present and will be faced in the future towards the rapid development of renewable energy potential, i.e. offshore wind energy – he explains.
So what is the mission of the Bota Green Offshore? Participate in and support the construction of the Polish offshore wind energy sector by providing shipowner services with a service fleet, technical offshore fleet management services for other shipowners in this shipping segment and developing the Polish shipbuilding industry in the area of CTV units.
– As a result, our goal is to create an entity that will meet market needs, provide services at the highest level, and meet the cardinal requirement of fulfilling local content in offshore wind energy – he explains.
At the same time, the company Bota Wind Energy, belonging to the BOTA group, was also established, but to provide maintenance services for onshore and offshore wind turbines through certified specialists with experience on Siemens Gamesa and Vestas turbines.
– We are, you could say, a comprehensive supplier of maintenance services for wind turbines – says Czermański.
The first contracts are already in place
The Polish company has taken its first steps in the offshore wind market and, as it turns out, with considerable success. Which is the biggest one yet for Bota Green Offshore?
— At the outset, I would consider the decision to enter this new and extremely difficult market to be an accomplishment. Regardless of the experience and competencies accumulated among the company's shareholders – from technical, related to ship operation and maintenance services, to technical fleet management, ship certification, crewing, and enterprise management, as well as project management, market analyses, and business development – and sufficient to establish a shipowner's company, numerous organizational, legal, and even financial problems must be addressed.
– A great help and added value for the project is also the fact that I am also a lecturer at the Faculty of Economics of the University of Gdańsk, where I head the Maritime Economy Department at the Department of Maritime Transport and Trade and have been dealing with the economics of maritime shipping for 20 years. – It is the practical application of knowledge in practice, as well as a substantial scientific and research potential at the back end of the business to be implemented in the case of innovative design ideas – he adds.
The company has already signed the first contracts.
– We can boast of the finalized contract for the purchase of the first two CTV units, which is a success and at the same time the result of the hard work of our entire team. We can also immediately enjoy additional success, namely the signed agreement on operator cooperation in servicing the wind farm located in the North Sea with our ships in the upcoming 2023 season, which will allow us to immediately gain real experience in ship servicing of turbines – informs our interlocutor.
Currently, Bota Green Offshore is still building a floating staff that are 100% made up of Polish citizens. As the CEO Czermański emphasizes, the company has a lot of work ahead of it. The shipowner and operator company is concerned with more than just organic growth. Poles also put a lot of effort into active co-creation of the Polish offshore wind sector by participating in various events, debates and fairs.
– All these valuable initiatives build our knowledge. Not only in the field of OWE technology, but also in the field of OWE project management, building cooperation, sharing knowledge and working out postulates addressed to the authorities in various groups in the direction of appropriate shaping of the conditions for OWE development in Poland – explains the CEO.
Two CTV units on board Bota Green Offshore
Ernest Czermański informs that the company has purchased two sister vessels, 22 m long, less than 9 m wide, with an aluminum catamaran hull, with a maximum speed of 25 knots. They are distinguished by several important elements from the customer's point of view.
– These units are 24Pax, i.e. they have as many as 24 places for turbine service technicians. In practice, they even have a bit more of these places. Furthermore, they have a significant wave height of 1.75 m, which is above average and higher than the industry standard, allowing these ships to operate at higher sea states, they are simply safer – he explains.
Bota Green Offshore is already in talks with Polish offshore wind developers.
– We see a lot of interest in our project and we hear declarations of willingness to develop talks about cooperation towards more specific things, which makes us extremely happy and motivates us to invest our time in jointly working out the rules for building local content in Polish OWE – he says.
Not only Poland. Bota targets the United Kingdom and Germany.
Poles without complexes want to enter the already mature market of offshore wind energy in Great Britain and Germany. These markets are "natural short-term targets."
– We want to gain experience, develop contacts and earn money here. We constantly collect data on offshore wind plans and projects from virtually all over the world. And while the Chinese, Brazilian or American markets are not of our direct interest, we see a large enough demand in them that will stimulate all shipowners and CTV operators to develop. Everything we do and plan, he says, is aimed at making us the first 100% Polish shipowner in the CTV segment of Polish OWE.
Plans for 2023
The main goal of Bota Green Offshore is to build experience and develop the market.
– It is also an analysis of the needs of developers and turbine suppliers, as well as a strategic decision on the development of the "Polish CTV" project. The following years saw the systematic expansion of the fleet with new or used units. This will be accompanied by our own research, tests and implementation of alternative propulsion so as to simultaneously participate in the broad process of shipping decarbonization, although due to the small size of these units, CTV ships are not subject to the current conventions limiting the emission of sulfur oxides, nitrogen oxides or carbon dioxide. Nevertheless, we approach this topic responsibly, hence the word "Green" in the name of our company, and we also want to contribute to reducing the negative impact of sea shipping on the environment, where technically possible – says Ernest Czermański.
Bota Green Offshore sees this area of opportunity and potential. The company operates as part of the BOTA group, which boasts extensive experience and know-how in the field of marine propulsion techniques, employing specialists in the field of mechanics, electricity and hydraulics, which is certainly one of the key competitive advantages.
– We are currently developing solutions for small vessel electric drives based on high-capacity batteries. In addition, as part of the BOTA group, we have our own service (over 60 technicians of various specializations), in 24/7 mode, which, with two branches in Poland (in Gdańsk and Szczecin) and one in Rotterdam, gives us the possibility of immediate reaction of technicians in the event of a failure. No other CTV shipowner in the world has such opportunities. This distinguishes us and gives us a great competitive advantage – he adds.
– The Group has its own parts warehouse with logistics and 1,300 m2 of workshop space with a load capacity of up to 25 tons, where wind turbine components such as gearboxes, slow-speed shafts, generators, or pitch cylinders are repaired. It is also an authorized representative of 11 key ship propulsion technology manufacturers. The group's R&D department, which takes on ambitious tasks such as developing technological innovations for the shipping industry, completes the picture. Bota Technik employs designers of the ship installations mentioned above – informs Ernest Czermański.
Most recent