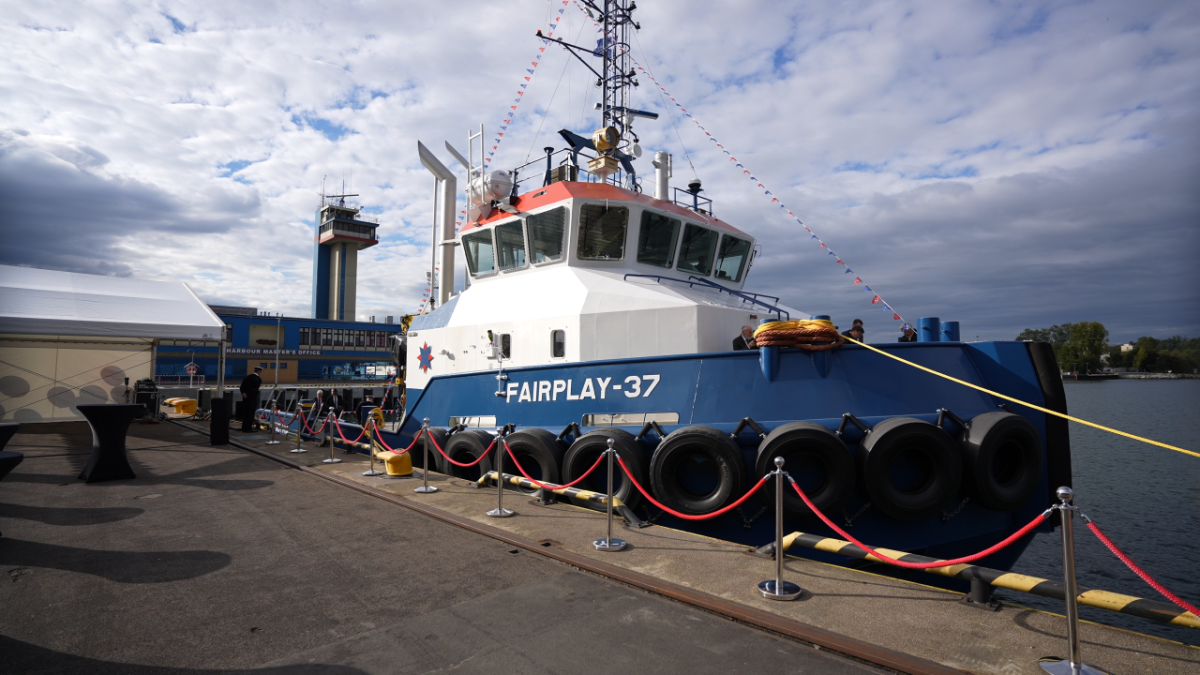 Date of publication: 28.09.2022
Fairplay-37, the new tug Fairplay Towage Poland, has been officially christened and is ready for operations. There will be no shortage of work for him in the near future.


Fairplay-37 is the latest addition to Fairplay Towage Polska's fleet. It is a Shoalbuster 2711 ICE tug, which was built entirely in Safe shipyard in Gdańsk under an agreement with the Damen Group. The vessel was planned for operations at offshore wind farms. The ship was launched in Gdańsk in April, and on the first day of autumn, September 23, an official naming ceremony for the tug was held at the French Quay in the Port of Gdynia. Małgorzata Urbańska of Fairplay Towage Poland became the Fairplay-37's godmother.

Immediately after the symbolic breaking of the champagne bottle against the hull of the Fairplay-37, the assembled participants of the event could admire a short demonstration of the capabilities of two other Fairplay Towage Polska tugboats, which performed the so-called "tug ballet" on the port basin at the French Quay, using, among other things, the fire cannon systems working on the ships. Those who were willing were also able to board the Fairplay-37 and look into every nook and cranny of the new tug.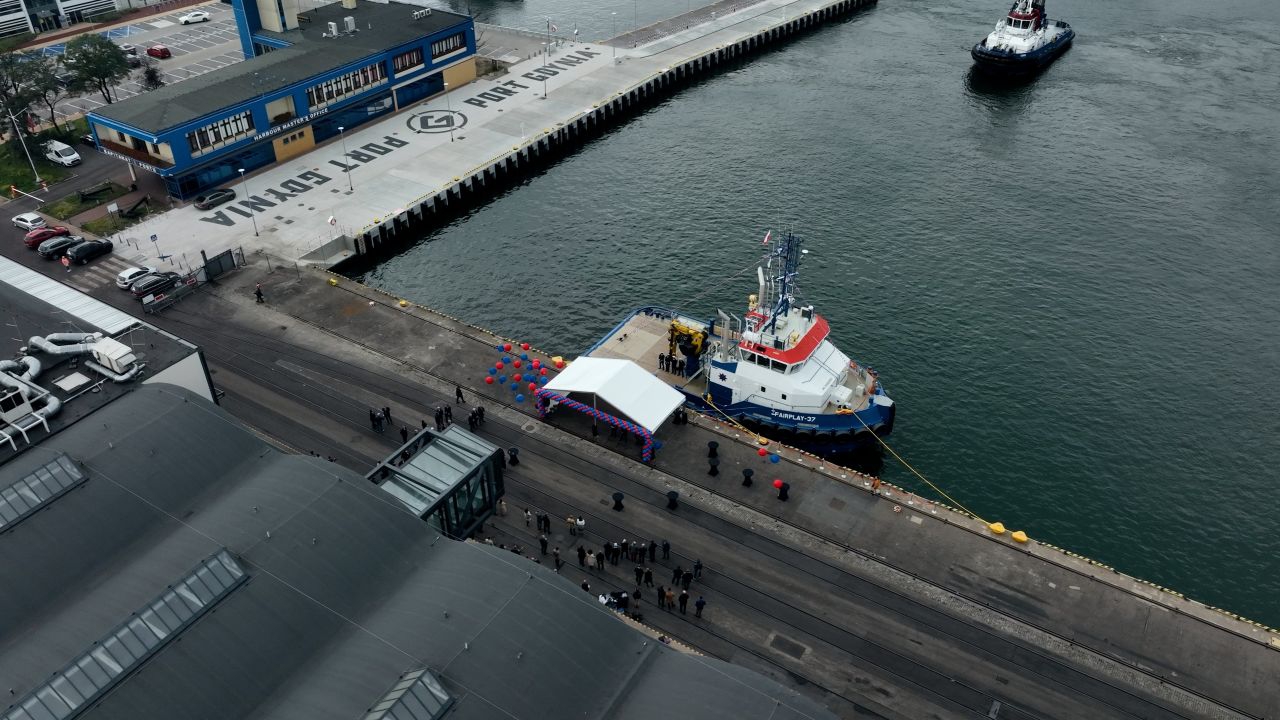 – Thank you to all the assembled guests for coming and celebrating the christening of our new tug Fairplay-37. This is an important ceremony for our company. Even more so because we are located in a historic place. The current Emigration Museum in Gdynia used to house our company's office – said Arkadiusz Ryż, Offshore Wind Project Manager at Fairplay Towage Poland. – Our new vessel will allow us to enter a new market that is just forming – offshore wind in Poland, the construction of Polish wind farms, in which we hope Fairplay-37 will play a significant role – added Ryż.

Fairplay Towage Poland ordered the tug from one of the leaders in their production – the Damen Group. The latter, in turn, commissioned its construction to the Safe shipyard in Gdansk, which specializes in building hulls of such vessels. However, Fairplay-37 was the first Shoalbuster-type tug to be built in Gdansk in its entirety.

– It's a project we're proud of, because it's basically a Polish project. Of course, we contributed by providing the shipyard with the design and assisting it in construction. It's important for everyone to realize that it's a Polish project because the ship was built here, handed over here and will operate here – explains Joschka Böddeling, Sales Manager at Damen Shipyards Group.

Fairplay-37 is the first multipurpose tug in Fairplay's fleet.

– Thanks to her low draft and ice class, she can operate year-round and call at smaller Polish ports such as Ustka, Łeba and Władysławowo, Arkadiusz Ryż explains.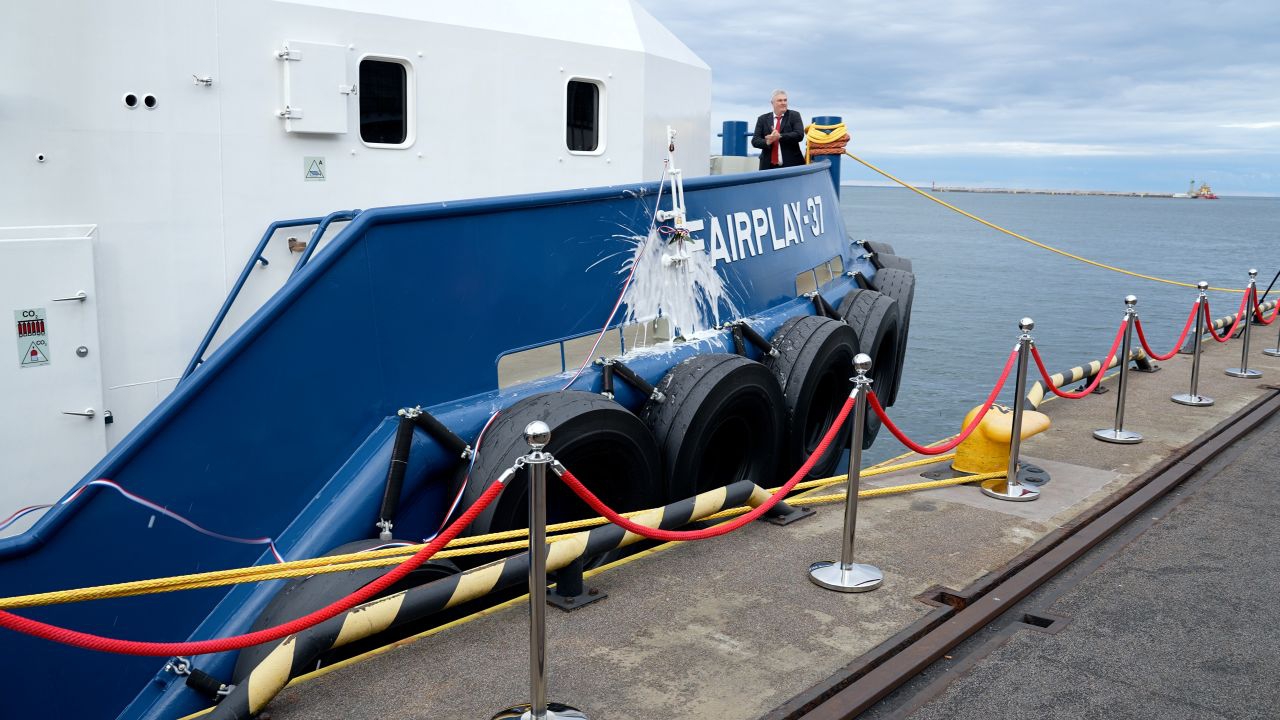 The maximum draught of the tug is 3 meters, while the working draught is about 2.80 meters. The tug measures 27 meters in length. It is distinguished by a large free deck of more than 70 square meters, useful, among other things, for handling anchors. It has an open stern with a special roller for pulling buoys and anchors. It has also been equipped with a crane with a reach of 14 meters and a lifting capacity of up to 8 tons, as well as a hydraulic winch with a steel cable. Fairplay-37 will also be able to transport up to two 10-foot containers and up to 12 people. Such capabilities mean that the vessel will be able to support the handling of commercial vessels in ports, but will also be able to conduct towing operations, assist in dredging work, although it is primarily intended for offshore projects – offshore wind farms and mining platforms. The tug also meets IMO Tier III emission requirements.

Importantly, its construction, given the development of offshore wind farm projects on the Polish coast, is economically justified. In the near future, the Fairplay-37 crew should not complain about a lack of work.

– Many of our customers are already eagerly awaiting the entry into service of Fairplay-37. At the moment we have several inquiries open, we see that there will be a very high interest in leasing this vessel in the coming years. We are not afraid for her future and employment on projects in the Baltic – assures Arkadiusz Ryż, Offshore Wind Project Manager at Fairplay Towage Poland.

Most recent