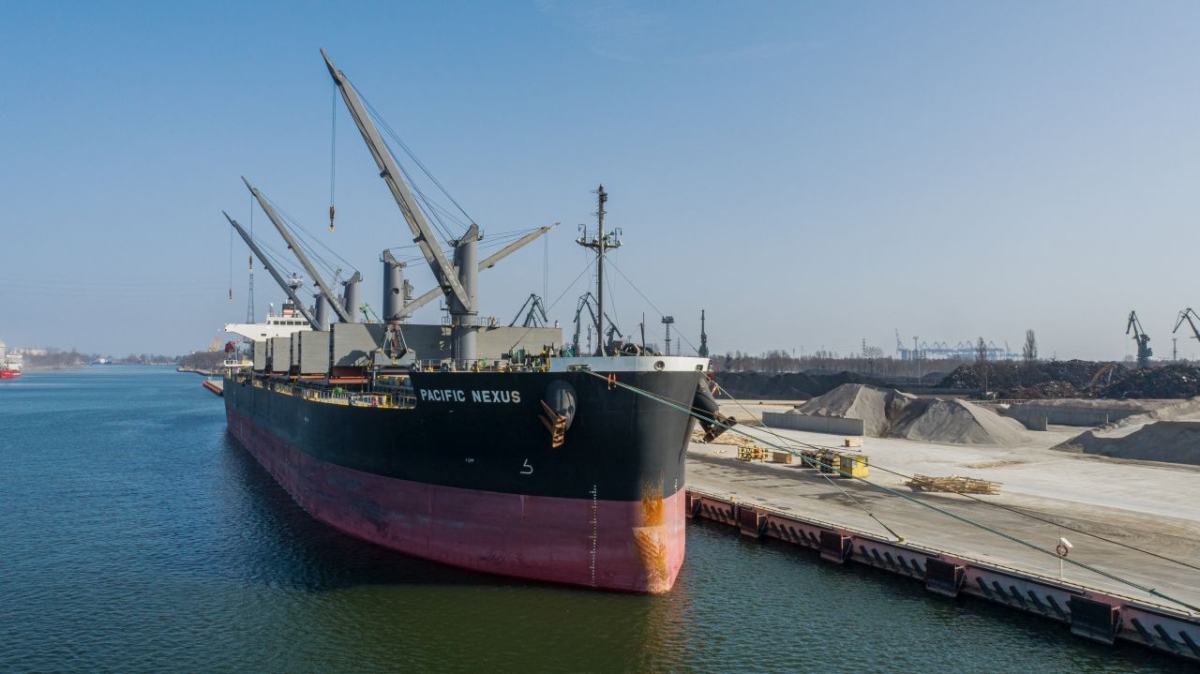 Date of publication: 01.04.2022
Ship Pacific Nexus arrived at the Port of Gdansk on March 21 with 17 thousand tons of pipes needed for the construction of the onshore gas pipeline project on board. The cargo that arrived at the Port of Gdansk Eksploatacja S.A. is unique.


Pacific Nexus vessel moored in the Górniczy Basin in the Port of Gdansk Eksploatacja S.A. on the territory of the Port of Gdansk, where bulk cargo is unloaded.


This time, the pipes arrived to the port on a vessel from Greece. They are exceptionally large. The whole cargo is also delicate.

- The pipes are impressive: each one is a meter in diameter and 16 meters long - says Alicja Serkowska, Commercial Manager from the Port of Gdansk Eksploatacja S.A.

- The estimated unloading of 17 thousand tons of the entire cargo may take more than 1.5 weeks, or even longer. It is all because the cargo is very delicate, we work with great attention when hooking the elements, sometimes we work especially slower, so that the cargo could reach the yard, and then to the customer in undamaged condition - explains Alicja Serkowska. - Port Gdańsk Eksploatacja S.A. in handling this project cooperates with a representative of Hecksher Lineragencies group: Hecksher Polska sp. z o.o., which deals with transportation and shipping of goods by sea and by land all over the world.

Alicja Serkowska emphasizes that the cargo is non-standard and unusual.

- The whole project is planned for 33 thousand tons, so we do not stop at this unloading. Another delivery of pipes is planned for May - she announces and emphasizes that pipes are non-standard cargo for PGE, which, nevertheless, is willing to undertake difficult challenges.

The merchandise which has arrived in Gdańsk from Greece is an intra-EU commodity, which, as emphasized by PGE's Commercial Manager, facilitates the procedures for accepting it on storage yards.
Most recent