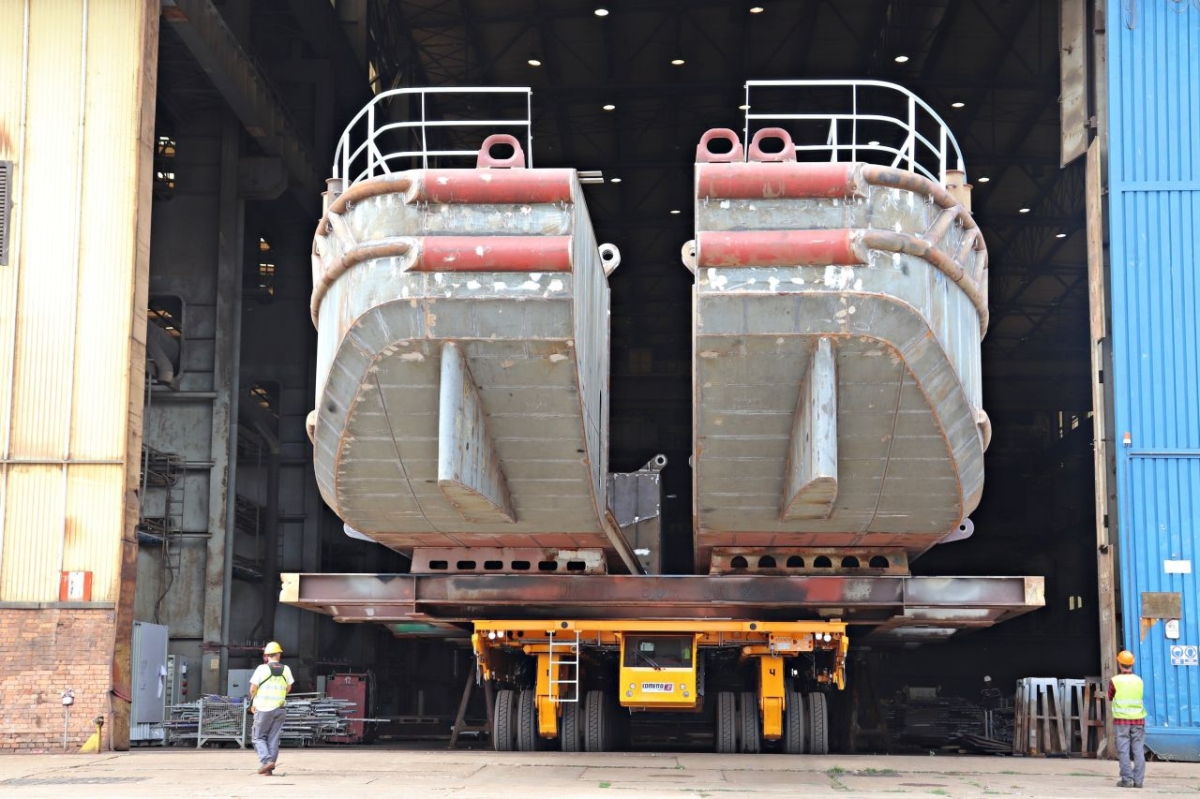 Date of publication: 29.08.2022
Transport of a specialized barge made by the Szczecin Shipyard Wulkan to the painting chambers took place on August 22. In this project, the shipyard was a subcontractor for an external company.

The shipyard was involved in the construction of the steel structure of the section for an external company. The hull structure's own weight is 130 tons, and its length is approximately 36 meters.
Thanks to the continuous expansion of qualified and experienced staff, as well as correctly made decisions regarding the purchase and modernization of the machinery park, Wulkan returns to the implementation of large shipbuilding projects.
Wulkan cooperates with several dozen entities employing a total of about 2,000 employees, which use the shipyard's technological infrastructure. These are mainly companies from the shipbuilding sector related to the shipbuilding and offshore industries. The shipyard's infrastructure consists mainly of facilities characteristic of the shipbuilding industry, including halls with cranes, slipways, wharfs, warehouses, prefabrication and storage yards.

The shipyard's infrastructure makes it possible to implement the full technological process of building vessels and other large-size structures, including for the offshore sector. Thanks to the partnership and economically efficient formula of operation, it is possible to implement the most serious projects in these production areas. The production capacity of the yard allows it to process up to tens of thousands of tons of steel per year.

The correct implementation of the production process is guaranteed by continuous improvement of the implemented integrated Quality and Health and Safety Management System based on the following standards: ISO 9001: 2015, ISO14001: 2015, ISO 45001: 2018, EN 1090- + A1: 2012, EN ISO 3834-1: 2007.
Most recent